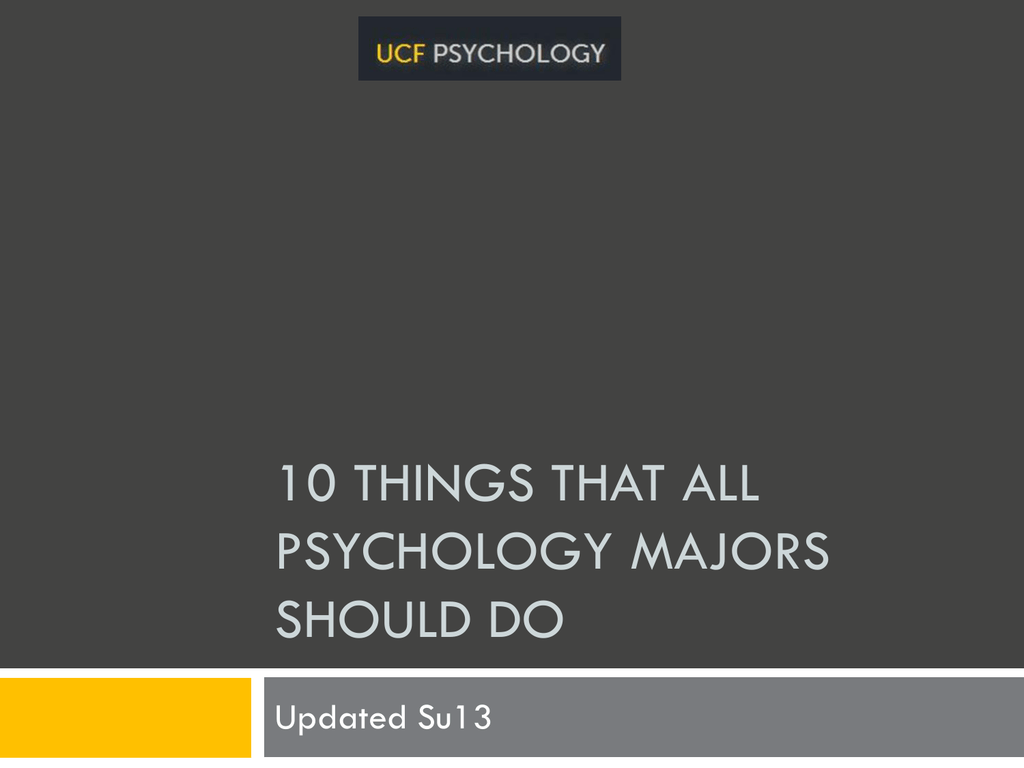 10 THINGS THAT ALL
PSYCHOLOGY MAJORS
SHOULD DO
Updated Su13
1. Develop Strong Study Skills

If you need better study skills, visit the Student Academic
Resources Center (SARC): www.sarc.sdes.ucf.edu
407/823-5130 PH 113


They have tutoring and workshops available to help you
learn how to study better and smarter
Enhance your college skills in SLS 1501 or MHS 2330:
SLS: The Freshman Seminar- take this course to learn about
resources on campus and how to succeed in college.
 MHS 2330: Career Development- learn about resources and
opportunities on campus to help with unclear career goals

2. Develop Strong Writing Skills

UCF Writing Center: www.uwc.ucf.edu 407-8232197
 They
can assist you with writing assignments for any
course, and can also help you with your Personal
Statement for Graduate School applications

Take more writing classes
 ENC
3314 Writing in the University
 ENC 3455 Writing about Science and Technology
3. Earn a Strong Grade Point Average
(GPA)

Earn strong grade point averages in all your courses
 Your
GPA is important whether you plan to apply to
graduate programs or jobs after you graduate
 Graduate school is very competitive, the GPAs that
programs list are usually the minimum requirement.
 A good GPA is needed for Psychological organizations,
Internships, and Research Positions so it is important to
focus on your studies throughout your undergraduate
coursework
 Go to class, study with peers, do homework and projects
to the best of the ability
4. Research Careers in Psychology and
Related Fields

What are you going to do with your degree in
Psychology? If you don't know now, now is the time to
explore what's out there. Talk to professors and
professionals in the field you are interested in, and
you can also…
Check out our bookshelf in The Psychology Advising Center
(PSY 250B)- we have binders with specific graduate school
and career information that psychology majors are
interested in
 Talk to UCF Career Services right next to the Psychology
building. Make an appointment, or just walk in
http://www.career.ucf.edu/


Some helpful web sites for career information:

Onetonline.org , myplan.com, bls.gov/oco
5. Get involved with Independent
Research



Participate in Research: Find out what it is all about: ucf.sona-systems.com
Psychology Department Research Labs Information:
http://psychology.cos.ucf.edu/research/laboratories/

Read about what the labs are doing and what they are trying to accomplish before you apply for
Research Assistant position. To apply click here: http://psy-ramatch.cos.ucf.edu/ Faculty may expect
that you have completed PSY 3204C Stat. Methods in Psychology when you apply

Other Psychology related labs: www.ist.ucf.edu or www.mfri.ucf.edu/
Office of Undergraduate Research: our.ucf.edu has more opportunities to
look into:

Undergraduate Research Journal

RAMP –Research and Mentoring Program

REU-Research Experiences for Undergraduates

SMART- Student-Mentor Academic Research Teams

Undergraduate Research Initiative

Honors in the Major
6. Get involved in Internships



UCF Office of Experiential Learning: coop.ucf.edu Apply online for an
internship position. Must have Junior standing
Fieldwork course: PSY 3951 Work 10-15 hours a week in a Psychology
related agency or organization while working on your major. Look for
Information Sessions dates for with Coordinator, Danielle Lindner
([email protected]) to apply. You must be selected at a placement
site before the semester begins!
Peer Advising: PSY 3022 Become a Psychology Peer Advisor helping
students with their degree audits and preparing for graduate school.
Minimum THREE SEMESTER COMMITMENT. Applications in PSY 250,
Applications due in June, summer interview and training required to start in
Fall. Talk with a Peer Advisor today to learn more. No appointment needed
in PSY 250 9am to 4pm M-F [email protected]
6. Internships (cont.)



Service Learning: EDG4948. Complete 50 hours of volunteer
work, helping and getting experience in a non profit setting.
No application required, just register for the course in the
semester you wish to volunteer and the work with the instructor
on finding a volunteer site
Instructional Experiences in Undergraduate Psychology: PSY
4937. Work with a Psychology faculty member in the
classroom setting, this is a great way to connect with your
professors. Online, S/U graded class, this course counts as a
Psychology elective! TA Form in PSY 250
Search for internships on your own. Credit in not required to
be an intern. Some sites prefer if a class is associated with
your experience, but not all. Just ask professionals in your area
of interest if they are willing to take on a volunteer.
7. Prepare for the GRE






It's recommended that students take the GRE during the first semester
of your Junior year, but this is just a recommendation. Your scores
are valid for 5 years. But keep in mind if you take the exam early
you will have time to retake it if you are not happy with your score.
Make sure not to send your first score to the schools you are
applying to, in case you do decide to retake it.
It's never to early to start studying for the GRE
Go to Ets.org/gre to sign up, and find study tips
UCF Continuing Education, Kaplan or Princeton Review all offer GRE
exam prep courses, we recommend that you research what each has
to offer you before you make a decision.
Buy a book from the bookstore to help you study and learn about the
test
Kaptest.com has free practice tests you can register for every
semester
8. Fine Tune Job Finding Skills


Prepare for Graduation early! Go to Career
Services to learn about Interviews, Resumes,
appearance, finding that first job, gaining
experience, job fairs, and local jobs in the
community www.career.ucf.edu
Sign up for UCF's KnightLink – online system with
over 4,000 employers for students who are looking
for full time or part time work: ucfcsm.symplicity.com/students/
9. Join and be active in a professional
psychology organization



American Psychological Association , Student Affiliate:
www.apa.org
UCF's Psychology Society: Located in PSY 323, like them on
Facebook!
UCF Psi Chi Honor Society: Located in PSY 323, like them on
Facebook!

Multicultural Psychological Student Association: mpsaucf.webs.com

Active Minds: caps.sdes.ucf.edu/active


Student Professionals in Industrial Organizational Psychology
(SPIOP): http://ucfspiop.wordpress.com/2012/12/02/spiop-atsiop-2012/
Human Factors and Ergonomics Society Student Center, (HFES):
http://hfes.cos.ucf.edu/index.php
10. Have fun- Get Involved!











Attend Campus Events! Fun, Free, Informational!
www.getinvolveducf.com
Knight Quest: osi.ucf.edu/kort
Registered Student Organization (RSO) Database:
public.rso.asf.ucf.edu
CAB- Campus Activity Board: Free movies, concerts, and other
events osi.ucf.edu/cab
Late Knights- Every Friday at the end of the month on campus
Fraternity and Sorority Life: fsl.sdes.ucf.edu
UCF Recreation and Wellness Center: hrwc.sdes.ucf.edu
Legal Services: sls.sdes.ucf.edu
Student Government Association (SGA): www.ucfsga.com
Volunteer UCF: vucf.getinvolveducf.com
MANY MORE!!!