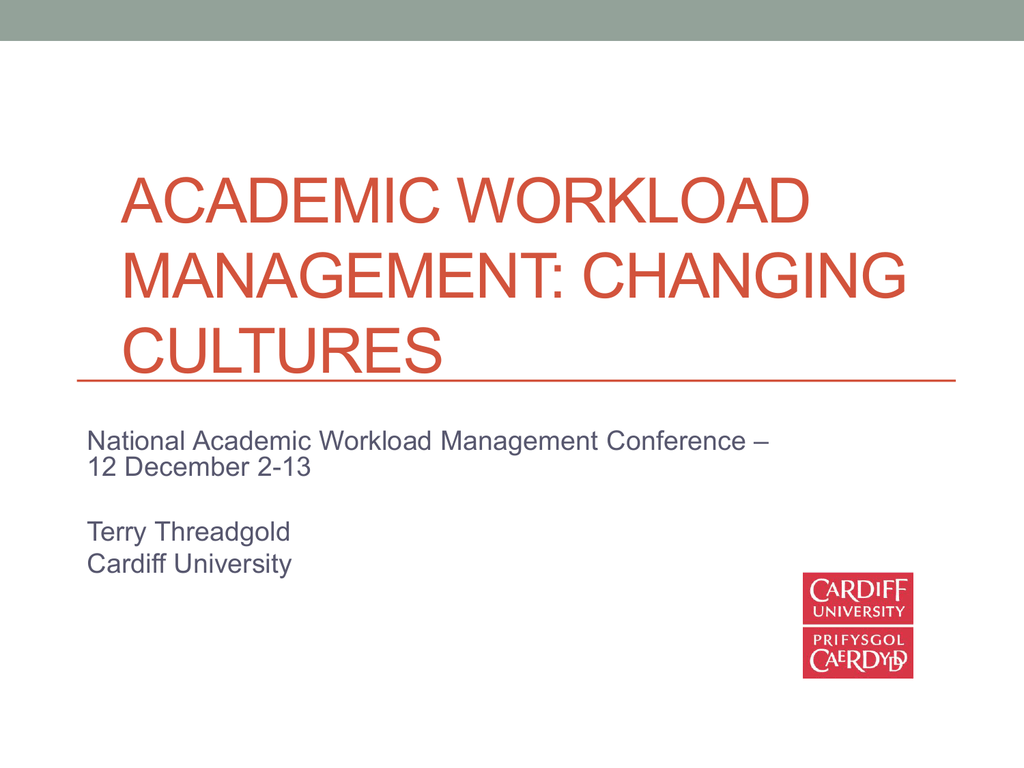 ACADEMIC WORKLOAD
MANAGEMENT: CHANGING
CULTURES
National Academic Workload Management Conference –
12 December 2-13
Terry Threadgold
Cardiff University
Some Essentials (in retrospect)
• Senior academic leadership
• Team work and administrative support across
the institution (HR, Finance, Planning,
Research and Consultancy and IT)
• Data collection systems able to be linked with
an all-university system for allocating and
recording workload.
• Consultation (with staff and union), taking time
to listen and to move towards guidelines and
consistency.
Benefits
• A robust evidence base for costing and pricing academic
work and managing resource: clarity about what resource
is actually needed to deliver what is being delivered and
then decisions about priorities.
• Transparency, equity and positive performance
management lined up with strategic goals and direction.
• Working with 'managed time' to set clear expectations
within that framework.
• The added benefit of TRAC compatibility and accurate
reporting to government and funders.
Specific Issues at Cardiff
• Russell Group, research intensive with a medical school
and more vocational teaching then many RGs (e.g.,
Social Work, Centre for Professional Legal Studies,
Journalism, Nursing and Midwifery, Dentistry, Optometry,
Pharmacy)
• Academic contract: 35 hour week. 1510 hour 'managed'
year.
• Need to workload plan/allocate for T and R, T and S and
R contracts as well as clinical staff jointly managed with
the NHS.
The Journey So Far
• 2010 scoping exercise to see what 27 schools were
already doing.
• 2011 Project group: work with five schools with already
well developed models (including research but none
including engagement/impact/consultancy/knowledge
transfer; no T and S pathway) to map workload categories
to TRAC list and develop a draft framework: published
Jan 2012.
• 2011 TT as PVC began to work with Finance on TAS and
TRAC return. Meetings with 27 HOS annually on TAS
results 2011-2013: translating TRAC for Academic staff
especially re: institution/own funded research,
scholarship, Other and General Institutional Support.
The Journey (2)
• Draft Framework published Jan 2012, asked for volunteers for
a project to pilot it in 2012-13. 14 schools took part. 10
developed full models.
• A project group including the leads in each of the 14 schools,
met six-weekly during the pilot year to share issues and good
practice.
• T and S pathway in place and 3 schools worked in detail on
managing workload in this context.
• We were still not too prescriptive and allowed schools working
to the framework and in consultation with their staff to tell us
what tariffs had been agreed (surprising amount of
consistency here)
The Journey: Report on Pilot (3)
• Early 2013 - Detailed collection of data and workload
information from all pilot schools: TRAC translation
document, report on pilot (including tariffs, and issues):
sent to all HOS and UCU in May 2013 for feedback.
• Response to Feedback, Draft Workload Policy,
Guidelines on Tariffs, plus common workload templates
now being developed for sign-off in Dec-Jan by UCU and
UEB.
• All HOS already required to continue pilot into 2013-14,
either (1) to review and adapt or (2) to begin data
collection and consultation if not previously involved.
The Journey (4)
• Summer 2013 beginning to look for a university-wide,
consistent IT solution (with TRAC compatibility if possible)
for allocation and reporting of workload.
• Sept 2013 beginning to work with UWE on LFHE/HEWCE
developed TRAC compliant: some real compatibility, but a
number of transferability issues.
• Also looking at other solutions and benchmarking with
Russell Group universities.
The Journey: All Change!
• 2012-13 – a new VC and a university restructure from 27
schools to three colleges.
• New data collection and management systems, new
college leadership and structures.
• New Governance Group to be chaired by DVC. Will train
managers, deal with probation and appraisal training, rule
on exceptions and changes once full policy and tariffs
signed off and in place.
Working with UCU
• Summer 2012 first dedicated meeting on workload with
UCU, although progress shared with them throughout via
JCNF which TT as PVC co-chaired.
• A number of UCU representatives or members working on
the pilot project: although not as union members.
• Meeting again in August, November 2013 (specifically on
workload) to agree a final policy for the university. Next
meeting in January 2014.
• Agreed to work in partnership, with 2 UCU
representatives members of the Workload Governance
Group going forward.
Workload Categories: mapped to institutional
strategies, all academic contracts, and TRAC
• Teaching and Support for Teaching
• PGR Supervision and Examination
• Research, Research Related Scholarship and Support for
Research
• Scholarship (teaching related) and CPD.
• Engagement, Consultancy and Knowledge Transfer
• Academic Management and Administration
• Good Citizenship/ General Academic Duties
Note: T and S and R only staff do not work to all of these
categories.
Issues
• Culture change re development of staff, and promotion to full
•
•
•
•
potential: T and S pathway, part-time staff and R only staff.
Training academic managers to understand different kinds of
scholarship and to allocate workload appropriately.
Minimum and maximum workload hours for many of the
categories to ensure that every staff member does what is
needed to meet promotion guidelines but is not overloaded or
underloaded in specific areas.
Workload process linked directly to probation and appraisal for
all staff.
Categories to be discussed and agreed in probation and
appraisal with a different kind of process (both projected and
retrospective) for: research (T and R), Scholarship (T and S)
and Engagement/knowledge transfer etc. (all pathways).
E.g., Research Workload (same for Scholarship (T
and S) and Engagement)
• Targets discussed, agreed and reviewed in probation and
•
•
•
•
appraisal.
Tariffs for research : e.g., writing grant applications, conference
presentations, refereed article, monograph etc, part of
workload model.
Bundle of research (scholarship, engagement) time allocated in
the annual planning cycle.
Pre-allocation of time where known: e.g., time allocated to a
particular grant, conference attendance and presentation,
writing of a grant etc..
Outputs and all research activity reviewed at end of annual
cycle (retrospectively) to ensure bundle is well used: outputs/
delays etc. reviewed across a 3 year cycle.
Some Very Tentative Conclusions Around Research,
Equality and Workload
• In most areas first attempts at allocation and recording
have shown that approx. 2/3 of workload is about where
it needs to be. The other 1/3 of staff tend to be either
underloaded or overloaded (very rough estimate).
• This requires management (and the training of managers)
and much more focussed work on probation and appraisal
and the links with workload.
• With T and R the overload outside of 'managed' time
tends to be research related and within 'managed' time to
be teaching or administration related.
• With T and S the underload tends to be in the scholarship
area
Tentative Conclusions cont.
• Gender difference in workload allocation: all of the issues
in the recent LFHE Report on this are evident in what we
have found to date. This has particular impact on
women's research careers.
• The same can be said of disability and serious illness or
other complex personal circumstances: 'reasonable
adjustments' and staff themselves seem to find it easiest
to remove research/scholarship workload and continue
with Teaching and Administration. Again this has
implications for research and teaching careers and
requires much better management.