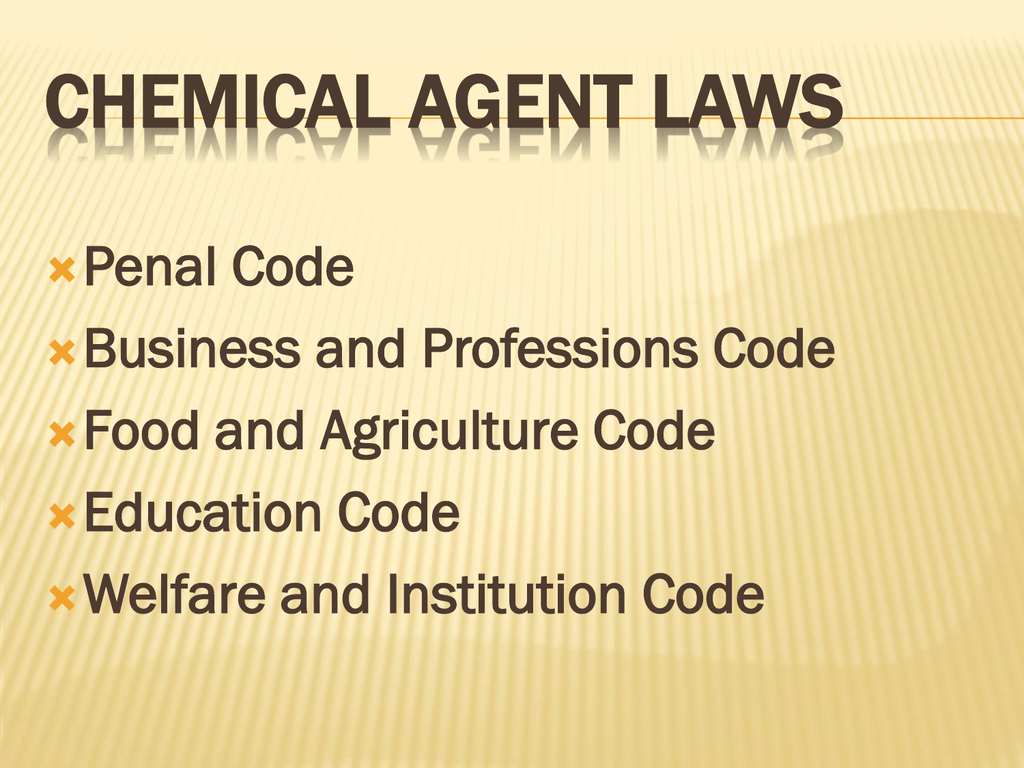 CHEMICAL AGENT LAWS
 Penal
Code
 Business and Professions Code
 Food and Agriculture Code
 Education Code
 Welfare and Institution Code
PENAL CODE
12401 PC - DEFINITION
 Liquid,
Solid or Gaseous Substance
 Intended to produce
 Temporary discomfort or permanent Injury
 Through being vaporized or otherwise
released through the air
CWC DEFINITION
(CHEMICAL WEAPONS CONVENTION)
Any chemicals that:
"can produce rapidly in humans sensory irritation
or disabling physical effects which disappear
within a short time following termination of
exposure."
12402 PC - TEAR GAS WEAPON
 Shell,
cartridge, bomb capable of
being exploded
 When it is intended to release tear
gas
 Revolver, pistol, fountain pen gun,
Billy
 Intended to release tear gas
12420 PC - POSSESSION
 Any
person, firm or corporation
 Knowingly sells, offers for sale,
possesses transports
 Guilty of a misdemeanor
12403 PC - PEACE OFFICER EXCEPTION
A
peace officer
 Can use carry, etc...
 Successfully completes POST
instruction in use of tear gas
12403.4 PC - MILITARY EXCEPTION
 Military,
federal law enforcement
 Can purchase, possess, transport
 For Official Use in the discharge of
their duties
12403.5 PC - SECURITY GUARD EXCEPTION
 License
as a private security guard or
private investigator
 Purchase, possess, transport
 Used solely for defensive purposes
 Complete a Dept. Consumer Affairs
certified course
12403.7 (A) PC - CITIZEN EXCEPTION
Persons
prohibited from
possessing
12403.7 (A) PC - CITIZEN EXCEPTION
 Addicted
to any narcotic drug
 Convicted of a crime involving assault
 Convicted of a felony
 Shall not furnish to a Minor
 Convicted of the misuse of Tear Gas
 No minor (under 16)
12403.7 PC - CITIZEN EXCEPTION
Used
for Self Defense
Purposes Only
12403.7 (E) PC - CITIZEN EXCEPTION
No
device that expels projectile
No method other than aerosol
No more than 2.5 ounces of
aerosol spray
12403.7 PC - CITIZEN EXCEPTION
Must
have warning label
Expiration date
 Printed instruction for use
Ramifications of improper use
12403.7 PC - CITIZEN EXCEPTION
Use
of tear gas
Other than Self Defense
Felony
What is Self
Defense?
12403.8 PC MINORS
16
years of age
consent of parent or
guardian
Civil liability belongs to
person signed consent
12403.9 PC JAILS
Custodial
Officer of County
May carry Tear Gas while on-duty
May carry off-duty only in
accordance with other laws
830.5 PC
Probation Officers are Peace Officers:
 While engaged in the performance of the duties
of their respective employment and for the
purpose of carrying out the primary function of
their employment

12421 PC - MARKINGS
Each
device must have
Name of Manufacturer
Expiration Date
12422 PC - DESTRUCTION OF MARKINGS
Changes,
alters, removes,
obliterates
Serial number or mark of
identification
Felony
Possession presumptive
171B PC - POSSESS IN PUBLIC BUILDING
Possess
in public building
Meeting required to be open to
public
Unauthorized Tear Gas Weapon
Wobbler
171B PC - POSSESS IN PUBLIC BUILDING
Exception
Peace Officer
Official duties
Shall apply if party to action
4502 PC - POSS. WEAPON
Confined
to prison or road
camp
Possess carries
Tear gas
Felony
FOOD AND
AGRICULTURE
CODE
12753 F&A ECONOMIC POISON
Any
substance
Repelling Pests
12995 F&A - POSSESSION
Possess
or use
Economic Poison
Not Registered
Misdemeanor
EDUCATION
CODE
49330 EDC - INJURIOUS OBJECTS
Any
object listed in 12401
PC
Not necessary for Academic
purposes of the pupil
49331 EDC - REMOVAL FROM POSS.
 Designated
Certified Employee
 May Remove Injurous Object
 From personal possession of student
 Upon school property or under
authority of school
49332 EDC - NOTIFICATION OF PARENT
Parent
or guardian
Maybe notified
Of taking
49333 EDC - RETURN OF OBJECT
Pupil
presents object
May have object returned
Conclusion of school
If legal to possess off grounds
WELFARE AND
INSTITUTIONS
CODE
871.5 W&I - JUVENILE HALL
Knowingly
brings or sends into,
assists or uses
Juvenile Hall, Camp, etc
Any weapon including Tear Gas
Felony
CODE OF
FEDERAL
REGULATIONS
Federal Aviation
Regulation
Have a thorough
knowledge of tear gas
and/or tear gas weapons
and their effects so they
can be prudently utilized by
you.
Use only that force
which is reasonable.
MAINTAIN ORDER, BUT
NEVER ATTEMPT TO
PUNISH.
BOTH PRIVATE AND
PUBLIC PROPERTY
MUST BE RESPECTED
AT ALL TIMES.
EVERY REASONABLE
EFFORT A DIFFUSING A
SITUATION SHOULD BE
CONSIDERED BEFORE
DISPENSING CHEMICAL
AGENTS.
USE IN A PROGRESSIVE
ESCALATION OF
WEAPONRY
DO NOT USE TO QUELL
VERBAL ATTACKS.
NEVER USE ON AN
ALREADY CONTROLLED
PRISONER.
FISHER
V.
CITY OF SAN JOSE
WHAT IS THIS CASE ABOUT?

Steven Fisher claims constitutional violations
stemming from a twelve-hour standoff at his
apartment between him and a large number of
San Jose police officers, at the end of which he
came out of the apartment and submitted to
arrest.
THE FACTS

Fisher sued the city of San Jose and several
officers under 42 U.S.C. & 1983, contending,
among other things, that the arrest was invalid
because the police never obtained or attempted to
obtain a warrant. A jury found for the defendants
(the City) on all claims, including a claim for
warrantless arrest. Fisher thereupon filed a
renewed motion under Federal Rule of Civil
Procedure 50 for judgment as a matter of law on
the warrantless arrest claim.
MORE FACTS

Granting the motion against the City alone, the 4th
District Court ordered the City to pay nominal
damages of one dollar and issued an injunction
regarding future training of police officers. We uphold
the district court's ruling on appeal, as we agree that
the failure to obtain a warrant under the unusual
circumstances of this case constituted a constitutional
violation as a matter of law.
MAIN POINTS OF FISHER
Passage of time during a standoff will exhaust
exigency at some point, leading to an
opportunity to obtain a warrant safely.
 Introducing chemical agents into a residence is
an intrusion.
 Without a warrant any intrusion is a violation of
4th Amendment.

UNITED STATES COURT OF APPEALS
FOR THE NINTH CIRCUIT

The jurors in this case determined that exigent circumstances
justified the initial arrest and reached an eminently reasonable
conclusion that the San Jose Police Department should be
commended for handling this dangerous situation properly and
ultimately bringing about a peaceful resolution.

For these reasons, I would reverse the district court's grant of
Fisher's renewed motion for judgment as a matter of law and
reinstate the Jury's verdict.