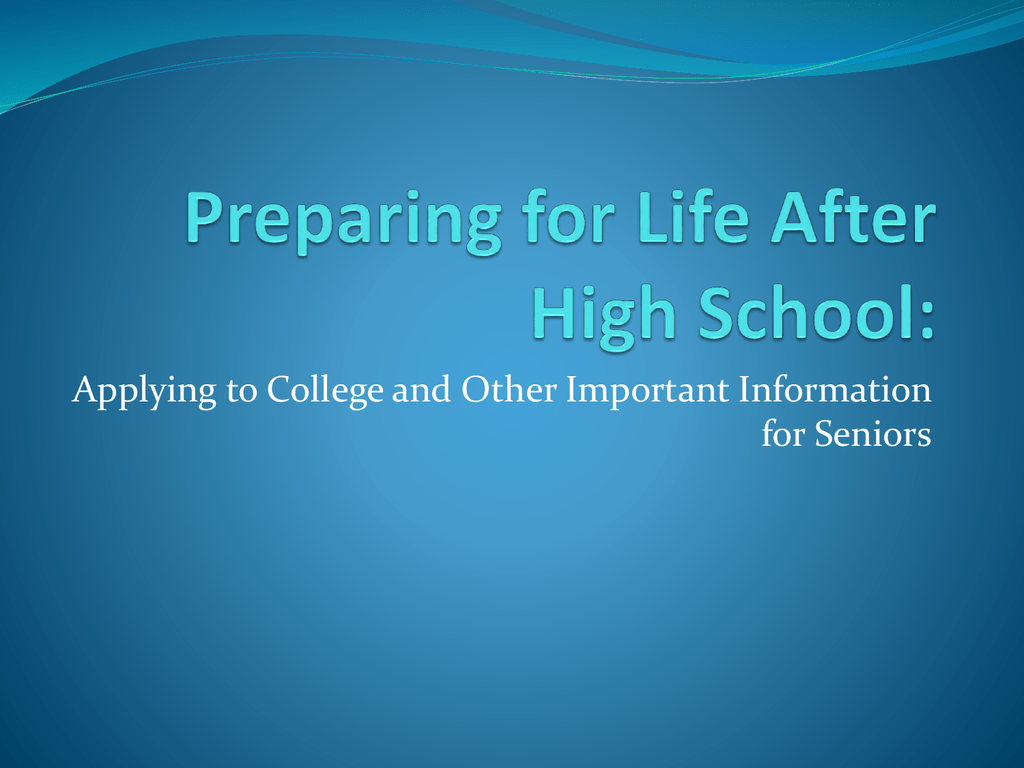 Applying to College and Other Important Information
for Seniors
Senior Meetings
 Today we will give you general information about:
 preparing for life after high school
 the college application process
 other important Senior activities.
 Counselors will meet with seniors individually
during September and October to discuss
graduation progress, career goals, the college
application process, and planning for the future
generally.
Complete Fall Senior Survey
 Your conference with your counselor will be more







productive if we know something about your plans
BEFORE we meet.
Login to your myCCS account.
Find the "CHS Important Information" box. (if this is not
visible on your screen, click the "add widgets" button to
add the box.)
Click the "CHS Fall Senior Survey" link
Login to the survey using your CHS login.
Answer the brief survey questions about your plans after
high school and SUBMIT.
NOTE: it's OK if you are not entirely sure of your plans. We
just want to know where things stand currently.
Complete the survey NO LATER THAN August 28th.
Complete Fall Senior Survey
Work, Military, College? We can
help…
 We know that CHS seniors are prepared to do a variety
of things after high school.
 While continuing your education beyond high school
is a priority for most, we understand that others will
postpone school and enter the workforce or military.
 During your senior meetings we will discuss your
future plans and help you identify the steps necessary
to reach your goals including but not limited to: the
college search and application process, military
enlistment, identifying and applying for jobs, resume
development, interviewing, and more.
Senior Check List
 Your To-Do list for Senior Year.
 Highlights important events/dates/information
(ex: College Information Night, Financial
Aid/Scholarship meeting, commencement
information)
 Pay attention to specific deadlines on the check list
(ex. Application deadlines, financial aid deadlines,
etc.)
 Your guide to senior activities and the college
application process.
Applying to Colleges
APPLY NOW!
 Most applications are found online at the
College/University website…look for links that say "Apply"
or "Undergraduate Admissions" or "Prospective Students"
 Many online applications can be started on one day and
completed at a later time. Be sure to note any
username/passwords you create for your applications!
 There may be supplemental information required such as
essays, counselor forms (also called Secondary School
Reports), and letters of recommendation.
 Be sure to complete a Senior Self Assessment form
(Brag Sheet) to give to your recommenders!
Letters of Recommendation
 Be sure to ASK your recommenders for letters BEFORE you




include their names on your applications.
A more formal request (letter or e-mail message in letter
format) is recommended. i.e. don't leave your request on a
post-it or text your request. Be professional and courteous!
Allow at least two weeks for teacher and counselor
recommendations. Don't wait until the last minute to ask
for letters. If you ask for your letter last-minute, you'll get a
last-minute letter.
Many letters of rec may be uploaded electronically. Read
the application instructions carefully.
If letters cannot be uploaded electronically, be sure to
provide your recommenders with stamped/addressed
envelopes and an information sheet that details when
letters are due.
Common Application
 The Common Application is a single application that
can be used for many colleges. See the list of
participating colleges on www.commonapp.org
 The Common Application can be completed online.
Counselor and teacher recommendations can be
uploaded to the Common Application site, making it
very efficient for everyone involved.
 Note: Pay careful attention to word limits for Common
App essays. Answers will be cut off if over word limit.
Recent Changes for IU and Purdue
 The Indiana University Bloomington application
now requires a personal statement.
 The Indiana University Bloomington merit
scholarship program has changed considerably.
Visit their website for more information.
 Purdue University has moved to the Common App
for their application. Plan accordingly.
SAT/ACT Tests and Scores
 Fall ACT dates are: Sept. 13, Oct. 25 (not at CHS), Dec.




13
Fall SAT dates are: Oct. 11, Nov. 8, Dec. 6
CHS high school code required when you register:
150445.
When you register, you can send up to 4 free score
reports to colleges…Take advantage of this!
Your scores will appear on your CHS transcript,
however some schools require you to send scores
directly from College Board or ACT. IU and Purdue
require scores directly from testing agencies.
SAT/ACT Registration Changes
 Students are now required to upload a recent
photo of self only at the time of registration.
 Students must bring admission ticket on test day.
 Students must bring photo ID or driver's license on
test day.
 Stand-by registration NO LONGER ALLOWED on
test day.
Deadlines
 Be aware of application deadlines, especially those
related to financial aid and scholarship
consideration.
 The most common deadlines are October 1,
November 1, December 1, and January 1. PLAN
AHEAD!
 NOTE: The deadline for turning in application
materials (paper or electronic) to Counseling is
December 5th for January 1 deadlines.
Transcripts/Parchment
 All college applications will require a transcript. In
most cases your transcript will be sent electronically from
CHS using Parchment.
 You must register at www.parchment.com. Once you
have registered you can log on at any time and request that
transcripts be sent to specific colleges/ universities.
 NOTE: registering does not automatically send your
transcript to schools. You MUST request each transcript you
want sent separately.
 Write down your Parchment login information and
keep it somewhere safe!
 You will receive confirmation from Parchment when your
transcript has been sent.
Transcripts/Counselor Forms
 Many college applications require a counselor form or Secondary
School Report that is completed by your counselor.
 For many in-state schools that form is automatically generated
electronically when you request a transcript through Parchment.
 If a transcript/counselor form cannot be sent via Parchment (or
the Common App), you must complete a College Tracking Sheet
and submit your request with $1.00 to have the transcript and/or
counselor form sent by mail.
 Communicate, communicate, communicate with your
counselor. Don't assume that we know which forms need to be
completed for your applications, especially for out of state
schools that don't use the Common Application.
Scholarships/Financial Aid
 Financial Aid Night: January 22nd 7:00 p.m. in the





Auditorium.
January 1st FAFSA available.
March 10th FAFSA submission deadline.
Be aware that some schools (especially private) require
additional forms for scholarship and financial aid
consideration.
Check the scholarship wall often and listen for
announcements.
Avoid scholarship scams!
College Reps and Upcoming
College Fairs
 Many college admissions reps visit CHS in the
fall…check the counseling website or the bulletin
board outside of the Counseling Office to see who
is coming.
 Students must get a pass from Counseling in order
to participate in the admission rep visit.
 Sept. 16th--Indianapolis National College Fair,
Indianapolis Convention Center 9 a.m.-12 and 6-8
p.m.
 September 24 --Hamilton County College Fair at
Fishers High School 6:30-8:00
 October 1 – Indy Westside College Fair –Ben Davis
High School MPA 7-8:30pm
Tips for College Visits
 Make visiting the colleges to which are applying a priority this fall.
 Absences for college visits must be prearranged with the Attendance
office and will count against the Skip-a-final program.
 Visit when students are on campus, and ask questions of students you
see on campus. Your tour guide will probably be a student and could
be a great source of information.








Design your own trip:
Make an appointment
Meet with someone in your major area of study
Take a campus tour
Meet with the admissions office
Observe a classroom setting
Bring an unofficial transcript
Schedule an overnight visit when possible
Helpful Resources
 Follow the "Senior Information", "College
Application Process", "Scholarship Process", and
"College and Career Resources" links in the
Counseling section of the CHS website.
 Call or send e-mail to the College/University
Admissions Office if you have specific questions
about their process.
 KEEP AND USE your Senior Check List!
Get help with the Search Process!
 Follow us on Twitter @CHSCollege411
 Like us on Facebook at Carmel High School
College Counseling
 Visit the College and Career Resource Center
(CCRC) and get help with:






College Admissions Information
Application Deadlines
Scholarships
Financial Aid
College Rep Visits
Summer Programs
Your Cyber Profile
 What are you posting on Facebook, Twitter, Instagram,
etc?
 Pictures
 Status postings
 Links
 Your profile on the internet is potentially available to
anyone to view
 College admission offices and future employers can
and will "Google" you.
Remember…
 Counselors will be meeting with seniors individually in








September and October.
Complete the CHS Fall Senior Survey in myCCS by 8/28/14
Use your senior checklist to stay organized!
Stay aware of and meet all deadlines.
Create your Parchment account ASAP.
Ask for letters of recommendation EARLY.
Don't wait until the last minute to apply, write essays, etc.
Plan ahead!
Senior grades are important!! Colleges will require your
final transcript. Don't give them a reason to change their
mind.
Use all of your resources and have a great senior year!