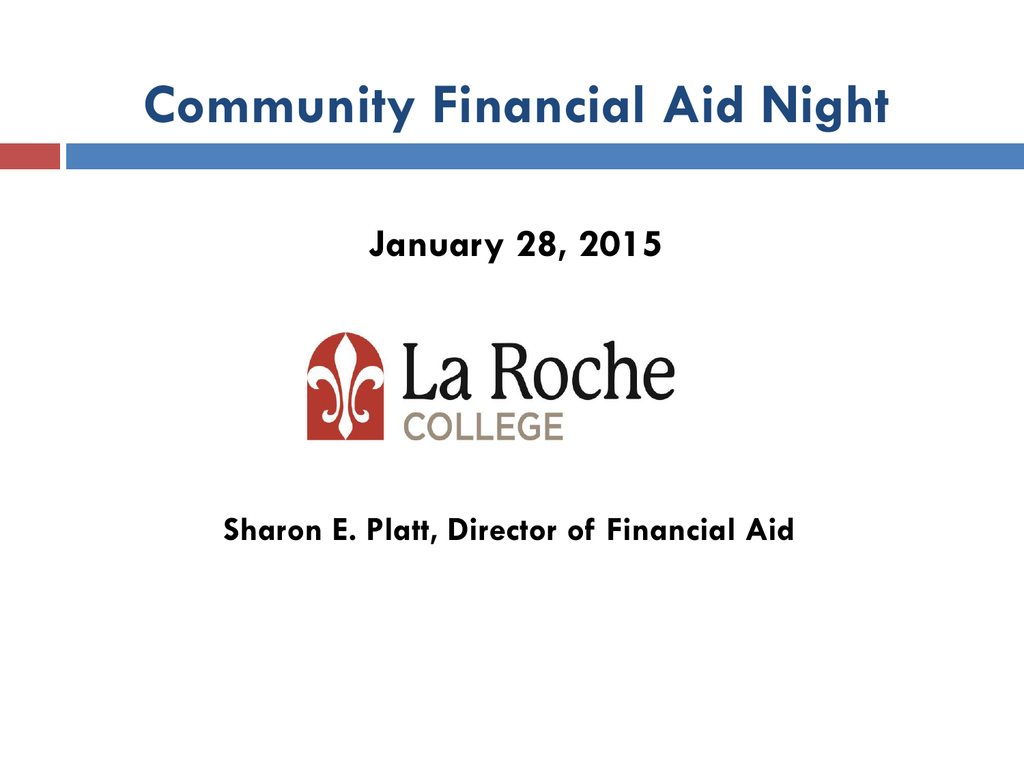 Community Financial Aid Night
January 28, 2015
Sharon E. Platt, Director of Financial Aid
Topics We Will Discuss Tonight








What is Financial Aid?
Types Of Financial Aid
How To Apply For Financial Aid
Cost of Attendance (COA)
Expected Family Contribution (EFC)
Financial Need
What Happens Next?
FAFSA On-The-Web Demo
What is Financial Aid?

Financial Aid is funds provided to students and their
families to help pay for postsecondary educational
expenses in the form of:
 Grants
 Scholarships
 Loans
 Employment
Gift Aid vs. Self-Help Aid
GIFT AID
 Grants/Scholarships - Gift
money that does not have
to be paid back
SELF-HELP AID
 Loans - Borrowed money
that has to be paid back
over a period of time, often
after the student completes
their degree
 Work-study - money
students earn by working at
a part-time job
Categories of Financial Aid
Merit-Based Aid
 Aid given to students strictly
on the basis of merit.
 May be based on:




Academic record
Special characteristics
Skills or talents
Involvement
 Does not have to be repaid
 Usually renewable from
year to year
Need-Based Aid
 Aid awarded to students on
the basis of financial need.
 Re-evaluated each year as
financial situations may
change.
Sources of Aid

Federal government

State

The College/University

Outside Organizations/Employers
Federal Aid
Largest source of financial aid
Aid awarded primarily on the basis of financial
need
Must apply each year using the Free Application
for Federal Student Aid (FAFSA)
Common Federal Aid Programs



Federal Pell Grant
Federal Supplemental
Educational
Opportunity Grant
(SEOG)
Teacher Education
Assistance for College
and Higher Education
Grant (TEACH)




Federal Perkins Loan
Federal Work-Study
Federal Subsidized
and Unsubsidized
Loans
Federal PLUS Loans
State Aid




Residency requirements
Use information from the FAFSA
Deadlines vary by state
PHEAA Deadline is May 1
College/University Aid

Factors that may influence institutional aid:
Academics
 Athletic Ability*
 SAT's/ACT's
 AP Courses
 Legacy (child of alumni)
 Activities
 Talent
 Gender/Ethnicity
 Class Rank
 Financial Need

*Athletic awards offered by NCAA Division I and Division II schools only.
Outside Organizations







Foundations, businesses, charitable organizations
Deadlines and application procedures vary
Begin researching private aid sources early
To what organizations and churches does student
and family belong?
Application process usually spring of senior year
Small scholarships add up!
Check company where parent is employed
HOW TO APPLY FOR
APPLYING FOR AID
What Is The FAFSA?
FAFSA = Free Application for Federal Student Aid
Application for federal and state aid (may be
application for college aid as well, depending upon
the school)
 File
one FAFSA per year, per student (not one per college)
 List up to ten colleges - Title IV Code or school name;
schools receive information electronically
How/When to File the FAFSA?
 FAFSA's
are completed online: www.fafsa.gov
 Register for a PIN #: www.pin.ed.gov
 Complete as soon as possible after January 1
and before the school's deadline
 PA residents must file by May 1 for state grant
consideration for following fall term
 May use estimated income and taxes or prior
year tax forms
 Don't wait to be accepted to college to
complete
Cost of Attendance
Direct Costs




Tuition
Fees
Room
Board
Indirect Costs





Books and Supplies
Transportation
Personal
Living Expenses
Child care and special
equipment purchases
may be considered
Expected Family Contribution (EFC)




Number used to determine student's eligibility for financial aid
EFC is the amount the family can expect to pay toward college
expenses each year
It is rarely the amount the family actually pays
Number is a result of federal formula based upon information
supplied on FAFSA
 Income (taxable & nontaxable)
 Taxes paid
 Assets
 Household size
 Number in college
What is financial need?
Cost of Attendance
- Expected Family Contribution
__________________________________
= Financial Need
Examples of Financial Need
$35,000
$30,000
$25,000
$20,000
COST
NEED
EFC
$15,000
$10,000
$5,000
$0
School 1
School 2
School 3
Net Price Calculator
Every school is required to have one on their
website
 CAUTION: Some are better than others
 Get estimated EFC at: www.fafsa.gov and use
FAFSA4caster

FAFSA on the Web's Homepage
What happens after FAFSA is filed?
Verification




35% of all students are randomly selected for
verification
The school will notify you to submit additional
documentation
School may give you an ESTIMATED award letter
YOU MUST SUBMIT ALL REQUESTED INFORMATION
BEFORE FINAL AWARDS ARE GIVEN
What Happens Next?
 Aid
eligibility is determined by school
 Receive
financial aid award letter from each
college/university
 Deposit
usually)
at college of choice (non-refundable
Comparing Aid Offers
• Don't assume that more expensive schools will necessarily cost
you more!
• Look at same "bottom line" for each school. Compare
"apples" to "apples."
•
What is amount of loan in package vs. amount of grant?
•
What is amount of work study?
•
Are grants/scholarships automatically renewable?
•
Is there room for movement?
•
Check with the Financial Aid Office—there might be but it's not "Let's Make A Deal!"
Need More Financial Assistance?

Payment Plan

Parent PLUS Loan

Alternative Loans
FAFSA On-the Web Demo
What You Need Before Filing FAFSA








Student's and parents' social security number or alien registration or
permanent resident card (if not a U.S. Citizen)
Student & Parent 2014 W-2 forms and other records of money earned
Student & Parent 2014 Federal Income Tax Return (1040, 1040A or
1040EZ)
Student & Parent 2014 untaxed income records (veterans benefits, child
support received, workers compensation)
Student & Parent current bank statements
Student & Parent current business and investment mortgage information,
business and farm records, stock, bond, and other investment records
Student drivers license
Depending on parent's marital status, date of parent's
marriage/separation/remarriage
Special Circumstances

Experience significant decrease in current calendar
year income
 2015-16

FAFSA based on 2014 income
Cannot report on FAFSA
 Change
in employment status
 Medical expenses not covered by insurance
 Change in parent marital status
 Unusual dependent care expenses

Contact Financial Aid Office at each college
Don't Forget!
 Research Outside Scholarships (www.fastweb.com)
 Complete the FAFSA form as soon as possible after January 1 of senior
year
 Keep copies and sign every financial aid form that you complete!
 Check with each college/university to see what additional forms they
require
 Don't be afraid to call the financial aid office at the schools you are
interested in and ask questions if you don't understand
 Remember deadlines – APPLY EARLY!
Any Questions?
Thank you for coming!