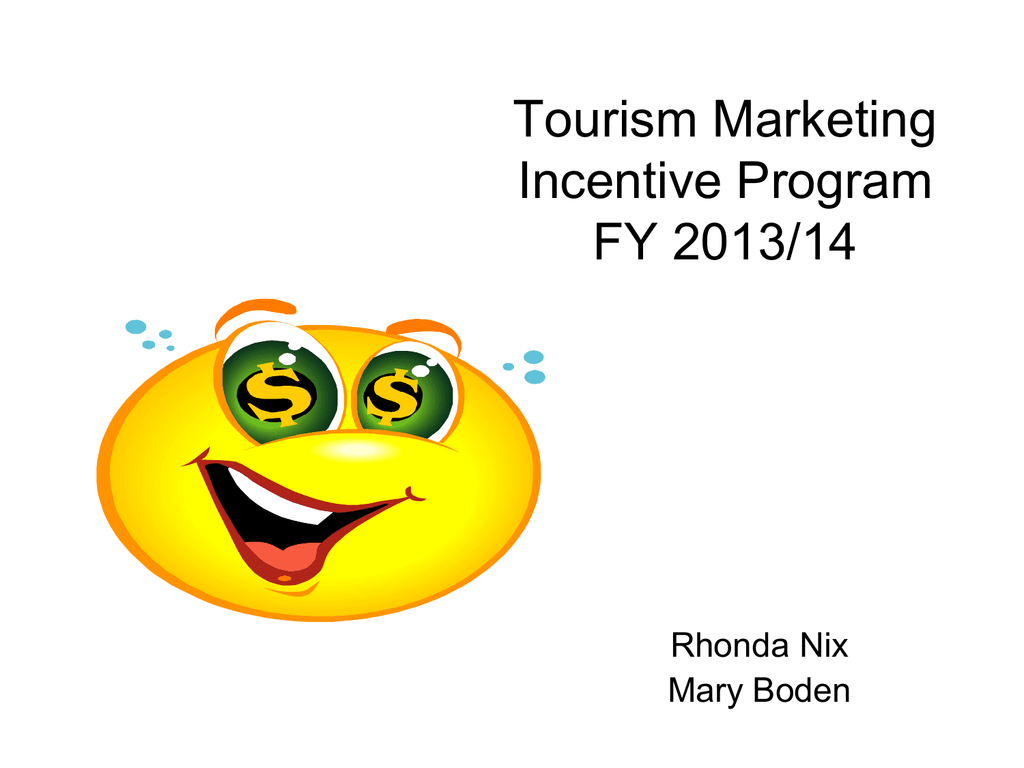 Tourism Marketing
Incentive Program
FY 2013/14
Rhonda Nix
Mary Boden
Deadlines and
Applicants
The Tourism Marketing Incentive Program offers reimbursement for projects, which are in direct support of the promotion
and marketing efforts of a tourism event, attraction or geographic area.
Program Deadlines:
• Program Year Runs July 1 – June 30
• June 1 Application Deadline
• Feb 1
Reimbursement Deadline for Projects Completed July – December
• Aug 1
Reimbursement Deadline for Projects Completed January – June
Who can apply?
• Tourism Non-Profit Organizations with 501c3 or 501c6 Status.
• Applicants that are a Kentucky Based Organization
Ineligible Applicants:
• Federal Agencies
• State Agencies and their non profit affiliates
• State-wide Organizations
• Organizations that receive funding from other state agencies for the purpose of sponsorship or advertising
• State or Federal Grants can not be used to match Tourism Marketing Incentive Program funds
Sample List of
Eligible Projects
•
Tourism publications
•
Advertisements in newspaper, publications, TV, radio, internet
including meeting and convention advertising
•
Brochure distribution
•
Billboards/Signage
•
Group tour marketplace, meeting & conventions and consumer travel
shows expenses
•
Sponsorship/Bid fees of tourism trade shows, conventions and events
•
Research for destination needs, asset analysis and visitor profile
Funding Percentages
Applicant
Percentage based on co-op
participation with the KY
Department of Travel &
Tourism
Percentage based on projects
that are not co-ops with KY
Department of Travel &
Tourism
Regional Committees (designated by
the KY Department of Travel &
Tourism)
________________________
100
80
________________________________
________________________________
Advertising in the 2014 Kentucky's
Official Vacation Guide
(all applicants)
100
CVB or Tourist Commission
90
50
Other Non Profit Organizations
(attractions/festivals/etc)
70
50
Bid Fee for Conventions
80
Bid Fee to Bring NEW Events
70
The Formula
•
Funding is Distributed Based on a Formula to Calculate County Allotments:
• Two factors are used to determine county allotments – County population and tourism expenditures.
•
Once Calculated:
• Tourism Commission's are eligible to receive up to 80% of the county allotment.
• All other applicants are eligible to receive up to 20% of the county allotment.
•
Counties with Multiple Tourist Commissions:
• After the county allotment is determined then the counties with multiple tourist commission will be
calculated based on number of rooms within the city.
• If a tourist commission does not have any or few hotel/motel rooms they will automatically be eligible
for 25% of the allotment.
•
Any new tourist commission established after July 1, 2009 will not be eligible:
• For two years
• Must have at least part-time paid director
• Source of funding
• Established budget and marketing plan
Eligible Project Information
•
Tourism Publications, Videos, CDs & DVDs
–
–
–
–
–
–
•
Advertising
–
–
–
–
•
Funds are available for design of web site
Link to state and regional web sites are required
Web site that contains ad sales is not eligible
Billboards & Signage
–
–
–
•
Funds are available to cover cost to purchase exhibits, artwork, photographs and brochure racks
Booth space and furniture rental
Registration fees to interview perspective group tour operators
County fairs and festivals are not eligible
Web-site
–
–
–
•
Funds available for newspaper, magazine, radio, TV, internet, sports media, meeting & convention advertising
Media time, production costs and media placement are eligible
All ads must have the advertising brand of Kentucky
Advertising must be 50 miles away from location with the exception of major media markets listed below and 25% of the costs are eligible:
• Cincinnati, Evansville, Huntington, Louisville, Lexington, Paducah, Owensboro and Bowling Green
Consumer Travel Shows, Group Marketplaces, Meeting/Convention Trade Shows and Expos
–
–
–
–
•
Funds are available for production and printing. Three written bids are required if printing costs exceeds $1,000
Must be 4 color brochure cover
A distribution plan is required (without printing project will be denied) Brochure distribution services are eligible as well
All publications & videos must be reviewed and approved by program manager PRIOR to final production
Front or back of brochures must include current advertising brand of Kentucky (unless advertising is in conjunction with a KY Department of
Travel & Tourism co-op) and tag line stating "Paid in part by the KY Department of Travel & Tourism" is required
We reserve the right to say NO
Billboards must be located 20 miles from location and on interstates or major access highways
Billboards must include the advertising brand of Kentucky
TODS (Tourist Oriented Directional) and Fifth Legends (Attraction Logo) as well as artwork, design and production are eligible
Changes to application: If you have projects that come up during the program year that you would like to use your contingency funds or amend your
application just submit a letter stating the projects and request approval. This can even be completed over an email. We just need to attach the
request to your application.
More to Know
•
Sponsorship Bid Fee of Trade Shows, Convention and Events
• Sponsorship that may create an economic impact for the state are eligible
• Sponsorship of overall convention partner or event are eligible (but not limited to
overall)
• Tourism Industry events that are not eligible:
– KY Tourism Council,
– KY Assoc of Convention & Visitor Bureaus
– KY Association meetings and conference
– In-state or local events and conferences
– Sports related events need to be submitted to KY Sports Authority
•
Convention Sponsorship/bid fee that guarantees room nights will be reimbursed 80%
•
New Event sponsorship will be reimbursed 70% and 50% for reoccurring events
RESEARCH
•
Research is now eligible for reimbursement
•
Funds may be used for destination needs, asset analysis and visitor profile research
•
Must be clear relationship to planning and executing tourism marketing & promotion
•
Economic Impact and Future Capital projects are not eligible
•
Research request must be approved in advance and outside firms, organizations or individuals must
meet the following criteria:
– In operation at least 2 years, if a firm or organization: if an individual at least 5 years of relevant
experience
– At least 3 references
– Demonstrate expertise in the type of services to be rendered
Submit the Following
Documentation with
Reimbursement
Exact
name of organization as it appears on non profit documentation
 Sign the reimbursement form
 Include the CORRECT Federal ID number
 Copy of invoices
 Cancelled checks
 Picture of billboard
 Tear sheets, copies of radio scripts or TV ads
 4 copies of any printed brochure
 Sponsorship contracts
 Copy of homepage showing links to region and state web sites
When you forget documents it only slows down the process
Confused?
Visit our web site at kentuckytourism.com/industry
then click on Tourism Marketing Incentive Program
or
Send us an email at [email protected]
[email protected]
PLEASE be sure to read the Administrative Regulations for full explanation of guidelines and
requirements. This is only a quick reference tool.