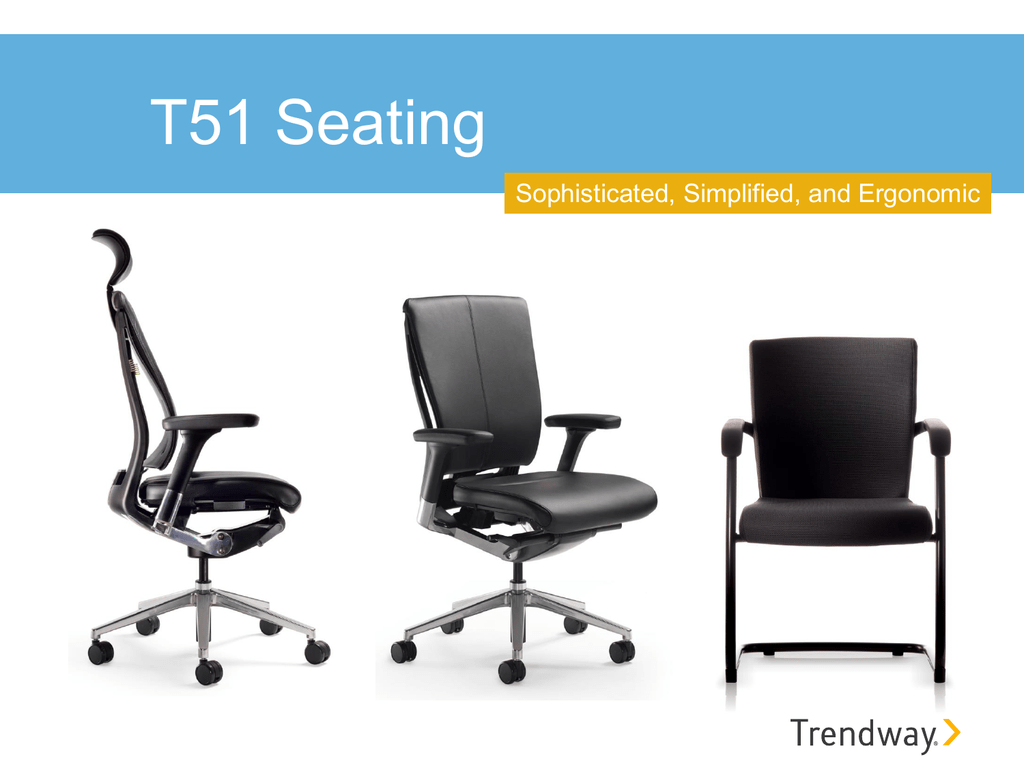 T51 Seating
Sophisticated, Simplified, and Ergonomic
Award Winning
Proven and Celebrated. T51 has been internationally
recognized for its design and ergonomics.
Good Design Award
Australian Design Award
Korea Industrial Design Award
Ergonomic Design Award
T51 Seating
• Embodies comfort and adjustability
• Almost every aspect of its movement can be modified to
accommodate, support and move with the human body.
Smart and Easy Ergonomics
• High functionality
• Easy adjustments
• Comprehensive ergonomic
features – all are standard
with no upcharge.
This well designed task chair includes:
The tilt tension handle is
simple to adjust, for
personal comfort.
Use the simple seat slide
adjustment for your
perfect seat depth
(Range: 2.5").
Multi-option back stop
with five positions.
The optional headrest
offers both height and
angle adjustments for
executive applications.
Adjust lumbar support with
a simple lift.
Change forward tilt with
the flip of a lever.
Adjustable armrests offer a
forward and back adjustment
range of 1.25" and 2" of vertical
height adjustment that allows
5 height positions for users.
Adjustable armrests pivot
with a simple twist.
Affordable
Easily meet your budget needs without compromising design or ergonomics.
Range of Upholstery Colors
• Choose from a breathable
Dimensional Knit Fabric or
Black Leather.
• Task Seating comes with a
choice of black or polished
aluminum trim colors.
• Executive Seating comes
standard with polished
aluminum trim.
• Guest Seating comes
standard with black trim.
Black
Grey
Yellow
Green
Light Blue
Mauve
Orange
Black Leather
T51 Guest Seating
• Simple, slim and understated design
• Ideal for conference rooms and side seating
• Perfect companion to the T51 Task chair
T51 Functional Family
Executive
Task
Guest
Trendway Seating
Seating for almost everywhere…almost instantly.
Visit Trendway.com to learn more.
Thank you.