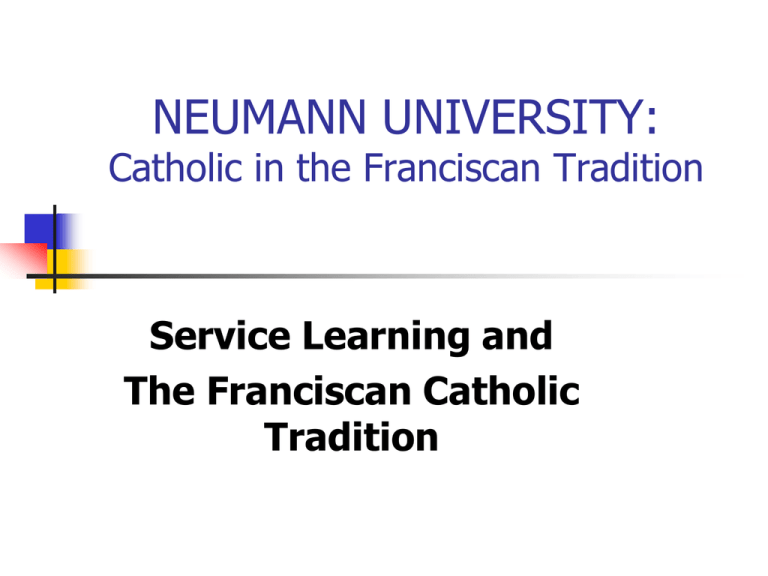 NEUMANN UNIVERSITY:
Catholic in the Franciscan Tradition
Service Learning and
The Franciscan Catholic
Tradition
A Tradition Develops




Persons have ideas
Persons begin to discuss and share their
ideas
Groups circulate the ideas
(a movement may form)
Ideas are taught and practiced
The Franciscan Philosophical
and Theological Tradition


First they lived it;
then they wrote
it. Godet-Calogeras
Vernacular
theologians/
philosophers
Historical Context
Europe in the Middle Ages







Collapse of feudal system
Commercial revolution
Rise of merchant class
Majores and minores
War between Perugia and Assisi
Crusades
Violence and persecution
Social Context


Medieval Italy
developed rituals of
exclusion to protect
itself economically and
culturally from the
threat of the Other:
Lepers, heretics, Jews
and Muslims, male
homosexuals, …
Whom does our society
exclude?
Francis Bernardone









1181
1198
1202
1205
1207
1209
1219
1225
1226
- Birth
– Rocca Maggiore
– War between Perugia and Assisi
– Spoleto Dream; San Damiano
– Leper
– Gospel Rule
– 5th Crusade; meeting with Sultan
– Canticle of Creation
- Death
San Damiano Cross



Humility of the
Incarnation –
reverence for all
created beings,
especially the least
Love of the Passion
– love and service
Love has a human
Face…
Embrace of the Leper
Francis and
the Wolf of Gubbio
Encounter with the Sultan




Contradicted attitude
toward the Crusades
Demonstrated respect
for the religion and
culture of the Other
Crossed boundaries to
embrace a brother
Affected beliefs and
teachings
Canticle of Creation



All is Gift from a
Good God:
Gratitude and Care
Interconnectedness:
Brother and Sister
Interdependence:
unity in diversity
Franciscan Worldview



God is a
Community of
Love
God shares Love
through Creation
and Incarnation
All creatures are
brothers and
sisters
Implications of Franciscan
Worldview




Dignity of the
human person
Goodness of
Creation
Family of sisters
and brothers
All is Gift from a
generous God
Elements of the
Franciscan Tradition
1.
2.
3.
4.
Inclusive – all cultures, all peoples
Critical – of injustices
Prophetic – moving beyond
Practical – an everyday approach
Counter-cultural Stance




Movement toward
people on the
margins
Belief that every
creature is a sister or
brother
Peace and
reconciliation in the
face of hatred
Rebuilding of Church
and Society
The Franciscan Tradition
Today
"I have done
what was mine
to do; may God
teach you what
you are to do."
Francis of Assisi
REFLECTION in light of
the Franciscan Tradition


How has this service experience led to a
deeper understanding of the
uniqueness and dignity of other people,
of the environment?
How did this service experience improve
the life of others?


Through this experience what have I learned
about personal integrity, corporate integrity,
integrity as the foundation of community?
How can my work and volunteer activities
contribute to the creation of more healthy
and wholesome communities and to the
transformation of society?


How has this experience helped me to
understand the challenges persons face in
trying to live healthy, wholesome lives? How
does the experience invite me to use the gifts
and resources that I have to promote a more
just and peaceful world?
With what Franciscan story can I compare
this service experience? Explain.