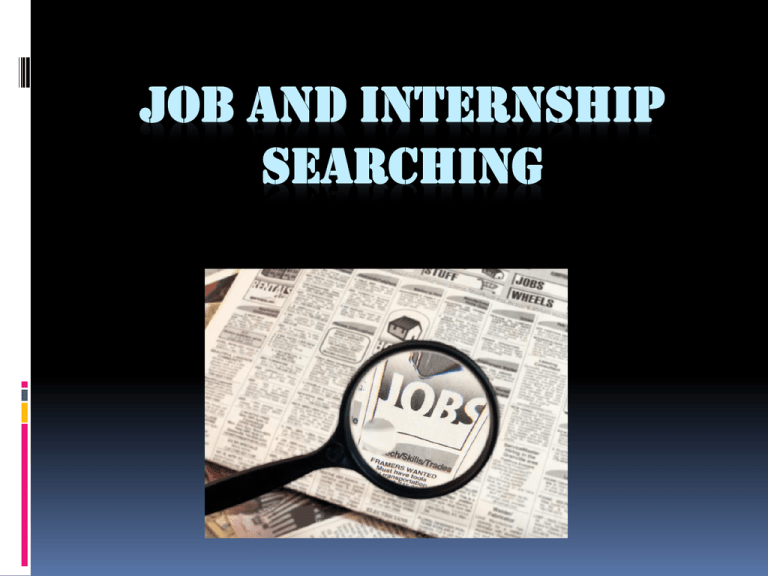 JOB AND INTERNSHIP
SEARCHING
Before You Begin
Know yourself
 Many job seekers make the mistake of not focusing
their career goals
 Makes job search overwhelming
 Identify your personal strengths, interests, skills, and
values
 List possible job titles and fields of interest
 Sales, PR, Social Work, Research, Writing, etc.
Before You Begin
Know where you want to work
 Research companies and organizations
 Research potential career fields
 Know typical entry-level jobs, salaries, etc.
 Think about location
 Identify potential employers who you would like
to work for
Preparing for Your Job Search
 Target your resume to a specific field or position
 Put together work samples
 Practice interviewing and speaking about your
liberal arts skills and professional experience
 Buy a professional suit
 Have a professional voicemail message
Preparing for Your Job Search
 Update your facebook and myspace profiles
 Have a professional email address
 Learn how to network and do an informational
interview
 Develop a job search plan using multiple job
searching strategies
How People Find Jobs
Networking and Direct Contact
Internet
Want Ads
Other Methods
80%
10%
5%
5%
Job Search Strategy #1
Participate in campus programs and events
 Job Fairs and Events







Government Job Fair (Fall)
Business Etiquette Dinner (November)
Minnesota Private College Job and Internship Fair (February)
Alumni Networking Event (February)
Pathways for Careers (March)
Idealist Job Fair – Nonprofits (March)
Education Job Fair (April)
 Other Events
 Employer Tables in the Christensen Center
 Employer Panels and Information Sessions
Job Search Strategy #2
Apply for jobs that are posted
 General Job Posting Websites
 Augpost, LandIt, JobPost, St. Thomas
 Specialized Posting Sites
 Idealist:www.idealist.org
 Minnesota Council of Non-profits: www.mncn.org
 EdPost: www.stcloudstate.edu/joblistings/edpost
Job Search Strategy #2
Apply for jobs that are posted
 Employer Websites
 Megasites
 Monster: www.monster.com
 Career Builder: www.careerbuilder.com
 Newspapers or Want Ads
 www.startribune.com
 www.twincities.com/mld/pioneerpress
Finding postings using the Wiki
http://cswl.pbworks.com/
Job Search Strategy #3
Target employers you are interested in
 Direct employer contact
 Directories
 Minnesota Nonprofit Directory
 United Way: Directory of Community Services
 Minneapolis/St. Paul Business Journal: Book of
Lists
 The Gold Book
 On the wiki: http://cswl.pbworks.com/
Job Search Strategy #4
NETWORK, NETWORK, NETWORK!!!
What is Networking?
 involves connecting with those who work in a field you
are wanting to learn more about or break into
 is the most effective way to learn about job positions
and obtain job positions
 does NOT involve asking for a job
Informational Interviews
 are a great way to begin to network, build connections,
and gain insight into a career
 set up times to talk with people and "interview" them
about their jobs and/or their employers
 follow up after the interview and continue to keep in
touch
Social Networking
 Linkedin
 www.linkedin.com
 complete a descriptive profile
 search for connections for informational interview
 get company information and connections
 Facebook
 become a fan of company profiles
 check the profile for news and information
INTERVIEWING FOR
SUCCESS
Who has had professional/internship interviews?
What is hard about interviewing?
What makes you the most nervous about interviewing?
What questions are the most difficult to answer?
Basic Guidelines
http://www.youtube.com/watch?v=S1ucmfPOBV8
Types of Interviews
 Screening Interview
 On-site Interview
Before the Interview
 Know the job requirements
 Know yourself
 Research the organization
 Prepare questions
 Practice
 Have your outfit ready
 Know where to go
Day of the Interview
 Arrive early
 Answer questions
 Introduce yourself
 Ask questions
 Be professional
 Do not bring up
salary or benefits
 Watch your eye
contact and body
language
 May bring and use
your portfolio
 Get business cards
 Close the interview
After the Interview
 Send a thank you note
 Follow-up
Behavioral Questions
 Prove yourself by telling stories of past
accomplishments
 Helps predict behavior
 Answer according to the CAR method:
 C = Challenge
 A = Action
 R = Results
Practice
 Tell me about yourself
 What are your strengths?
 What are your weaknesses?
 Why did you choose your major?
 What role do you usually play in group or team
situations?
 What motivates you in work setting?
 Give me an example of an accomplishment you are proud
of
 Tell me about a time you had multiple assignments to
complete and how did you prioritize
Other Sample Questions
 Why are interested in this position?
 What makes you qualified for this position?
 Why do you want to work for our organization?
 What are your career goals?
 How does your education relate to our needs?
 Why did you leave your last job?
More Sample Questions
 Describe a situation where you had a work as
part of a team to achieve a goal
 Tell me about a time you had to use strong
leadership skills
 Describe a situation in which you had to work
under pressure
 Others????
Prepare using the Wiki
http://cswl.pbworks.com/
QUESTIONS??