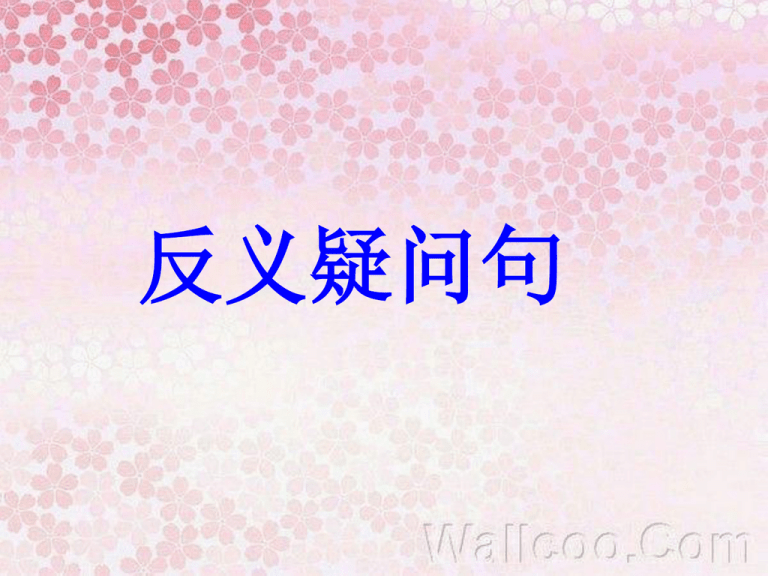 反义疑问句
一、什么是反义疑问句
反义疑问句又叫附加疑问句。它表
示提问人对其看法没有把握,需要
对方证实。反义疑问句由两部分组
成:前一部分是一个陈述句,后一
部分是一个简短的疑问句,两部分
的人称时态应保持一致。
二、反义疑问句的两种形式
1.陈述部分肯定式 + 疑问部分否定式
They work here, don't they?
She was ill yesterday, wasn't she?
2.陈述部分否定式 + 疑问部分肯定式
You didn't go, did you?
He can't ride a bike, can he?
三、反义疑问句的用法举例
1.陈述部分的主语是I,疑问部分要用
aren't I.
I'm as tall as your sister, aren't I?
I am a student, aren't I?
2.陈述部分用 no, nothing, nobody, never,
few, seldom, hardly, rarely, little等否定含义
的词时,疑问部分用肯定含义。
The Swede made no answer, did he / she?
Some plants never blown (开花), do they ?
There are few apples in the basket, are
there?
He can hardly swim, can he?
3.陈述部分有 have to + v. (had to + v.),
疑问部分常用don't +主语(didn't +主
语)。
We have to get there at eight tomorrow,
don't we?
They had to cross the busy street,
didn't they?
4.陈述部分主语是指示代词或不定代词
everything, that, this nothing, 疑问部分主
语用 it 。
Everything is ready, isn't it?
5.陈述部分主语是不定代词everybody, anyone,
somebody, nobody, no one等,疑问部分常用复
数they,有时也用单数he。
Everyone knows the answer, don't they?
he?)
(does
Nobody knows about it, do they? (does he?)
Everyone is in the classroom, aren't they?
Everything begins to grow in spring, doesn't it?
Nobody will go, won't they?
6.省去主语的祈使句的反意疑问句,疑问部分
用will/won't you。
Don't do that again, will you?
注 意:
Go with me, will you / won't you ?
注意:Let's 开头的祈使句,后用shall we?
Let us 开头的祈使句,后用will you?
Let's go and listen to the music, shall we?
Let us wait for you in the reading-room, will
you ?
we
It is a fine day. Let's go fishing, shall
_______?
will you
Let us do this job,_______?
will you
Turn on the radio,_______?
7.陈述部分是"there be"结构的,疑问部分用
there省略主语代词。
There is something wrong with your watch,
isn't there?
There will not be any trouble, will there?
8.陈述部分有否定前缀构成的词,应视为肯定
句,其反意疑问句仍用否定形式。
It is impossible, isn't it?
He is unfriendly to his classmates, isn't he?
注 意:
反义疑问句的回答用yes,no 但是,当陈述部分
是否定形式时,回答要按事实。
They don't work hard, do they?
Yes, they do.
不, 他们工作努力。
No, they don't.
对, 他们工作不努力。
aren't I
1. I am on duty,________?
isn't she
2. Your mother is a doctor ,_________?
isn't it
3. The weather here is very hot ,________?
isn't it
4. That's a Japanese car ,_______?
doesn't she
5. Miss Gao teaches English ,___________?
does she
6. She doesn't like apples ,_________?
didn't he
7. Tom had supper yesterday ,_________?
didn't she
8. She had to get there early ,___________?
can she
9. Mary can't ride a bike ,________?
isn't there
10. There is some milk in the glass ,__________?
11. There will be no rain tomorrow ,_________?
will there
did he
12. My father never went to Xi'an ,________?
13. Nothing can stop him learning English,
can it
_______?
14. Something is wrong with your computer,
isn't it
______?
isn't he
15. Everyone is here ,________?
will you
16. Don't be late for class ,________?
shall we
17. Let's go to the cinema ,_________?
will you
18. Let us go out for a walk ,_______?