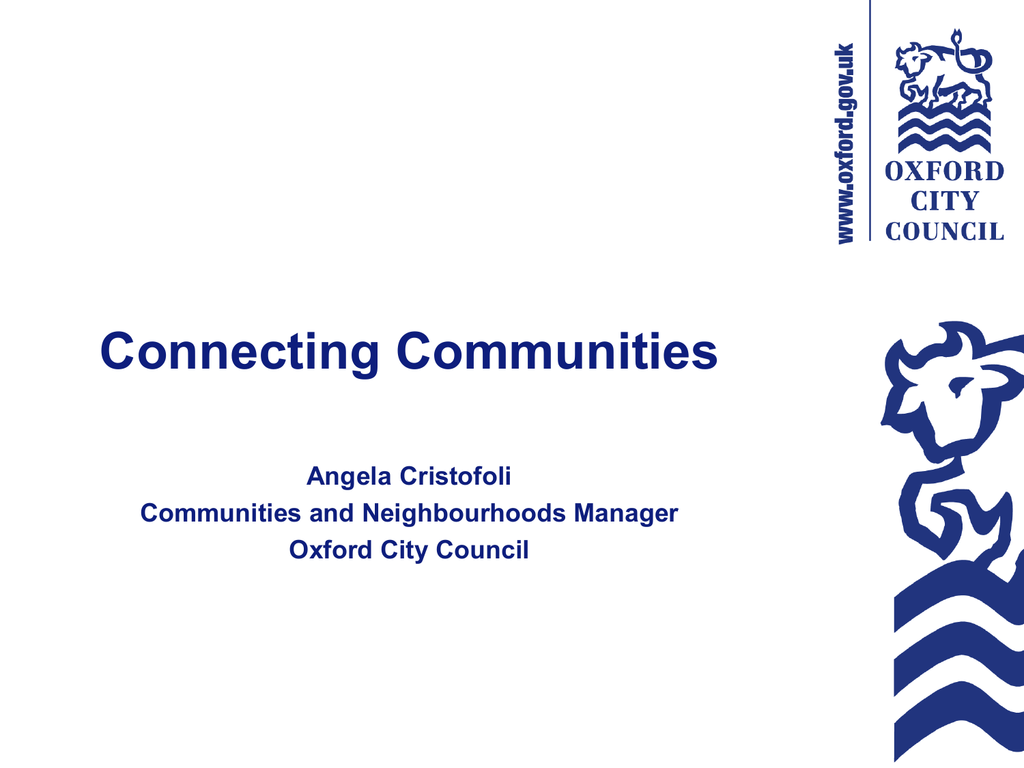 Connecting Communities
Angela Cristofoli
Communities and Neighbourhoods Manager
Oxford City Council
The Leys
• Oxford is often viewed as one of the most affluent
parts of the United Kingdom yet Blackbird Leys and
Greater Leys in Oxford City is an area of marked
deprivation.
• It is the largest estate in Oxford City with over 5,000
properties and nearly 8,500 residents on the electoral
register.
• It has been identified as an area of multiple
deprivation in Oxford by the Indices of Multiple
Deprivation (IMD), 2007 and seven of the eight Super
Output Areas (SOA) in the Leys are among the 10%
most deprived areas in England for education, skills
and training.
• This pilot project explored residents' views of the
estate, the local facilities and services as well as the
general opinion of the area. As a result of this project
it is hoped that further research will be undertaken
Connecting Communities
•
•
•
•
•
•
•
•
Develop an understanding of the needs of the local
community, through meetings with stakeholder groups and
discussions with key professionals
Develop and deliver a myth busting programme for local
professionals to dispel myths and signpost effectively
Setup and facilitate a Leys Forum for professionals, and
scope the capacity for neighbourhood management
Setup and facilitate a network of local voluntary groups
Coordinate engagement events with local people aimed
particularly at low incomes families,
Develop links with the local media and disseminate
accurate information
Support the development of a Leys-wide residents group
Run a range of activities in the community
Residents' Research Project
• February/March 2010 - aim of recruiting local
residents to participate in an Oxford City Council
Connecting Communities pilot resident research
project.
• Sue Funge, a resident of Greater Leys and the author
of the 'Community Development in Action' Open
College Network Level 2 course, delivered the course
to the recruited residents.
• The course is designed to provide participants with
the opportunity to gain confidence and acquire the
practical skills necessary to enable them to effectively
work in their community.
Residents' Research Project
• 1000 copies of the questionnaire were distributed
amongst the ten residents participating in the course
• Streets were selected by a process of randomly
distributing all the street names to the researchers
and then randomly selecting eight streets from this
list. 10 households would be contacted in each street
to complete a questionnaire. The remaining 200 were
to be distributed via other services and projects and
events
• The final number of completed questionnaires is 117,
which represents approximately 2.3% of the total
number of households on the estate.
Residents' Research Project
Participants had the opportunity to learn about:
• the values and principles of community development
work
• the opportunities and barriers to community
involvement
• ways of gathering information and involving people in
community action.
By learning the appropriate skills and approaches
to community development they were able to
benefit from real 'hands on' research and action
that can make a difference in the community in
which they live.
1. Number of respondents who value the opportunity to learn in
their local community
2. Respondents who would like more opportunities to learn in
their community
Not interested
Might be
Value learning in
Community
0
10
20
30
40
50
60
No
Yes
0
10
20
30
40
50
60
70
Responses to statement 'I am extremely proud of my community'
1 Strongly
disagree
1 Disagree
1 agree
1 strongly agree
0
10
20
30
40
50
60
70
Responses to statement 'I feel safe in my community'
2 strongly disagree
2 Disagree
2 agree
2 strongly agree
0
10
20
30
40
50
60
70
Responses to statement 'The strength of our community is how
well groups and individuals from different backgrounds and
ethnicities get on with each other'
4strongly disagree
4Disagree
4agree
4strongly agree
0
10
20
30
40
50
60
70
Responses to statement 'I think the image of Blackbird
Leys/Greater Leys is extremely negative but it does not reflect my
experience of living here.'
10strongly
disagree
10Disagree
10agree
10strongly agree
0
10
20
30
40
50
60
70
Conclusions
This pilot project has demonstrated the benefits of
undertaking a more in-depth research project using local
residents to conduct the research. They will be more likely
to encourage other residents to participate as they live in
the community and now have greater skills to use to assist
further development of this approach and gain greater
resident involvement in the future.
Developing the community in line with the principles of
community development could bring about lasting change
and perhaps an end to the negative perception of the
estate as a result of its exposure in the press two decades
ago. Commitment to taking forward the findings and
developing action plans with the community is essential to
bring about positive change and a break away from the
cycle of deprivation.