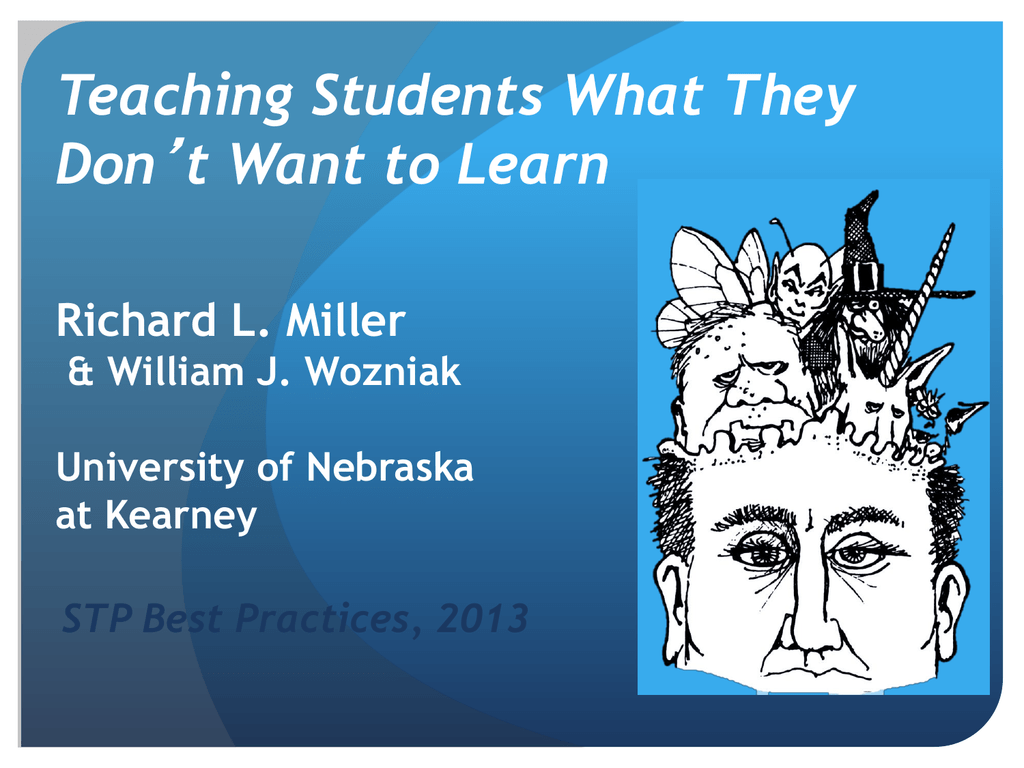 Teaching Students What They
Don't Want to Learn
Richard L. Miller
& William J. Wozniak
University of Nebraska
at Kearney
STP Best Practices, 2013
What Don't They Want to Learn?
 Controversial Issues
 Contradictions to Personal
Experiences
 Genetics and intelligence








Gay marriage
The death penalty
Childhood sexual abuse
Assisted suicide
Gun control
Global warming
Illegal immigration
Animal experimentation
 Prejudice
 Paranormal Phenomenon
 Contradictions to
Intuitive/Popular Beliefs
 Pseudoscience
 Paranormal Phenomenon
Our Own Focus
 Overcoming Students Cherished Beliefs in
Pseudoscience and the Paranormal
 Collaborators:

Marci Rust, Beverly Miller, Jennifer Slezak,
Logan Stickney, Robert Bechtel, D. Dymak,
Ben Clancy, & Haley Milam
Extent of Paranormal Belief from Gallup Poll
Astrology, Crystal Balls & Tarot
Reincarnation
Subliminal Perception
Subliminal Persuasion
Subliminal Persuasion
Why we believe: Reducing Uncertainty
Why We Believe: Reducing
Uncertainty - Terror Management
 Belief Systems:




Biblical Literalists
Modernists
Post-modernists
New Agers
 Changes in Traditional & Paranormal Beliefs as a
function of Death Anxiety
Effects of Mortality Salience on Paranormal Beliefs
Why Some Individuals Resist
Scientific Explanations/Facts
 Fear loss of something of value
 don't understand science and its implications
 don't think that scientific explanations make sense
 find it difficult to cope with either the level or pace of
the scientific discovery
 Feel connected to other people who are identified with
non-scientific explanations
 Feel that scientific explanations threaten their view of
themselves
Traditional Educational Approaches
A Recommended Technique for
Teaching Controversial Issues
Flooding applied to the Classroom
Really Recommended Techniques
to Teach Controversial Issues
 Emphasize critical thinking and research methodology
(Clarke, 2005)
 Establish Rapport (Marshall et al., in press)
 Mythbusting (Lilienfeld et al, in press)
 Classroom Debates (Peden et al, 2009)
 Just-in-Time Teaching (Apple et al, 2009)
 Commercial media presentations (Daniels, 2009)
 Games (Garczynski & Harvey, 2009)
 Anonymous Questionnaire Analysis (Maurer, 2009)
Research Methods Class:
Palm Reading
 Discussion of Research Methods in PSY 270
 Outed by a Student to the local palm reader
 Study Design:




Double-blind Technique
Preparation of Stimulus Materials
Descriptions Provided by the Reader
Finding Yourself
 Response from data collection
Educational Interventions based
on Cognitive Dissonance Theory
o Counter-attitudinal Advocacy
o Belief Perseverance
o Hypocrisy Induction
Counterattitudinal Advocacy I
 Stimulus Materials
 Reading, Writing and Control
 Before and After
Miller, et al. Teaching of Psyhology, 1998
Figure 1. Agreement with Scientific Position
Figure 2. Agreement with Scientific Position
Counter-attitudinal Advocacy II
 Effort vs. Self-generation of Arguments
 Attitudes and Behavioral Intentions
Miller & Wozniak, Current Research in Social Psychology, 2001
Figure 1. Belief in Subliminal Perception
Interest in Purchasing Subliminal Tapes
by Counter-attitudinal Advocacy Condition
Buy Personally
_____________________________
Condition
Bookstore Should Carry
___________________________________
M
SD
n
M
SD
n
Self-Generation 1.87
.92
15
2.60
1.12
15
Ef f o rt
2.71
1.16
17
3.24
1.25
17
Control
3.67
1.18
15
3.80
1.37
15
Table 1. Behavioral Intentions
Hypocrisy Induction
 Studies by Aronson and colleagues:
 Water Conservation
 condom use in college students.
 generosity toward the homeless.
 Study I using Hypocrisy Induction to
address Belief in the Paranormal
 Inverted U
 Descriptive Norms
 Psychological Reactance
Psychological Reactance
Festinger, L (1957). Huh?
Background
 Psychological Reactance:
 Psychological reactance occurs when behavioral freedoms
are reduced or threatened and the individual is motivated
to regain them (Brehm, 1966).
 Hong and Faedda (1996) created the Hong Psychological
Reactance Scale.
Hypocrisy Induction: Study 2
 Does a person's reactivity affect whether they are
influenced by hypocrisy induction.
 Hypothesis:
 People with high psychological reactance scores will be less
affected by the hypocrisy induction and, therefore, less
likely to change their beliefs.
Clancy & Milam, 2010
Measurements
 Participants were asked to complete Reactance Scale and the
Belief in the Paranormal Scale
 To induce hypocrisy in paranormal beliefs, participants wrote
a short response to the prompt:
 "Why is it important to use logic and the scientific method in
everyday life? Be sure to include examples of how scientific
evidence is a necessity in becoming an intelligent, collegeeducated citizen."
 To measure belief change, participants later received a
marketing survey disguised as though it was from the local
book store
Results
Tips for
Teachers
 Preserve freedom of choice in the assignment.
 Individual responsibility for the assignment.
 Require both effort and self-generation of arguments.
 Don't overuse the technique.
 Use after grounding in scientific literature.