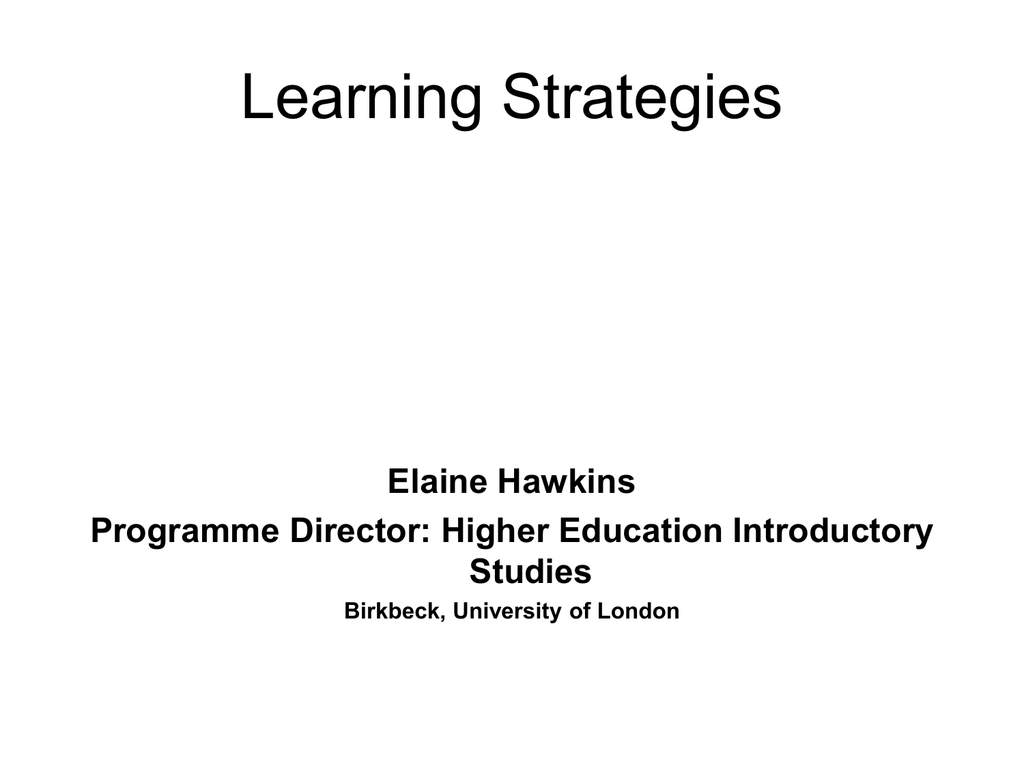 Learning Strategies
Elaine Hawkins
Programme Director: Higher Education Introductory
Studies
Birkbeck, University of London
Discussion questions
• What is learning?
• How happy are you with your current
learning strategies? Do you have a
strategy??
Learning strategies: skills and
processes
• 'How to' do things (skills). For example:
Take notes
Find reliable information/reference correctly
Use a computer effectively for study and
research
Write an essay/ give a seminar presentation
Take a timed assessment
• Learning as a process
Psychological and social
Elizabeth Ellsworth(2005) Places of
Learning; Media, Architecture,
Pedagogy:
'I will locate the experience of the learning
self as a self not in compliance but in
transition and in motion towards previously
unknown ways of thinking and being in the
world' (16).
Learning: a complicated process?
• Emotional as well as intellectual
• Involves our identities: resistance as well
as acceptance.
• Social as well as psychological: external
as well as internal factors play a part in
learning.
Learning in Educational settings
• Who decides what is valuable to learn?
• How does learning in educational settings
relate to the learning we do in our
everyday lives?
• In your field of study, who has most control
over what we 'know'?
Learning Styles?
• Am I clever enough?
• Do different people learn differently?
Learning Styles
Experiencing
Testing
Reflecting
Theorising
Kolb's Learning Cycle
(Adapted from Kolb and Fry (1975) cited in Honey and Mumford 1992)
Harry Potter on Learning
(Theorising)
Harry stared at the stone basin. The contents had returned to their
original silvery white state, swirling and rippling beneath his gaze.
'What is it?' Harry asked shakily.
'This? It is called a pensieve', said Dumbledore. 'I sometimes find, and
I'm sure that you know the feeling, that I simply have too many
thoughts and memories crammed in to my mind.
'Er,' said Harry, who couldn't truthfully say that he had ever felt
anything of the sort.
'At these times' said Dumbledore, indicating the stone basin, 'I use the
pensieve. One simply siphons thoughts from one's mind, pours them
in to the basin, and examines them at one's leisure. It becomes
easier to spot patterns and links, you understand, when they are in
this form.'
(Rowling, 2000, pp.518-19 quoted in Moon, J. (2004) A Handbook of
Reflective and Experiential Learning: Theory and Practice
(Routledge, Falmer)
Making a start with your studies
•
•
•
•
•
Organising space and resources
Organising time: charts and diaries
Combining work and study
Collaborative learning: study groups
Independent/autonomous learning
– Explore your motivation
– Define your own outcomes/goals
– Developing a questioning approach
Making a start with your studies
•
•
•
•
•
•
Identify resources to assist you
Keep a record of their location
Extend your reading
Practice summarising and note-taking
Practice active listening
Identify and record what you already
know: transferable skills.
Learning Strategies:Resources
• Books:
– Cottrell, S.(2008)The Study Skills Handbook (3rd
edition),
– Burns, T and Sinfield, S.(2003)Essential Study Skills:
The Complete Guide to [email protected]
– Northedge, A. (2005)The Good Study Guide (2005)
Also: The Sciences Good Study Guide and Chambers
and Northedge(2008) The Arts Good Study Guide
(2nd edn 2008)
– Cottrell, S. (2011) Critical Thinking Skills Palgrave
Macmillan
Learning Strategies: Birkbeck
Modules
• Learning Strategies module (Higher Education
Introductory Studies)
http://www.bbk.ac.uk/study/ce/preparationforhighereduca
tion/awards/UEAHEINT.html
• Higher Education Introductory Studies modules
http://www.bbk.ac.uk/study/all_courses/highereducationi
ntroductorystudies.html
• Academic English modules (second language speakers):
http://www.bbk.ac.uk/study/all_courses/academicwritingf
ornon-nativeenglishspeakers.html
Learning Strategies: web
resources.
• http://www.bbk.ac.uk/mybirkbeck/services/faciliti
es/support
• http://www.bbk.ac.uk/mybirkbeck/get-aheadstay-ahead
• http://www.palgrave.com/skills4study/pdp/structu
red/index.asp
• http://www.palgrave.com/skills4study/studyskills/
index.asp
• www.mindtools.com/pages/main/
• www.howtostudy.org/overview
• http://owl.english.purdue.edu/
Personal Development
• Alder, H (2005) Boost Your Creative Intelligence
• Cottrell, S. (2010) Skills for Success: The Personal
Development Planning Handbook (2nd Edition)
• Fennell, M. (2006) Overcoming Low self-esteem
Constable and Robinson
• Ibarra, H (2004) Working Identity: Unconventional
Strategies for Reinventing Your Career
• Lindeford, G (2001) Assert Yourself
• Michelli, D (2002) Assertiveness in a Week
• Neenan, M. and Dryden W (2001). Life Coaching
Brunner-Routledge,
• Winstanley, D (2005) Personal Effectiveness.