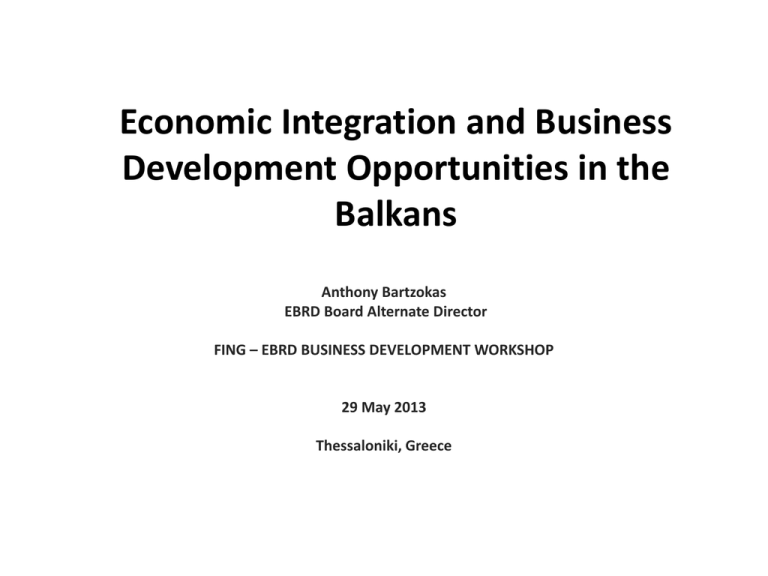 Economic Integration and Business
Development Opportunities in the
Balkans
Anthony Bartzokas
EBRD Board Alternate Director
FING – EBRD BUSINESS DEVELOPMENT WORKSHOP
29 May 2013
Thessaloniki, Greece
Outline
• The objective of the joint workshop: B2B
meetings
• Investment recovery in a constrained capital
market
• Growth and regional integration
• Adjustment challenges for Greek firms
• Joint IFI Action Plan for Growth in Central and
South Eastern Europe
Divergence of interest rates on new loans
in the Eurozone
Source: ECB, March 2013
Obstacles for Greek export oriented firms
Source: NBG SMEs Report, March 2013
ICAP Investment Survey:
Market orientation of new investment
Source: ICAP, Greece (Survey of 1.095 Firms with annual turnover ≥ € 1 m.)
International patterns of post-recession
investment (272 recovery episodes)
Source: Naotaka Sugawara and Juan Zalduendo (2013) Credit-less Recoveries Neither a Rare
nor an Insurmountable Challenge, World Bank Working paper No. 6459.
Economic growth trends in the Balkans:
GDP growth (y-o-y)
Source: National statistical offices.
Bilateral trade flows have declined
Exports to Greece (2005=100)
Imports from Greece (2005=100)
Source: Bank of Greece
Business development obstacles in South East Europe
(BEEPS 2008/2009 – per cent deviation from country average)
60%
Tax administration
Skills
Corruption
Skills
Corruption
Tax administration
Infrastructure
Skills
Tax administration
Tax administration
Corruption
Courts
Skills
Courts
Tax administration
Crime
10%
Tax administration
Corruption
Tax administration
Corruption
Courts
20%
Skills
30%
Infrastructure
40%
Corruption
50%
0%
Albania
BiH
Bulgaria
Croatia
FYR Macedonia
Montenegro
Romania
Serbia
Source: EBRD and World Bank, Business Environment and Enterprise Performance Survey IV
Structure of Bulgarian
Imports from Greece
in 2011: Increasing Share of Consumer
Goods
Structure of Bulgarian
Imports from Greece
in 2008
Investment
Mineral
fuels, oils
and
electricity
10.3%
Consumer
goods
16.0%
goods
10.1%
Raw
materials
63.5%
Mineral
fuels, oils
and
Investment electricity
12.2%
goods
6.9%
Consumer
goods
26.5%
Raw
materials
54.2%
Source: Bulgarian National Bank
10
Greek export oriented SMEs in South East Europe
Source: NBG SMEs Report, March 2013
Drivers for outward oriented Greek SMEs
Source: NBG SMEs Report, March 2013
Greek outward FDIs: challenges for adjustment
Exogenous Vulnerability Factors
Business cycle sensitivity
Exposure to the Greek market
Reputation risk
Reliance on external finance
FDI stock
Infrastructure
(Telecommunications,
Energy)
Processing industries
(Construction Material,
Metals)
Subsidiaries of Greek banks
Business Services, Logistics
and Tourism
Food processing and textiles
Adjustment Challenges
Debt refinancing
Downward cost adjustment
Value chain diversification
Disinvestment
High probability of sub-optimal adjustment trajectories reflecting capital market
constraints
IFI Action Plan for Growth in CESEE
• EIB, the World Bank and EBRD new Action Plan of over €30 bn ($38 bn)
in 2013-2014.
• Focus on investment driven growth, not "crisis management"
• Elements:
• Special attention to export-led growth and trade
integration
• Both banking and corporate sector restructuring
support for synergies
• Acceleration of the use of EU structural funds
• Targeted policy advice support (corporate restructuring,
NPL/distressed asset management, etc.)
• EBRD geographical focus is the Balkans, the hardest hit
region.