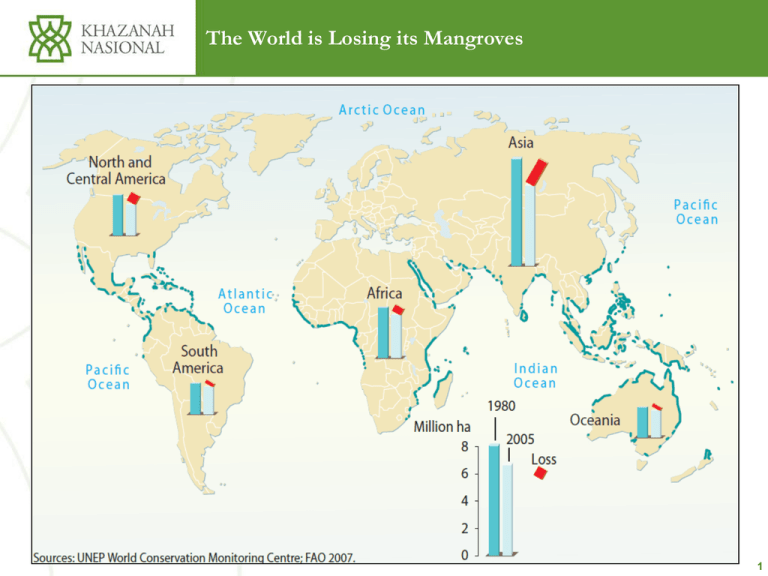 The World is Losing its Mangroves
1
The Ramsar Sites in Johor
Ramsar Sites
Reports of study done on the Ramsar Johor sites in 2011
Conservation - Why conserve Johor Ramsar sites
A biodiversity valuation study of the 3 sites
Net Present Value (NPV) of Johor Ramsar Sites
Source: Mangrove Matters – Biodiversity Study, Khazanah Nasional Berhad (2011)
4
Tg Piai – the coastal erosion and degradation of the
mangroves
Reports of study done on the Ramsar Johor sites in 2011
Khazanah's Ramsar Conservation Initiative Phase 2
Three Initiatives by Khazanah:
1. Coastal mitigation plans for the short to medium term
2. Repositioning & Improving the visitor experience at Tg Piai
3. Setting up of 'Friends of Iskandar Ramsar' network
8
Erosion of the Tg Piai Ramsar site
Current erosion situation
Short to medium term mitigation of erosion & pollution through
installations of booms and geotubes/boulders
1. Short term
A) Rubbish Boom + Oil Boom ( 1 year)
B) Geotubes & Boulders (2 years)
2. Mid term C) A + B (3 – 4 years)
Upgrading of Tg Piai Ramsar Site: the Project Masterplan
Proposal
1. Public Area – Cafe, Toilet, Souvenir Shop
2. Office Area
Camping Site
Visitor Centre
Labs/Hostels
10
Friends of Iskandar Ramsar
For further information please contact:
shareen.ghani@khazanah.com.my or
shariza.hamzah@khazanah.com.my
Or, you can fill in and drop the 'Friends of Iskandar Ramsar' card in the
bowl that we have placed at the entrance and get a free t-shirt.