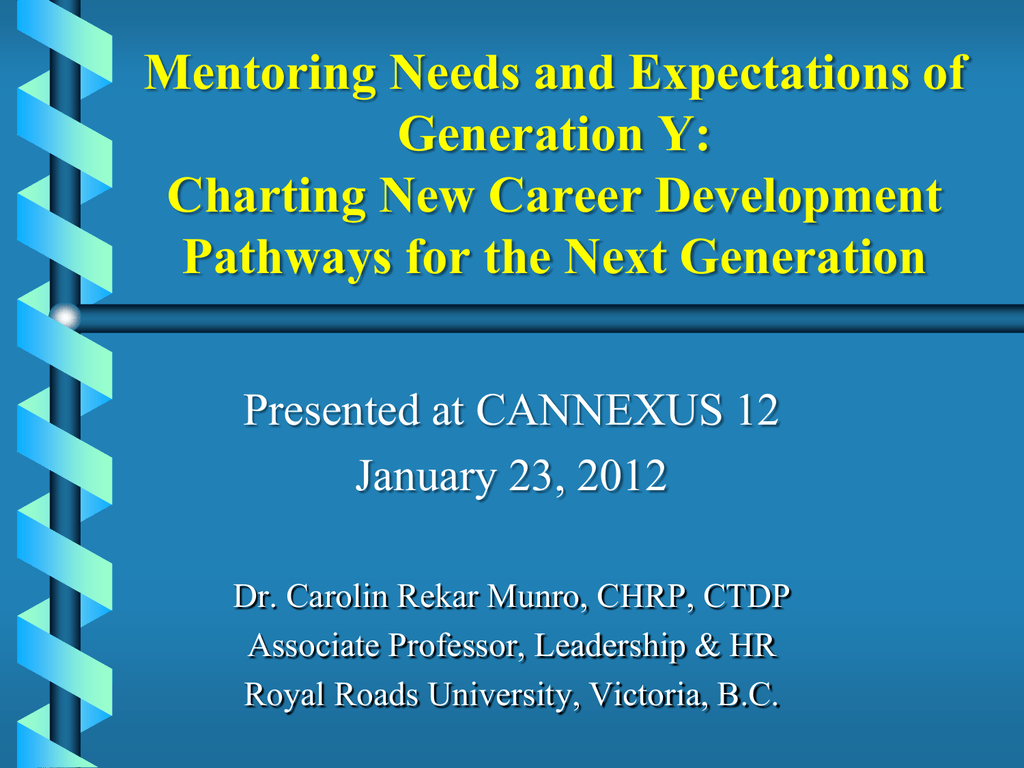 Mentoring Needs and Expectations of
Generation Y:
Charting New Career Development
Pathways for the Next Generation
Presented at CANNEXUS 12
January 23, 2012
Dr. Carolin Rekar Munro, CHRP, CTDP
Associate Professor, Leadership & HR
Royal Roads University, Victoria, B.C.
Our Agenda
1.
2.
3.
4.
Examine Generation Y profile.
Explore research on mentoring needs and
expectations of Generation Y's.
Explore how we, in our professional
capacity, can support and foster career
development for the next generation.
Create space to discuss application of
learning to our own practice.
Generational Identities

Traditionalists
(1922 – 1945)

Baby Boomers
(1946 – 1964)

Generation X
(1965 – 1980)

Generation Y
(1981 –2000)
Goal: Create a
Life that has
Meaning
Generation Y
Are we
having FUN!
"Get out of my
way!"
Value diversity, civic
duty, environmental
accountability,
collective action,
experimentation
Techno-savvy
Respect for
authority? Why?
Wish list:
challenging work,
mentoring,feedback,
respect, promotions
NOW!
confident and
optimistic
innovative
ambitious
Small Group Discussions …
 Briefly
introduce yourselves.
 Discuss
the challenges and opportunities
you perceive as Generation Y enters the
workforce.
Be prepared to report back 1 key point from
your group discussion.
Rekar Munro, C. (2010). Charting Workplace
Transitioning Pathways of Generation Y.
Canadian Journal of Career Development
Purpose:
To gain insight into the mentoring needs and
expectations of Generation - Y as they enter
the workplace and to propose
recommendations to support their personal
and professional development.
Research Roadmap
 452
participants in the formative years of
their careers.
 On-line surveys, focus groups, and one-onone interviews
 Employed quantitative and qualitative
methods.
 Range of industries in unionized and nonunionized sectors.
Emergent Themes from Analysis:
Words of Wisdom from Gen Y
Organizational
Support
Proteges'
Contributions
to Mentoring
Mentor-Protégé
Working
Relationships
Results
Preferred Approaches
to Learning and
Development
Demographic
Profile of
Effective Mentors
Competency
Toolkit of
Effective Mentors
Goals to be Achieved
through Mentoring
Small Group Discussions
 What
research results are of interest to you
and your organization?
 How
might these research results be useful
in your own organizations?
So…
What Now?
Developing & Sustaining a Culture of Social
Responsibility for Mentoring

What internal changes
should be made to
accommodate
mentoring?

Are we prepared to
expend the resources?
Preparing our Mentors
Blueprint for Training:
 Adult Learning Principles
 Progress Consultation
 Proactive Problem Solving
 Co-creating our Work
 Goal setting
 Learning How to Learn
 Networking Support
 Dev. Interdependence
Mentoring in ACTION

Mentorship Mapping

Experimentation:
The Exploratory Lab
(Test-Reflect)

Personal Mission
Statement (Goals &
Action Strategies)
Collaborative Inquiry: An
Action Research
Framework
Protégé Collaborative
Inquiry Teams
Mentor Collaborative
Inquiry Teams
Guidelines for Enhancing
Communication
Contextualize learning: "the Big Picture"
 Provide realistic expectations of how they can add
value in the work world
 Explain WHY! What's in it for them?
 Engage in frequent and informal conversations
 Ask for their suggestions, insights, opinions
 Involve them in new initiatives
 Provide frequent and direct feedback

Check
Assumptions
What language are
we speaking???
 Hone in on specific,
concrete behaviours
(What does it look
like?)

Support
New Pathways
for Effective
Communication





Create space for
intergenerational collaborations
Encourage collaborative decision
making
Invite divergent views to the table
and LISTEN
Be courageous enough to step
into "tough" conversations
Ury: "Yes, No, Yes"


Support Career
Development that
brings the
Generations together



Create a learning
environment
Invest in training differently
Include learning &
development in role
requirement
Establish accountability
"Walk the talk"
Our Final Small Group Discussions
 What
resonates with you from our
discussion this afternoon?
 How might you apply these insights to
your own practice?
 What questions and concerns are
emerging for you?
Be willing to leave the shore and…









Suspend judgment
Think outside the box
Shift perception
Look for the second right
answer
Challenge assumptions
Be illogical
Look foolish
Make a mistake and…
Keep looking through the
lens of our GenY colleagues
Sometimes we have to jump
off the cliff…
and
Build our wings – on the way
down.