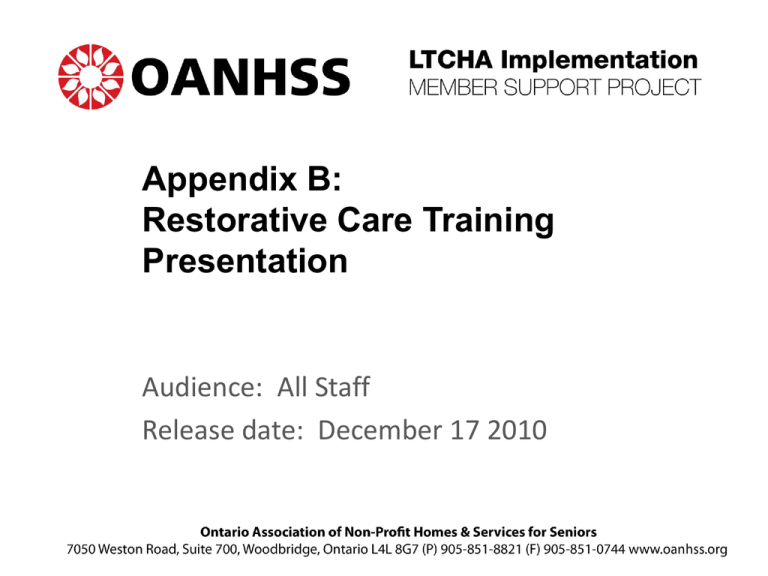 Appendix B:
Restorative Care Training
Presentation
Audience: All Staff
Release date: December 17 2010
Objectives
At the completion of this session, participants
will be able to:
• Understand the principles of Restorative Care as
related to the Long-Term Care Homes Act (LTCHA)
2007
• Define Restorative Nursing
• Define Therapy Services
• Understand the restorative care planning process
• Understand the basic documentation requirements
Restorative Care
Utilizes skills and expertise of each discipline
to plan, implement and facilitate returning an
individual to their highest practicable physical,
mental and psychosocial functional level.
It is not a new concept…
Restorative Care…cont'd
Principles to be applied in the Long Term Care Home:
• Providing resident focused care based on the resident's needs
and desires
• Fostering the individual resident's independence and quality
of life
• Optimizing the resident's remaining strengths and abilities to
attain and maintain optimal level of function possible and to
prevent or delay deterioration
• Promoting an interdisciplinary team approach to resident care
• Promoting quality of working life for caregivers
Restorative Care…cont'd
• Is a philosophy of care – an approach to all
interactions with residents
• Is a process of care that embodies the nursing
and interdisciplinary team care planning process
•
•
•
•
Assessment
Planning
Implementation
Evaluation
• Involves use of MDS RAI 2.0, and is a key aspect
of complying with the new Long-Term Care
Homes Act, 2007 (including Quality Inspection)
Nursing Restorative Care
• Refers to nursing interventions that promote
the resident's ability to adapt and adjust to
living as independently and safely as is
possible.
• This approach actively focuses on the resident
achieving and maintaining optimal physical,
mental, and psychosocial functioning.
Nursing Restorative Care
…cont`d
• Focus is on resident skill development or
support required for ADLs
• A co-ordinated team approach
• Interventions are provided under the direction
of and evaluated by Registered Nursing staff
Nursing Restorative Care
…cont`d
Includes:
• Range of motion (active and passive)
• Bed mobility
• Transfers
• Walking
• Dressing or grooming
• Eating and swallowing
• Communication
• Amputation or prosthesis care
• Other (i.e. teaching for self care for diabetic
management, self admin of medications etc)
Transfers and Positioning
• When transferring and positioning a resident,
staff shall use devices and techniques that
maintain or improve, wherever possible,
his/her weight bearing capability, endurance
and range of motion.
Therapy Services
What: Therapeutic interventions can include:
• use of modalities
• specific treatment techniques
• retraining or teaching new skills to residents
Who: These services are usually provided by a Physiotherapist (PT),
Occupational Therapist (OT) or Speech and Language Pathologist (SLP)
Why: The focus of the therapeutic interventions is to address a clinical
issue such as illness, injury or disease.
How: PT, OT, SLP are provided under the clinical direction of, and
evaluated by the relevant therapist.
The interventions may be carried out by the therapist or trained
support personnel.
Therapy Services…cont`d
On-site therapy must be available to meet the
needs of residents and may be accessed through
contracted services, community resources or
directly through the home.
It is provided to residents on an individualized
basis or in a group setting based on residents'
assessed care needs.
Example of a
Restorative Care Policy
The home shall ensure that restorative care
approaches and principles aimed at improving,
preventing deterioration or maintaining a
resident's functional level and quality of life are
integrated into home programs and the
individual care plans for all residents.
Procedure
Follow the care planning process:
•
•
•
•
Assessment: MDS RAI 2.0
Planning: Resident Focused Goals and Strategies
Implementation: Continuity - according to the care plan
Monitor and Evaluate: MDS RAI, resident satisfaction
Required Documentation
Individual resident
• Flow sheets
• Progress as it occurs
• Changes in resident's status
• Quarterly review (or more frequent if required)
Restorative Programs
• Annual Program Evaluation
Program Requirements
• Written program descriptions including
resident focused goals, program protocols,
risk management , monitoring and evaluation
aimed at improving or maintaining the
resident's function.
Education Requirements
• Staff and support personnel carrying out
restorative interventions must be trained in
restorative techniques.
• Therapists providing service must be licensed to
practice under the Ontario Regulated Health
Professions Act, 1991.
• Social Workers and Social Service Workers must
be registered under the Ontario Social Work and
Social Service Work Act, 1998.
Resource Requirements
Under the LTHCA, Homes must ensure:
• Access to specialized resources such as OT, PT, SLP
and referral process for specialized services,
• Suitable supplies, assistive devices and equipment
are available, safe for resident use, and in good
working order.
Skill Training
Staff Training includes, but is not limited to:
• Range of motion
(active and passive)
• Bed mobility
• Transfers
• Walking
• Dressing or grooming
• Eating and swallowing
• Communication
• Amputation or prosthesis
care
• Other (i.e. teaching for
self care for diabetic
management, self admin
of medications etc)
• Documentation – MDS
RAI, care planning, flow
sheets, progress notes
Questions?