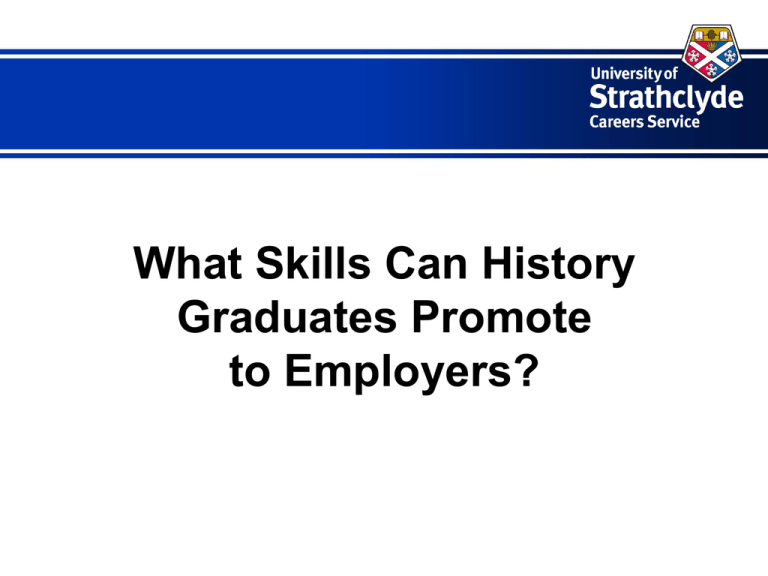 What Skills Can History
Graduates Promote
to Employers?
Promoting History Graduates to Employers
By the end of this seminar you will:
• understand the skills which employers want graduates
to have
• identify the skills which you are developing through your
course
• identify additional skills and attributes developed
through other activities
• know how to create an effective CV which highlights
these skills
Skills employers want in graduates
•
•
•
•
•
•
Communication – written, verbal, graphic
Teamwork
Leadership
Motivating others
Empathy for others
Integrity
•
•
•
•
•
•
Personal effectiveness
Information gathering
Analytical thinking
Problem solving
Creativity
Planning and implementing plans
Skills from your course
A graduate in History should be able to:
• appreciate the complexity and diversity of situations and events
• understand a range of viewpoints
• read and use texts and other source materials critically
• gather, sift, select, organise and synthesise large quantities of
evidence
• appreciate the problems involved in interpreting complex,
ambiguous, conflicting and often incomplete material
• recognise that statements are not all of equal validity and be able
to test them by critical evaluation
• formulate appropriate questions and provide answers using valid,
relevant evidence and argument
• write with structure, coherence, clarity and fluency
Other sources of skills development
What other roles do you have in life?
Personal:
Work:
Interests:
parent, family member, friend, carer
employee, supervisor, team leader, team
member, self-employed, volunteer, active in
family business
creative arts + crafts, individual and team
sports, musical + drama performance,
current affairs, community service, religion,
environment, travel
Additional skills developed outside
study
Through life experience you can gain skills in:
•
•
•
•
•
•
•
•
Self-reliance
Negotiation
Practical problem solving
Multi-tasking
Organising other people
Dealing with people with different / conflicting views
Financial management
Using initiative
Options to enhance your profile
• GOALS / Summer Academy– linking students & pupils
http://www.strath.ac.uk/apu/jobopportunities/
http://www.strath.ac.uk/summeracademy/mentorrecruitment/
• Museum/heritage volunteers – City Council, National
Trust for Scotland, Friends of Glasgow Cathedral
http://www.glasgow.gov.uk/en/Visitors/MuseumsGalleries/
http://www.nts.org.uk/Support/volunteers_home.php
info@glasgowcathedral.org.uk
• Archives volunteers – Society of Archivists
http://www.archives.org.uk/
• Information work – Glasgow City Council, Erskine
Hospital lil@cls.glasgow.gov.uk and www.erskine.org.uk
Options to enhance your profile
• CACTUS – Community Action at U. of Strathclyde
cactus @ theunion.strath.ac.uk
• Nightline, Samaritans, Childline - counselling
www.strathstudents.com/display/strathclydeadvice/Nightline
http://www.samaritans.org/support/volunteer.shtm
http://www.childline.org.uk/Volunteercounselling.asp
• SACRO, Victim Support – links to legal + penal systems
http://www.sacro.org.uk/index.html
http://www.victimsupportsco.demon.co.uk/main/volunteer.html
Options to enhance your profile
• AIESEC and SIFE [Students in Free Enterprise]
- understanding business and entrepreneurship
http://www.aiesec.co.uk/stud/membership_how.asp?id=22
• Strathclyde Telegraph, hospital radio, volunteer publicity
officer – media involvement
telegraph@theunion.strath.ac.uk
http://www.shrs.org.uk/hbs/index.html
• Study or summer job abroad
www.strath.ac.uk/igo/informationabout/studyabroadopportunities/
http://www.careers.strath.ac.uk/ses/student/swabroad.htm
Presenting your skills in a CV
Content of a good CV
•
•
•
•
•
•
•
•
Personal details – name + contact points
Personal statement/career goal [optional]
Education [reverse order]
Career history/work experience
Relevant skills/qualities
Positions of responsibility/achievements
Interests
Referees
Presenting your skills in a CV
Option 1: Degree related skills
• Research, written communication and IT skills, work in groups
Option 2: Degree related skills
• Excellent research skills, from initial design to final implementation
• Analysis of official statistics and reports
• In-depth qualitative interviewing
• Ability to summarise complex issues in concise language
• Competent user of SPSS, PowerPoint, Microsoft Word, Excel,
email and the Internet
• Individual and team projects demanded strong organisational,
planning and team skills alongside the capacity to manage several
tasks simultaneously
Presenting your skills in a CV
Option 1: Work related skills
Call centre agent
• Responding to calls about accounts – enquiries and complaints
Option 2: Work related skills
Call Centre Agent – Credit Management
• Take inbound calls from customers dealing mainly with enquiries
regarding pre-payment accounts.
• Listen to customer and identify the main cause of their complaint
before explaining the company position together with a proposed
method for resolving the issue.
• Work as part of a team that has to maintain a set call ratio together
with targets for calling customers back after more detailed
investigation of their issue.
Presenting your skills in a CV
Option 1: Leisure interests
• Current affairs, reading, writing, travel, music, sport, meeting
friends
Option 2: Leisure interests
• I am very interested in societal and current affairs and I like to keep
up to date with these through various newspapers and magazines.
This interest also led to me writing many articles for the student
newspaper, Strathclyde Telegraph, which I enjoyed very much.
• I enjoy travelling and visiting new countries and I have spent
considerable time travelling through Spain and central Europe. I
found this challenging and character building.
• I enjoy going to the cinema regularly, listening to music and
reading. I also enjoy football, squash and socialising.
Help from the Careers Service
Careers guidance interview
- ring 548-4320
Helps to identify your skills and match
them to suitable careers.
Student Employment Service
- rooms L5.26 & 5.27
- vacancies on website
Opportunities for part-time, vacation
paid and unpaid work – UK, overseas
Resource centre – L5.01
Files, books on vacation and
voluntary work ; study abroad; CVs
CV advice
Drop in sessions
- Tues. 1-4 p.m.
- Thurs. 10 a.m. – 1 p.m.