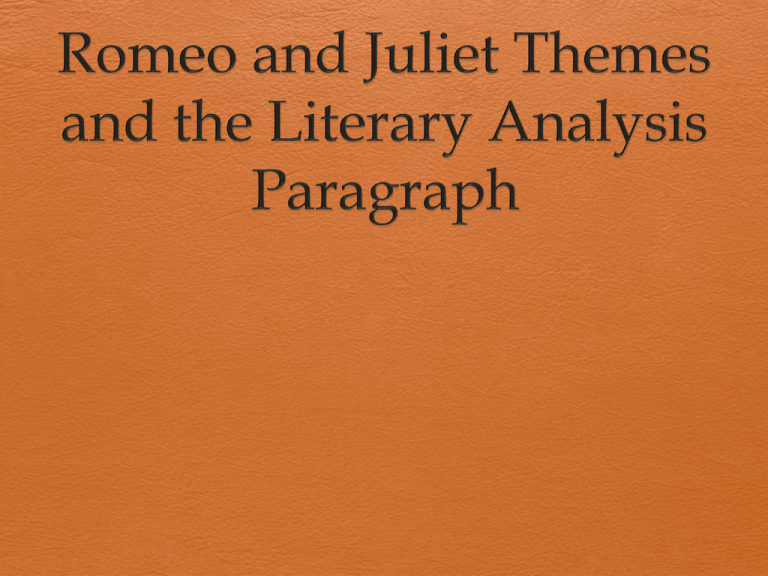 Paragraph Components

Clear topic sentence.

At least two arguments in support of the topic sentence


Evidence

Connect any evidence to your arguments
Conclusion sentence

Transitions – What are those?
General Requirements

No longer than one page in length

Double-spaced

Word Processed

Present Tense

Third Person

Cite in MLA Documentation
Citing Shakespeare
*
Play titles in italics: Romeo and Juliet

How should writers quote a source when writing a
paragraph or essay? Is there a format?

When Romeo swears by the moon, Juliet responds, "O,
swear not by the moon, th' inconstant moon, / That monthly
changes in her circled orb, / Lest that thy love prove
likewise variable" (2.2.114-116).

Format: (Act.Scene.Lines).

Verse versus Prose
Themes – Life as a Paradox

What is a paradox?

par·a·dox [par-uh-doks]

noun 1. a statement or proposition that seems self-contradictory or
absurd but in reality expresses a possible truth.

2. a self-contradictory and false proposition.

3. any person, thing, or situation exhibiting an apparently
contradictory nature.

4. an opinion or statement contrary to commonly accepted
opinion.
Examples of Paradox in Romeo and Juliet

Two houses alike in dignity are fighting.

Two children of feuding houses find true love with each
other.

Romeo trying to stop a fight results in death.

A friar suggests poison to escape problems.

True love results in death.

Death unites two feuding families.
Themes- Individuals vs. Society

What do we know about society during this time?

Great Chain of Being

Nobility

Marriage Primary Source
Examples of Individuals vs. Society

Feuding Families vs. Citizens of Verona

Friar Lawrence vs. Tradition of the Church

Romeo and Juliet vs. Parents' Feud

Juliet vs. Parents

Romeo vs. Banishment by Society
Themes - Love

Courtly Love

Profane Love

Sacred Love
Examples of Love

Romeo & Rosaline
"She'll not be hit / With Cupid's arrow. She hath Dian's wit"
(1.1.216-217).

Mercutio & the Nurse
"If love be rough with you, be rough with love; / Prick love for
pricking, and you beat love down" (1.4.27-28).

Romeo & Juliet
"If that thy bent of love be honorable, / Thy purpose marriage,
send me word tomorrow" (2.2.150-151).
Themes – Inevitability of Fate

Inevitability: Unable to avoid
Fate: Predetermined events beyond a person's control

What do we know about the belief of fate during this time?

Examples of Fate

Romeo just happens to meet the servingman who cannot
read and Rosaline is on the guest list.

Romeo and Juliet fall in love "at first sight."

Romeo sneaks into Juliet's courtyard just as she happens to
be declaring her love for him.

Romeo trying to prevent a fight causes death.

Friar John is unable to deliver Friar Lawrence's letter.

Juliet wakes up minutes after Romeo's death.
Themes – Effects of Rash Behavior

Rash: Lacking careful consideration of the consequences
Behavior: The way one conducts his or her self.

Do hasty decisions play a role in Romeo and Juliet?

Examples of Rash Behavior

Romeo decides to go to Capulet's feast.

Friar marries Romeo and Juliet.

Romeo cries about being banished and nearly kills himself.

Juliet talks about killing herself if not with Romeo

Friar devises this "fail safe" plan and Juliet goes through
with it.

Romeo kicks the dirt before waiting around for Juliet to say
hello.