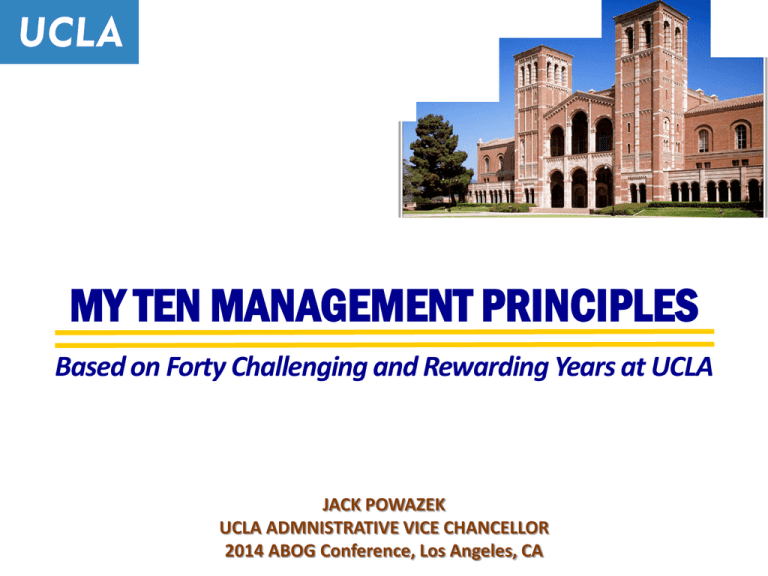 MY TEN MANAGEMENT PRINCIPLES
Based on Forty Challenging and Rewarding Years at UCLA
JACK POWAZEK
UCLA ADMNISTRATIVE VICE CHANCELLOR
2014 ABOG Conference, Los Angeles, CA
KNOW WHERE YOU ARE GOING
CLARITY OF DEPARTMENT'S DIRECTION
Namely:
 Mission
 Goals
 Objectives
OBJECTIVES TEND TO LOSE THEIR VIBRANCY:
 When was the last time you thought about your
objectives in context of a project?
 When was the last time you discussed your
objectives among your work group?
 Do you update your objectives throughout
the year?
 Do you abandon your objectives after the
first crisis?
THE STAFFING FUNCTION IS
TRULY POWERFUL
"Organizational problems are a
geometric expansion of errors
made during the selection process."
- Peter Drucker
PRESSURE TO FILL THE POSITION
 Immense backlog of work
 You may be performing a portion of unfilled
position's duties
 Your boss has threatened you with unspeakable
horrors if you do not fill the position
WHEN UNDER PRESSURE …
 Do not settle for a mediocre employee
 If you do, then you will reap the consequences
STAFFING IS MORE THAN HIRING
 Do you view employees as:
– An expense?
or
– A resource?
LEADERSHIP STYLE BASED ON FORCES
1. Manager
2. Subordinates
3. Situation
CONTINUUM OF LEADERSHIP BEHAVIOR
BOSSCENTERED
LEADERSHIP
SUBORDINATECENTERED
LEADERSHIP
Use of Authority
by the Manager
Area of Freedom
for Subordinates
MANAGER MAKES
DECISION
MANAGER
PRESENTS TENTATIVE
DECISION
SUBORDINATES
FUNCTION WITHIN LIMITS
SET BY MGR
Reprint by UCLA Institute of Industrial Relations, "How to Choose A Leadership Pattern, " Tannenbaum & Schmidt
FORCES IN THE MANAGER
 Views on employee involvement in decision
making
 Confidence in subordinates
 Comfort level for locations on the leadership
continuum
 Tolerance for ambiguity
FORCES WITHIN YOUR SUBORDINATES
 Knowledge & experience
 Readiness to assume decision making
 Tolerance for ambiguity & risk
 Need/desire for independence
FORCES WITHIN THE SITUATION
 Effectiveness of work group
 Values & traditions of the unit
 Type of problems, projects or issues
 Level of urgency-timeframe
LEADERS/MANAGERS DO NOT
HAVE TO DEVELOP A GREAT IDEA
But they do have to recognize one,
then protect the idea,
and nurture the idea.
NEWTON'S FIRST LAW OF MOTION
(A Paraphrase)
An object in motion tends to stay in motion.
An object at rest tends to stay at rest.
DEFYING A LAW OF MOTION
 Re-booting a department
– You are not going to do it yourself
– Start with your supervisors
> Motivate
> Right Place
> Replace
– Identify & prioritize your blockages/challenges
– Develop new initiatives & strengthen current ones
– Be mindful of the leadership continuum
MISTAKES HAPPEN
To paraphrase John Wooden:
I would rather have players
who make mistakes of commission
versus those of omission.
ERRORS OF COMMISSION
AS IT APPLIES TO MANAGEMENT
 Manager attempts something brand new; risky;
venturing into unknown
 Seizing the moment or opportunity
 Results less than satisfactory
ERRORS OF OMISSION
AS IT APPLIES TO MANAGEMENT
 Forgoing risk
 Not attempting new processes/procedures
 Shying away from improvement due to
unknown consequences
 Missing opportunities
COMMISSION vs. OMISSION
 You learn more from errors of commission
 You learn less from errors of omission
and they tend to be more readily repeated
 Managing effectively is not possible, if zero risk
is your mantra
THOU SHALL NOT SPEAK EVIL
OF YOUR COLLEAGUES
PARTICULARLY, OUTSIDE OF
THE FAMILY ORGANIZATION.
A DOWNWARD SPIRAL…
 A bickering department loses credibility
 A department without credibility is bound for
low productivity
 A department with low productivity ultimately
may lose its management team
PROBLEM DEFINITION IS CRITICAL
IN PROBLEM SOLVING.
BE CAREFUL NOT TO FALL INTO THE ABYSS:
"The Solution In Search Of The Problem"
WHY DO WE LOOK BACKWARDS TOWARD
THE PROBLEM DEFINITION?
 Time pressure – need for a quick response
 Person(s) of authority or consequence "suggest
or provide" a solution
 Incomplete or conflicting information
 Managers tend to get rewarded for solving
problems, not defining them
POTENTIAL MITIGATION MEASURES
 Slow down process – attempt a time extension
 Acknowledge proposed solution will be highly
considered and
Suggest other potential alternatives will be
examined
 Acquire most essential data
– Realize complete data is rarely achieved
 Managers do get rewarded for solving problems
– Learn to live with it
CHOOSE YOUR BATTLES WISELY
or
"Is This The Ditch That I Am Going To Die In?"
THOUGHTS TO PONDER
 Not everything is important
 Continuously using a winner take all strategy
– Ultimately, results in the organization getting
even with you
– Your backstop or support may not be here
tomorrow
WHEN DO YOU CHALLENGE STATUS QUO;
COLLEAGUES; SUPERVISORS?
ASK YOURSELF:
 What are the consequences, if you do not
challenge?
 Is the timing right?
 What is the problem?
 What is your long-term strategy?
AS A MANAGER,
IT IS IMPORTANT TO BE SMART,
BUT IT IS MORE CRITICAL TO BE WISE.
WISDOM IS MORE CLEARLY VIEWED
THROUGH THE REAR VIEW MIRROR
WISE DECISIONS TYPICALLY INVOLVE:
 Incorporating long-term view
 Developing a nuanced response
 Making difficult decisions
IN CONCLUSION
LEADERSHIP AND MANAGEMENT ARE HARD WORK,
BUT REWARDING.
YOU ARE TO BE COMMENDED
FOR ASSUMING THESE RESPONSIBILITIES.