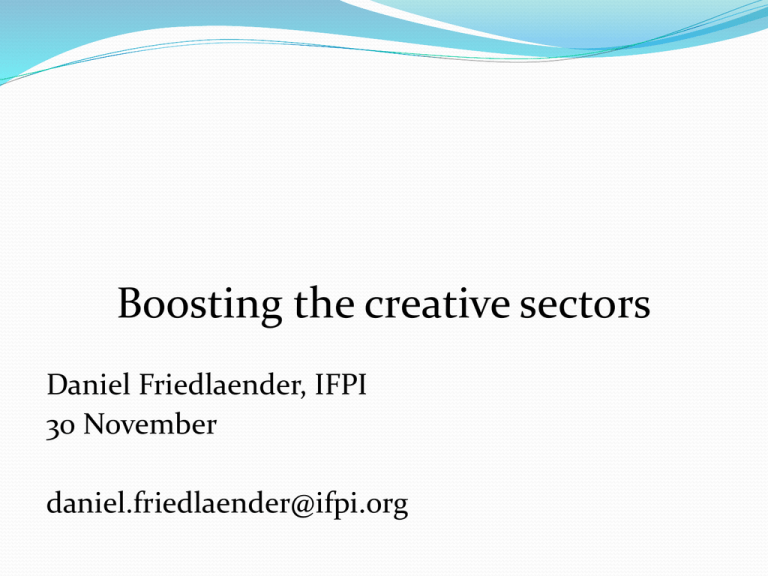 Boosting the creative sectors
Daniel Friedlaender, IFPI
30 November
daniel.friedlaender@ifpi.org
Overview
 Starting Point
 Country examples on initiatives
 European initiatives and taxation
 How to promote and protect culture
Starting Point
 Who am I?
 Global music info
 The music sector is traditionally the least subsidised of
the creative sectors
 There are still different ideas on how to help the
development of music and other creative sectors.
 EU recognises we are innovative sectors, contributing
to European growth and jobs
National Initiatives
 Italy
 France
 South Korea
 Canada
Italy
 Italian Parliament introduced tax credits for record




producers in 2007.
Article 282 of the law
Tax credit system
Record companies are allowed to recuperate up to €
100,000 of their spending on new artists in a three year
fixed period.
Never implemented.
France: Tax credits
 Tax credit system for musical production. In 2010,
value of €15 million for local production of 181.
Growing yet far smaller than film funding.
 Government looking to kick-start local production
 Applies to EU artists signed in France
France
 Implemented by the DAVSI law of 2007.
 Companies can deduct costs
 The tax credit has conditions
 Has been consistently widened since its creation. The
Government has recently announced that it would
further expand the tax credit
France – AV sector
Funding for AV sector:
 Since 2008, television broadcasters and ISPs in France
also pay a tax on their broadcasting. In 2011, this tax
generated over 322 million.
 Seen as a dynamic tax
 Based on heavy AV uses
 To fund local production
France – other programmes
 National Music Center (proposed)
 PUR government supported trustmark, supporting
legitimate businesses
South Korea
Government looking to support local copyright sectors
by creating new structures and comprehensive plan
 "Copyright policy can provide cultural value to society
only when it has dual aspects of rights protection and
facilitation of the use of works."
 Looking at media convergence
 I-Cop and Special Judicial System
 Music market grown almost 50% in three years since
changes in law
South Korea
 Boosting initiatives through education campaigns,
reaching millions of Koreans
 Copyright education and public awareness
Online education for schools, parents, teachers
-portal.edu-copyright.or.kr
 "Our Star Defense Squad," a Hands-on Copyright
Awareness Campaign
South Korea
Pro-active funding: Arts Council Korea
 Culture Voucher and Culture Welfare Programmes
help low income families afford cultural products.
Funding from National Lottery.
 Arts Support Programme
 Invests in production and creation of local content,
promote it abroad
 Grants for rising artists – incubator to discover and
promote young artists over several years.
Canada
 Film sector receives tax credits for incentive to invest.
 Telefilm Canada
 Developing, production, marketing, international,
talent, festival funding programmes
Canada – potential changes
 Enhanced music tax credits , proposed at 25%. Would
generate additional 1300 jobs, 280 million. Currently at
20% for emerging CA artists.
 Provincial and federal tax credits
 Ontario: tax credits for all film
 Production services credit 25%
 Music looking for wider opportunities.
 Help for export development, local production.
 Support for music education.
EU level
 VAT harmonisation
 VAT is an important factor in this activity and the
current European VAT system continues to be
burdensome for European businesses. It treats the
music sector unfairly compared to other similar
cultural sectors
 Comparable products should be treated equally
VAT harmonisation for EU?
 Reduced VAT rate
 Harmonise online and offline rates  Rates can differ by up to 10%. Luxembourg at 15%,
Belgium 21%, Netherlands 21%, Denmark 25%
EU tax issues
 Current system places extra costs on business.
 Webshops selling physical products cross-border
 Taxation in country of origin
 Small business VAT exemptions
 EU consultation on taxation, VAT. Responses due by 5
January.
European Cultural Funding
 Many sectors, particularly audiovisual, can apply for
grants under the European Culture Funding.
 Creative Europe: more than €900 million in support
of the cinema and audiovisual sector and close to € 500
million for culture
 http://ec.europa.eu/culture/creative-europe
The place of creators in the value
chain
 Proposed laws in Germany and France on protecting
content
 How to protect and promote culture in a digital world?
 EU wide copyright debate – important discussions on
IP and the role of the creative sectors.