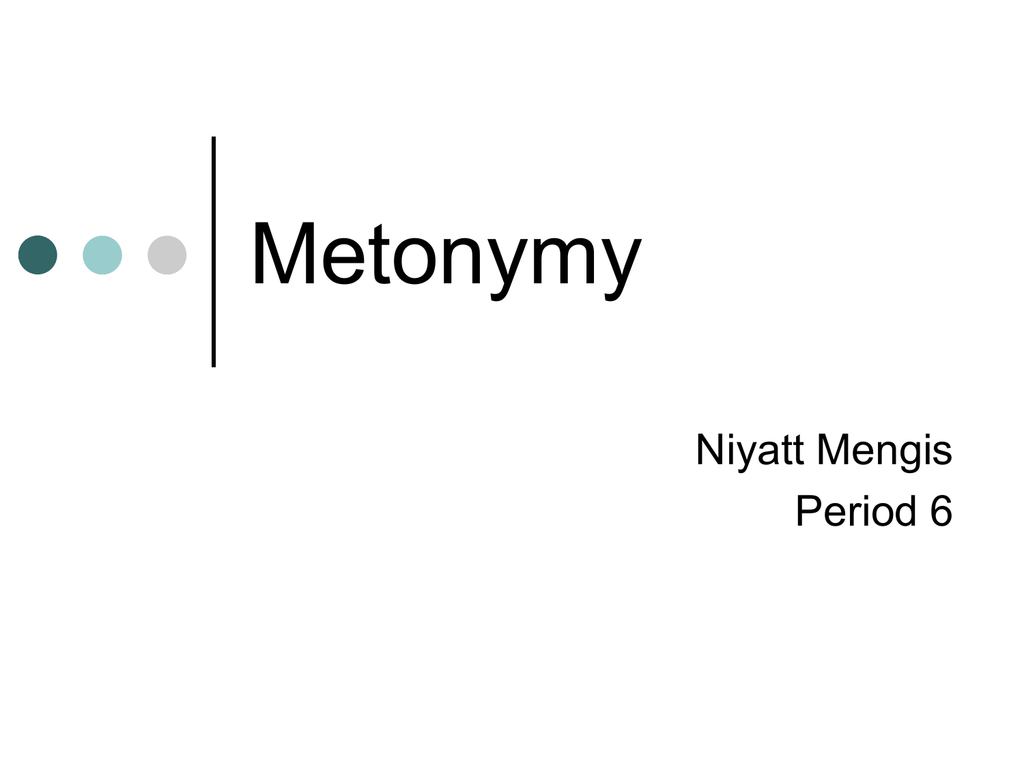 Metonymy
Niyatt Mengis
Period 6
Definition
Me·ton·y·my [mi-ton-uh-mee]
 Noun - Rhetoric
 A Greek term meaning "a change of
name"
 A figure of speech that consists of the
use of the name of one object or
concept for that of another to which it
is related, or of which it is a part.

Example 1
"The pen is mightier than the sword"
 From Edward Bulwer Lytton's play
Richelieu
 The "pen" stands in for the written
word
 The "sword" stands in for military
aggression and force

Example 2
"Friends, Romans, countrymen, lend
me your ears"
 From William Shakespeare's play
Julius Caesar
 "Ears" stands in for attention
 He wants the attention of his peers.

Example 3
"Her voice is full of money"
 From F. Scott Fitzgerald's The Great
Gatsby
 "Her voice" stands in for the woman
entirely, her personality, who she is.
 Money is the adjective describing her.

More examples
"I give you my word"
 "Word" stands in for a promise in
which he is suppose to keep.
 "Can I have a word?"
 "Word" refers to a conversation,
meaning that person would like to
speak with you.

More examples
The "White House" stands in for the
president who is involved in
government affairs.
 "Hollywood" stands in for American
cinema, because of the fame and
cultural identity of Hollywood is the
historical center of movie studios and
movie stars.

More Examples
The "crown" stands in for a king or
ruler, someone with power.
 "Wall Street" refers to the United
States money market or financial
interests.
 A "pink slip" refers to the layoff notice
of an employee.

Metonymy: My Understanding

It replaces the name of one thing with
the name of something else closely
associated with it.

It could be a synonym, substitution,
replacement, euphemism, or
exaggeration.