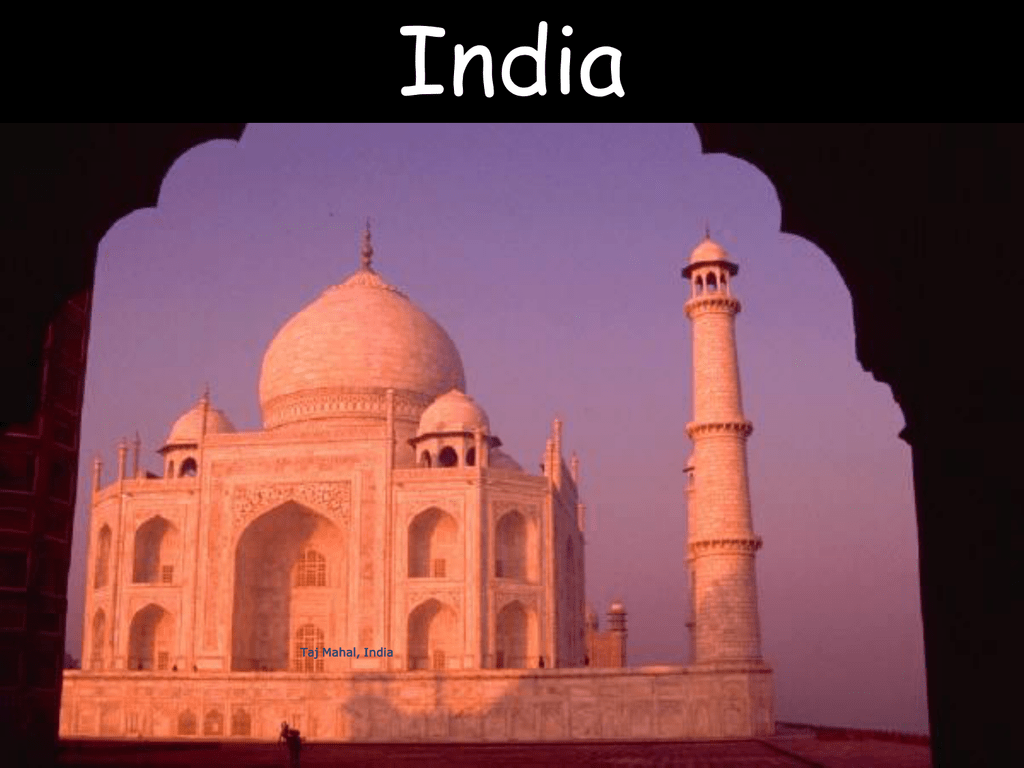 India
Taj Mahal, India
History
-Ancient Indus River
civilization ~ 2500 BC
-Invasions:
-Aryans (Vedics) ~1500BC
-Alexander Great ~326BC
-Mongols/Ghenghis Khan
-Mogul emperor Babar 1526 -1761
History
- British East India Co.
entered India ~1700s,
expanding its power
-Hindu and Muslim revolt ~1850s
-British government took control
"The Jewel in the Crown"
-Independence won in 1947
History
-After World War II they used
green revolution to increase
their food production.
-Taj Mahal was built by Shah
Jahan as a tomb for his wife.
British Family in India
Geography
- 7th largest country
- Himalayas, Thar Desert, Deccan
Plateau, Ghats, lush rain forests
Fertile river valleys: Ganges,
Brahmaputra, and Indus
-Sub-tropical climate: cool dry
winter; hot dry summer; monsoons
The Karakoram Range lies within the Himalayan mountain
system, which forms part of India's northern border. The
approximately 60 peaks average 22,000 ft in height.
The Deccan Plateau is a vast triangular region in
peninsular India. The land is rocky but contains areas of
fertile soils.
Thar Desert
Ganges River
W
I
L
D
L
I
F
E
People
Population ~ 1 billion
2nd most populous
72% rural, 35% poverty
Language: Hindi
81% Hindu, 13% Muslim, Christian,
Sikh, Buddhist
Hindu Marriage Ceremony
Untouchables
The caste system
of India evolved
from Hindu law.
Untouchables,
people considered
to have no caste,
continue to suffer
discrimination.
Islamic Temple
Golden Temple, Amritsar
Ancient
Buddhist
Temple
Buddhism began in
India around 6BC.
A period of royal
patronage began
with conversion of
the Indian ruler
Asoka in the 3rd
century.
Government
-Capital-New Delhi
-28 states and
7 territories
-Representative democracy
-Legislature: Council of States and
People's Assembly
-member Commonwealth of Nations
Calcutta is a major center for
finance, shipping, and industry.
Economy
Currency Rupee
Mainly agricultural ~ 49%
arable land
Workforce: 60% agriculture, 17%
services, 23% industry
GDP ~$3,700 per person
Literacy ~ (60%) 61%; Life Exp. ~
(69) 67
Economy
Crops: Rice, wheat, corn,
oilseed, jute, cotton, tea,
sugarcane, cashews, spices
Natural Resources: coal, iron ore,
manganese, mica, bauxite, oil, gas
Industries: textiles, chemicals,
cement, mining,computer software
Rice Farming, India
India's agrarian economy
Current Issues
-Political instability
-Poverty and population
-Nuclear weapons
-Disputes with Pakistan and China
about the luxurious wools of Kashmir
Microsoft ® Encarta ® Encyclopedia
2002. © 1993-2001 Microsoft
Corporation. All rights reserved.