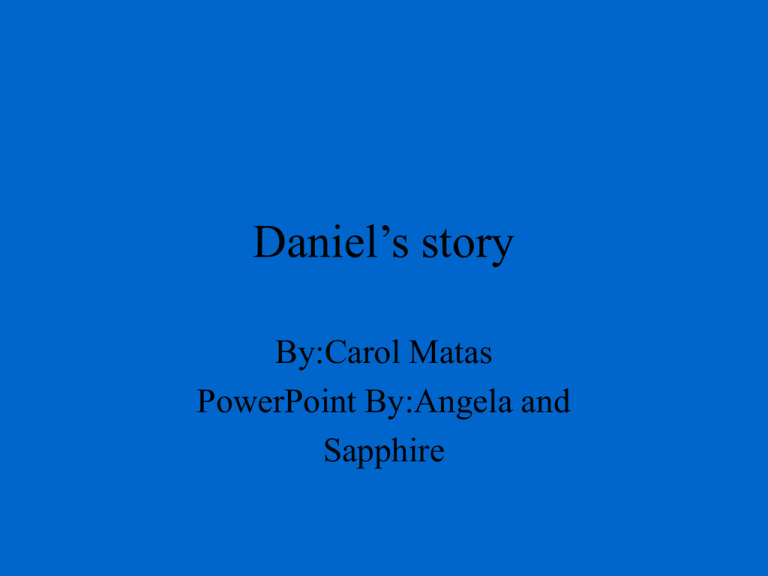 Daniel's story
By:Carol Matas
PowerPoint By:Angela and
Sapphire
Place and time
• Lodz a city in Poland and Auschwitz, a
concentration camp ,Buchenwald a
concentrentration camp in Germany.
• 1933-1945
• All seasons around.
Daniel
•
•
•
•
•
•
18 years old
Black hair
Blue eyes
Brave
Likes to take pictures with his camera
is Jewish
Rosa
•
•
•
•
•
•
Bright red hair
Pale skin
Has freckles
Blue eyes
Funny
Always smiling
Erika
•
•
•
•
•
•
•
Pale skin
Quit ,calm and shy
Brown hair
Brown eyes
Loves to play violin
16 years old
Daniels little sister
Cause and Effect
• Daniels grandma made • He got to go out and
him a Hitler uniform.
take pictures with his
camera .
• Peter got punched in
the stomach and got
• had eternal bleeding
kicked in the head .
and died.
• Daniel's mom died.
• Got put in a gas
chamber.
Historical events
• Janury30,1933 Aldof Hitler is appointed
chancellor of Germany and the Nazi party came
to power.
• September 15,1935 the Nuremburg laws are past
to protect the purity of the Aryan race.
• October 18,1941 Daniels family is deported in to
the lodz ghetto.
• May 8, 1945 Germany surrenders to the Allies.
Sapphire's emotional response
I thought that Daniels story was a awesome book
and I recommend this book to people who like
books that makes you cry and smile . This book
changed me in so many different ways . now I
know how it feels to have been a Jewish child
during the holocaust.
Angela's emotional response
I thought it was a great book . It was a better book
then I thought it would be.It is very sad to.It is
very sad how German people treated Jewish
people all because of there religion .This book
helped me understand the holocaust better. I would
recommend this book to people who like a
sad,happy and exciting book.