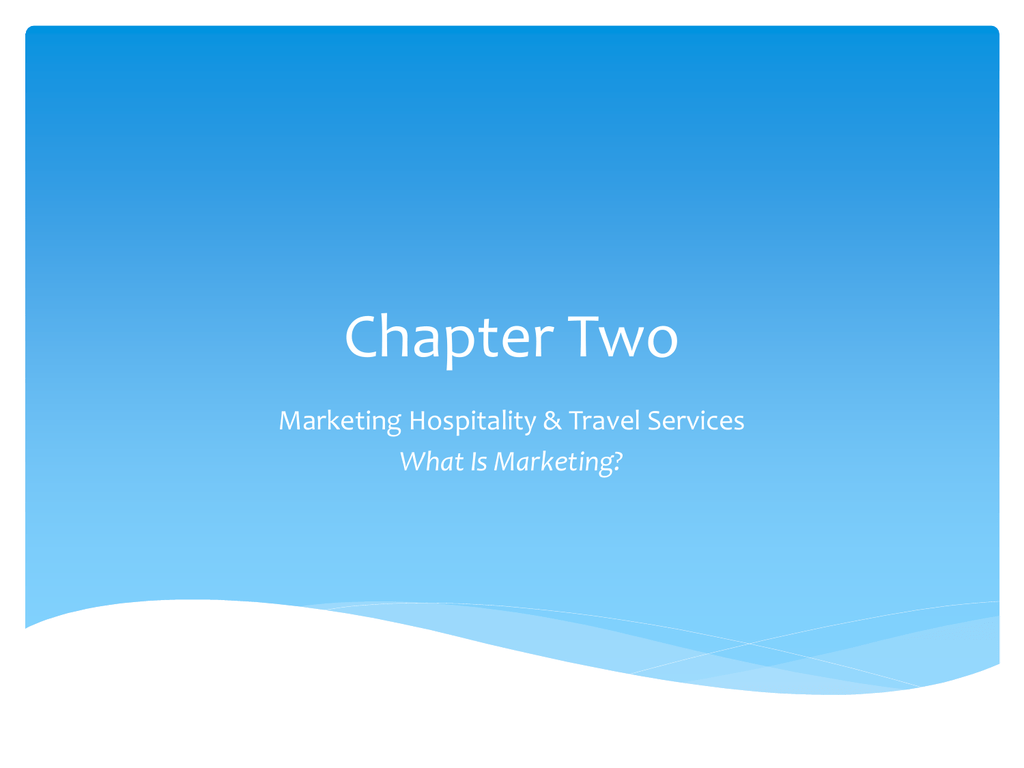 Chapter Two
Marketing Hospitality & Travel Services
What Is Marketing?
Service Industries
Organizations primarily involved
in the provision of personal
services.
Service Industries










Hospitality and Travel industry
Banking
Legal
Accounting
Management consulting services
Insurance
Health Care
Laundry & dry cleaning
Education
Entertainment
Why services marketing lag behind
 Marketing terms & principles were defined with the
manufacturing industry in mind.
 Government regulation, monopoly: no need for
marketing.
 Hospitality & travel industry is dominated by small
business. Small businesses cannot afford full-time
marketing managers with limited budgets.
 Management lacks knowledge of marketing concepts
Why is services marketing different
 The marketing of hospitality and travel
services has several unique characteristics.
Some are shared with all service organizations
(generic). Others exist because of the ways in
which service organizations are managed and
regulated (contextual).
Generic Differences
Contextual Differences
Hospitality and Travel
Differences
-Intangibility
-Narrow definition of
marketing
-Shorter exposure to
services
-Production Methods
-Lack of appreciation of
marketing skills
-More emotional buying
appeals
-Perishability
-Different organizational
structure
-Greater importance on
managing experience clues
-Distribution channels
-Lack of data on
competitive performance
-Greater emphasis on
stature & imagery
-Cost determination
-Impact of Gov. regulation
and deregulation
-More variety & types of
distribution channels
-Relationships of service
providers
-Constraints &
opportunities for nonprofit
marketers
-More dependence on
complementary
organizations
-More emphasis on off-peak
promotions.
Different Marketing Approaches
Needed for Hospitality & Travel
 Marketing in the hospitality and travel industry is
becoming more sophisticated and the industry is
steadily becoming less regulated.
 Generic and specific hospitality and travel service
differences will remain forever.
 Because of these ever-present differences, unique
marketing approaches are required in our industry.
Five approaches
 Use of more than 4 Ps
 (People, packaging & programming, partnership)
 Greater significance of word-of-mouth information
 More use of emotional appeals in promotions
 Greater difficulties with new-concept testing
 Increased importance of relationships with complementary
organizations.
 (Suppliers, Carriers, Travel Trade Intermediaries, and
Destination Marketing Organizations)
Suppliers, carriers, the travel trade, and
destination marketing organizations
 Suppliers: organizations that operate facilities, attractions
and events, ground transportation, and other support
services in or between travel destinations.
 facilities: lodging, food and beverage
 attractions and events: natural resource, climatic, cultural,
historical, ethnic, and accessible
 Ground transportation: car rental, taxi and limousine, bus, and
other related services
 support industries: retail shopping, tour guiding, and
recreation
Continued
 Carriers: companies providing transportation to the
destination--airlines, railway, bus, ship and ferry companies
 Travel trade: intermediaries that suppliers and carriers use
to get their services to customers--retail travel agents and
tour wholesalers
 Destination marketing organizations: market their cities ,
areas, regions, countries, states or provinces and countries
to travel trade intermediaries and individual and group
travelers
Questions?
 Should services be marketed exactly the same as
manufactured products and packaged goods? Why or why
not?
 What are the four additional 4Ps suggested by the author
of the textbook?
 What are three key relationships among organizations and
individuals in the hospitality and travel industry?