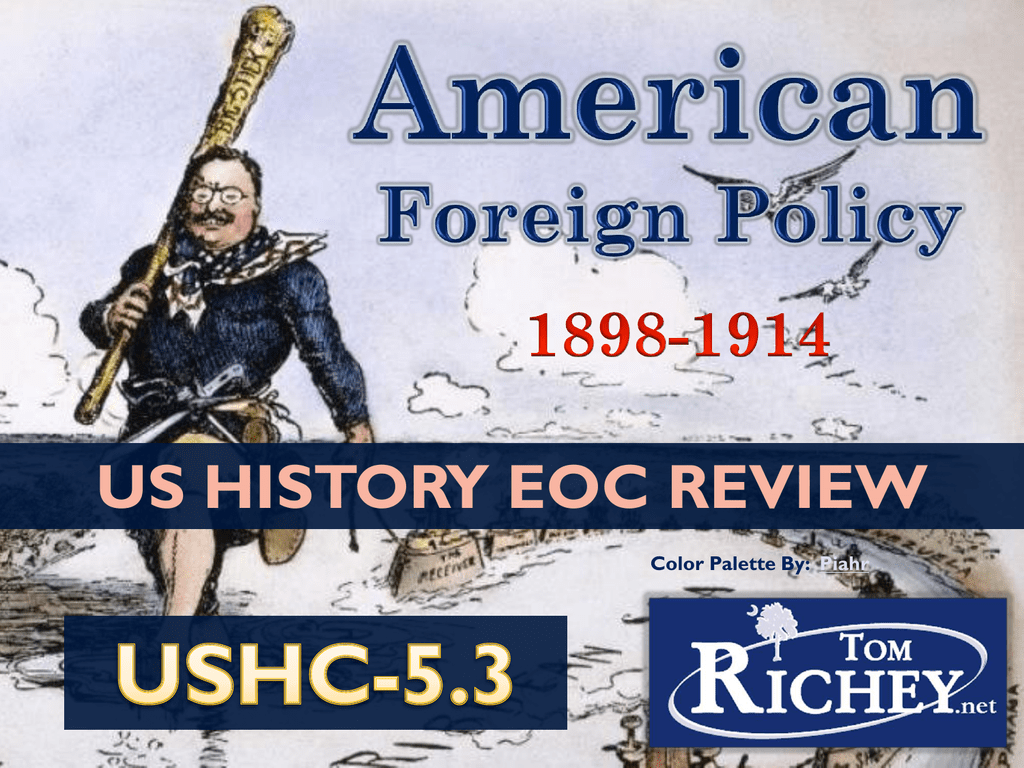 US HISTORY EOC REVIEW
Color Palette By: Piahr
INFLUENCE
Map Credit: Mosr
U.S. disregards existing
European Spheres of
Influence in China
Photo Credit: YayAdrian
(1899-1901)
1901
"Independent" Cuba
– U.S. can intervene in cases of civil unrest
– Perpetual Naval Lease @ Guantanamo Bay
Cuban resentment against the United States would
culminate in the establishment of Fidel Castro's antiAmerican government in the 1959 Cuban Revolution.
President
Tenure
Diplomacy
Teddy Roosevelt (R) 1901-1909 Big Stick
1909-1913 Dollar
William H.Taft (R)
Woodrow Wilson (D) 1913-1921 Moral
"Speak softly…
and carry a
big stick."
-- West African
Proverb
Photo Credit: Katie Tegtmeyer
• Teddy Roosevelt
• OBJECTIVE:
– KEEP EUROPE OUT
of Latin America
(Roosevelt Corollary
to the Monroe Doctrine)
– USE FORCE to defend
American interests in
Latin America
Projection of American
NAVAL POWER
The U.S.S. Connecticut leads the fleet
1823
Read my lips,
Europe …
NO NEW
COLONIES!
Monroe
European nations
should stay out of
the Americas,
altogether…
If Europe has a
problem with
Latin America,
we'll settle it on
their behalf.
The "Policeman" of Latin America
CANAL
Map Credit: TastyCakes
This is
getting old...
Map Credit: TastyCakes
Photo Credit: James Barber
Doll
ar
Photo Credit: Jon_Tucker
• William Howard Taft
• OBJECTIVE:
– PROTECT American
business interests in Latin
America
Photo Credit: Sarah Shelmidine
• Woodrow Wilson
• OBJECTIVE:
– SUPPORT democratic
governments in Latin
America
– OPPOSE oppressive or
undemocratic
governments
Democracy!
LEARNING. DELIVERED.