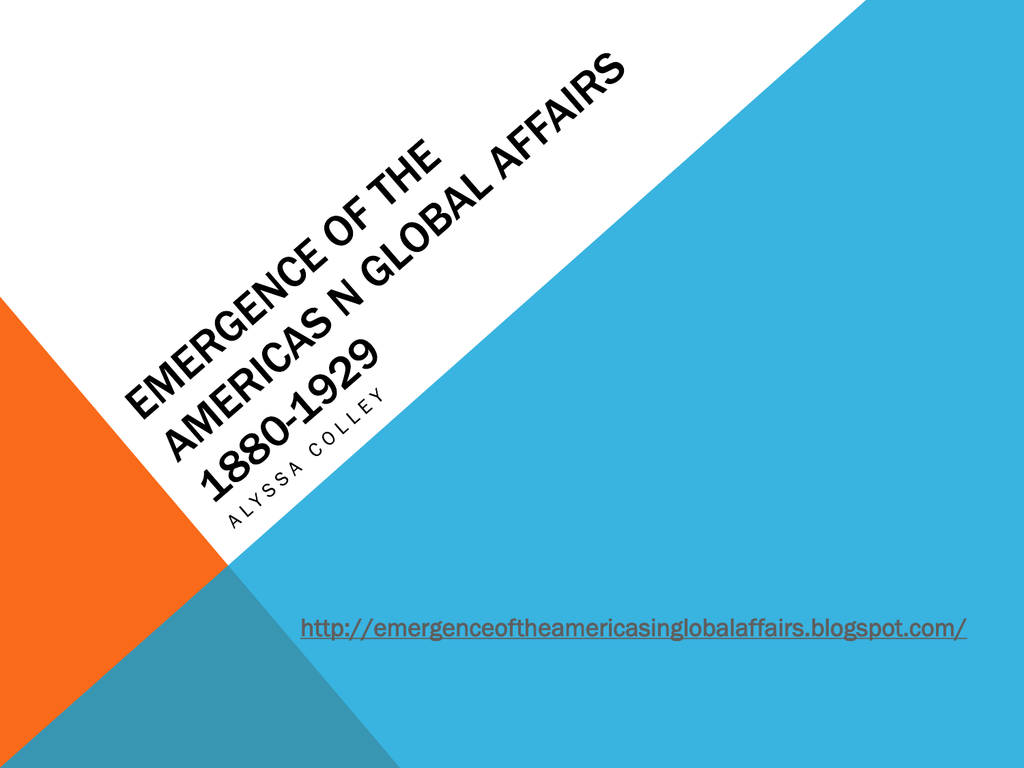 http://emergenceoftheamericasinglobalaffairs.blogspot.com/
US EXPANSIONIST FOREIGN POLICIES
 Political/Economic/Social /ideological reasons:
 New Manifest destiny
Josiah Strong and Alfred Mahan
Social Darwinism
 People wanted an aggressive foreign policy:
 1893, modernizations, imperialism
 Isolationist stand (after the civil war/reconstruction)
 Expansionism
THE SPANISH-AMERICAN WAR
 Economic growth, industrial growth, production growth
 Needed new markets: raw materials, products, and military
 Expansionists vs. Anti-Expansionists
Economic stagnation
Human rights
 Tensions fueled foreign policy debates with the acquisition of the
Hawaiian islands, our entry into the Spanish-American war, terms
of the Treaty of Paris, panama canal, central American affairs,
entry into o WWI, and the provisions of the Treaty of Versailles.
MCKINLEY AS PRESIDENT
 Wanted t to avert war
 Felt pressures from the public to intervene in Cuba
 Yielded to the pressures because of commercial and
military interests
 "the war has brought us new duties and
responsibilities which we must meet and discharge as
becomes a great nation on whose growth and career
from the beginning the ruler of nations has plainly
written the high command and pledge of civilization"
 THEODORE ROOSEVELT
- Believed in a special destiny for
America
- "We stand supreme in a continent, in a
hemisphere…a great work lies already to
the hand of this generation…it is a
privilege"
- Assistant Secretary of the Navy
- advocated intervention in Cuba both for
the Cuban people and to promote the
Monroe Doctrine
WRITERS
 The importance of expansionism on the
ground of duty and responsibility
 Rudyard Kipling and Henry Watterson
 Anti-Imperialist League (emerged after the
Treaty of Paris)
 Mark Twain and William James
CAUSES OF THE WAR:
 Sympathy for Cuban citizens
Feelings were inflamed by "yellow journalism"
William Randolph Hearst and Joseph Pulitzer
 The De Lôme letter
 USS Maine (Remember the Maine)
February 15, 1898
A LITTLE BIT ABOUT THE WAR
 The Teller Amendment: the US would not establish
permanent control over Cuba after the war.
 April 25 1898-August 12, 1898
 More American soldiers died of disease than of battle
wounds. Yellow fever spread quickly.
EFFECTS
 Madrid sued for peace
 Treaty of Paris: signed December 10, 1898
The US gained Guam, Puerto Rico, and The Philippines
Cuba formed its own civil government and gained
independence on May 20, 1902
Anti-imperialist League
Spain benefited economically, but had political defeat
because it weakened political stability.
Turned the US into an imperialist power
US FOREIGN POLICIES
 Big Stick Diplomacy –Roosevelt
 Dollar Diplomacy- Taft
 Moral Diplomacy- Wilson's diplomacy
 Panama Canal- Us involvement in Latin America
 The Navy- "white fleet" very large
US AND THE WWI (WHY?)
1. Germans decided to start unrestricted submarine warfare: The
Lusitania (May 7, 1915)
2. Zimmerman telegraphy (February 25, 1917)
3. Russian Revolution: now the US can say that they are fighting for
democracy
 US enters the war in April with Wilson's peace ideals:
(progressive war)
This would be a "war to end all wars"
This would be a war to "make the world safe for democracy"
Fourteen points
STRUGGLE OF THE VERSAILLES TREATY
 Willsonians vs. Irreconcilables vs. reservationists
Irreconcilables did not agree with the lack protection the
treaty offered to the Monroe Doctrine
Treaty:
A league of nations
Germany lost territory as new countries were created
All German colonies surrendered to the Allies and took full
responsibility
Germany was limited to 100,000 troops and agreed to pay the
cost of war (approx. $30 billion)
Allied troops occupied the Rhineland for 15 years
IMPACT OF WWI ON THE US
 Made room for American economy in Europe
 Industry production boomed
 New technologies developed
 More employment opportunities (Women and AfricanAmericans)
19th -August 18, 1920
CANADA AND WWI
 When war broke out, Canada immediately supported
the UK's declaration of war against Germany
 Had a small military force to begin with -didn't do a
whole lot
 In 1914 Canada entered the war as a colony, a mere
extension of Britain overseas; in 1918 she was forging
visibly ahead to nationhood.
 Canadians were not only considered expert and
professional soldiers, they were feared by the
Germans as an omen of impending attack.
 Canada's contributions enabled it to become more
independent and opened a deep rift between the
French and English speaking populations
FOR A NATION OF 8 MILLION PEOPLE,
CANADA'S WAR EFFORT WAS REMARKABLE.
-619,636 MEN AND WOMEN SERVED –
400,000 OVERSEAS
-66,655 DIED, 172,950 WOUNDED
-THE WAR TRANSFORMED THE NATION,
CULTURE, ECONOMY, AND IDENTITY.
-THE RED BARON
Positive
 Independent country (autonomy or sovereignty)
 Respect from other nations – Passchendaele and Vimy
Ridge
 Seat in the League of Nations
 Suffrage
 Women roles changes – worked in factories
 Economy prospered and manufacturing industries grew
(visual page 127 of Spotlight)
Negative
 Casualty rate high – 60,000 dead and many more wounded (visual page
126 of Spotlight)
 Veterans returned home to unemployment
 Horrors of the war i.e. trench war, poison gas, casualty rates
 Conscription divided the country
 French felt alienated
 Immigrants were discriminated against and rights taken – War
Measures Act
 Cost of the war was significant – taxes, victory bonds, etc…
 Sacrifices for the war effort by civilians – food, fuel, sons and fathers
 Spanish Flu – 20 – 40 million people world wide died from this flu
Bibliography
"Causes of the Spanish American War: Yellow Journalism, Imperialism, and the USS Maine
Bring About War ." Michael Streich Writing Profile . N.p., n.d. Web. 25 Apr. 2012.
<http://michael-streich.suite101.com/causes-of-the-spanish-american-war-a93842>.
"Canada and the First World War."Library and Archives Canada . N.p., n.d. Web. 25 Apr.
2012. <http://www.collectionscanada.gc.ca/firstworldwar/index-e.html>.
"Canada's Role in WWI." Mount Allison University. N.p., n.d. Web. 29 Apr. 2012.
<http://www.mta.ca/library/courage/canadasroleinwwi.html>
Category. "Canada in World War One –Canadians in the First World War."European History: –
The History of Europe. N.p., n.d. Web. 30 Apr. 2012.
<http://europeanhistory.about.com/od/canadainww1/Canada_in_WW1.htm>.
Chimes, Michael. "Imperialism."Spanish American War. N.p., n.d. Web. 30 Apr. 2012.
<http://www.spanamwar.com/imperialism.htm>.
"Impact of WWI on the US." Northern State University: Aberdeen, SD. N.p., n.d. Web. 25
Apr. 2012. <http://www3.northern.edu/marmorsa/impactofWWIonUSlecturenotes.htm>.
"The Spanish-American War and Its Consequences." ushistory.org. N.p., n.d. Web. 1 May
2012. <http://www.ushistory.org/us/44d.asp>.
"WWI: Canada Enters the War ."Canada at War. N.p., n.d. Web. 1 May 2012.
<http://www.canadaatwar.ca/content-40/world-war-i/canada-enters-the-war/>.
"Causes of the Spanish American War."Professional Translation Services . N.p., n.d. Web.
1 May 2012. <http://www.kwintessential.co.uk/articles/spain/causes-of-the-spanishamerican-war/839>.