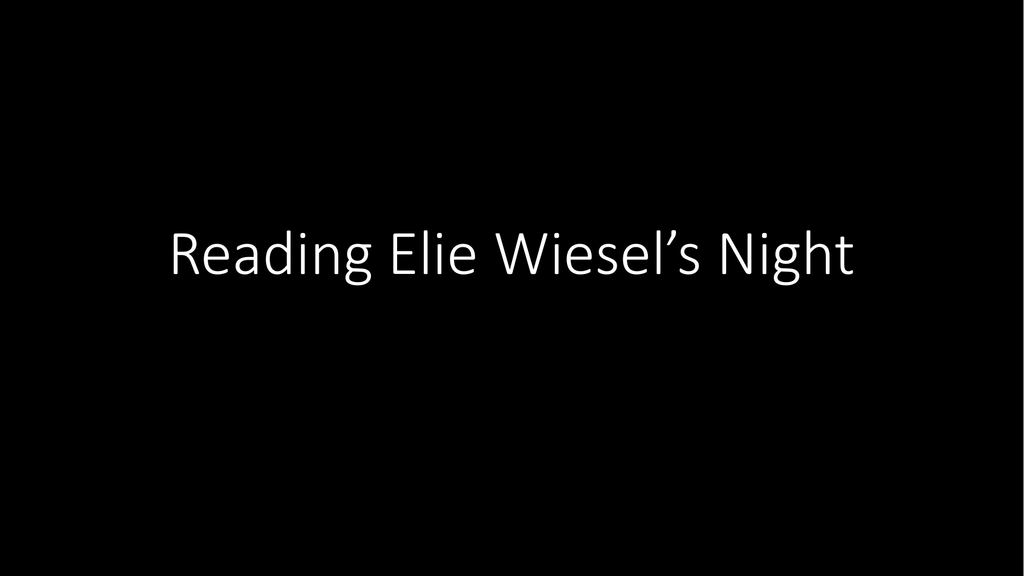 Reading Elie Wiesel's Night
POW: Memoir (noun)
A piece of writing that is based on
a specific time in the author's life.
Autobiographies tell the story of a
life.
Memoirs tell just a focused piece
of the author's life.
Today you will meet Elie Wiesel and hear part
of his story…later you will read his memoir.
Taking notes on the interview…
• When the interview ends, please be silent.
• Write about three moments in the interview in which you learned
something you didn't know or something you had heard was made
clearer.
• Write at least one question you would have for either Elie Wiesel or a
Holocaust history expert.
Oprah Winfrey described the interview you are
about to see as "the privilege of my lifetime."
http://my.brainshark.com/Oprahand-Elie-Weisel-at-Auscwitz-FullMovie-YouTube-538620352
Please do not ask to use the
bathroom during this interview. It
is serious business.
When you have written your reflection on the
interview…
• When everyone has had a chance to write, please listen while other
students share their questions or observations.
• When it is your turn, share yours.
Here is my question: Elie Wiesel's memoir is a true story. I wonder
which of the many fictional films and books about the Holocaust he
thinks is worthy of our time?
Begin reading Night…
• You should be finished reading Chunk #1 by Tuesday.
• Your should also be done with the Chunk #1 Journal Assignment at
the beginning of class on Tuesday.
• Expect a quiz on Chunk #1 – it will be closed book and open journal.
• You will have Friday to read and work on the journal assignment.