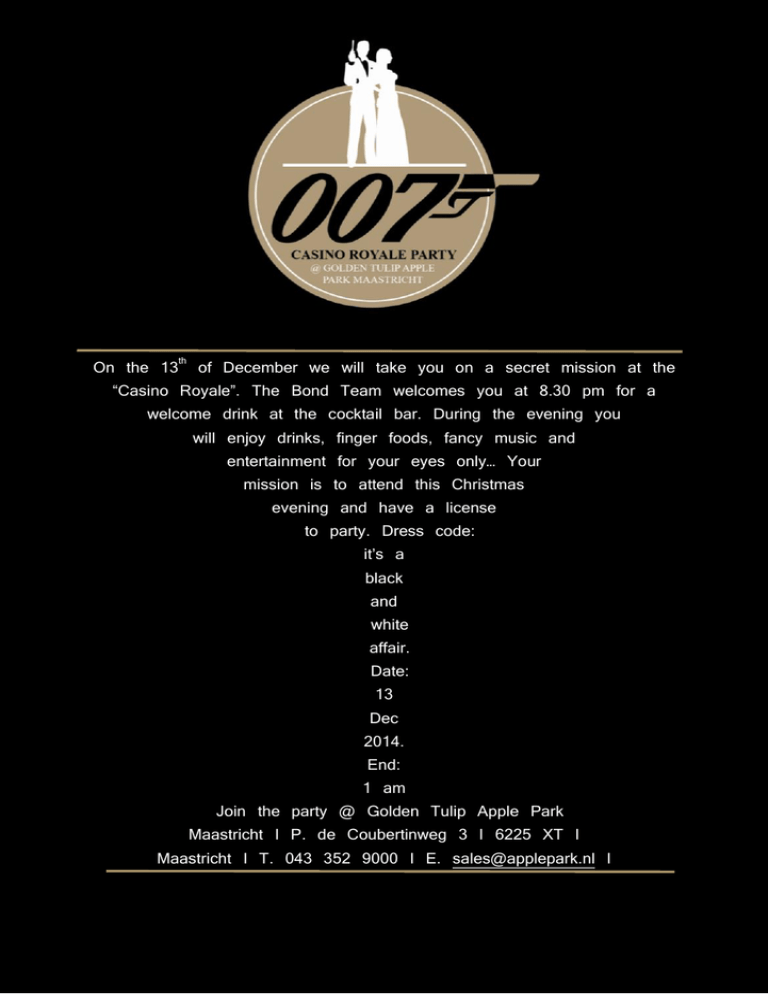 On the 13th of December we will take you on a secret mission at the
"Casino Royale". The Bond Team welcomes you at 8.30 pm for a
welcome drink at the cocktail bar. During the evening you
will enjoy drinks, finger foods, fancy music and
entertainment for your eyes only… Your
mission is to attend this Christmas
evening and have a license
to party. Dress code:
it's a
black
and
white
affair.
Date:
13
Dec
2014.
End:
1 am
Join the party @ Golden Tulip Apple Park
Maastricht I P. de Coubertinweg 3 I 6225 XT I
Maastricht I T. 043 352 9000 I E. sales@applepark.nl I
Programma zaterdag 13 december 2014:
20.30 uur Ontvangst in stijl met een welkomstcocktail
aan onze cocktailbar
21.00 uur Opening feestavond en casino
Gedurende de avond serveren wij fingerfood in Bond-style.
Tevens kunt u aan de roulettetafel of black jack tafel uw geluk beproeven,
er is uiteraard entertainment en een DJ aanwezig voor de juiste
feeststemming.
01.00 uur Einde feestavond
Prijzen:
Licence to party € 69,00 per persoon
All-inclusive: entree inclusief welkomstcocktail, entertainment, fingerfoods,
onbeperkt dranken uit Hollands assortiment tussen 21.00 – 01.00 uur, parkeren
op onze videobewaakte parking.
Liever niet meer naar huis? U kunt uw feestavond afsluiten met een
overnachting in een van onze hotelkamers tegen speciale prijzen. Informeer
hiervoor naar de mogelijkheden.
Speciale wensen of reserveren? Vraag naar de mogelijkheden bij onze sales
afdeling via telefoonnummer +31 43 352 9000 of stuur een mail naar
sales@applepark.nl.
*Deadline reserveringen: 15 november 2014. Doorgang onder voorbehoud van voldoende
aanmeldingen.