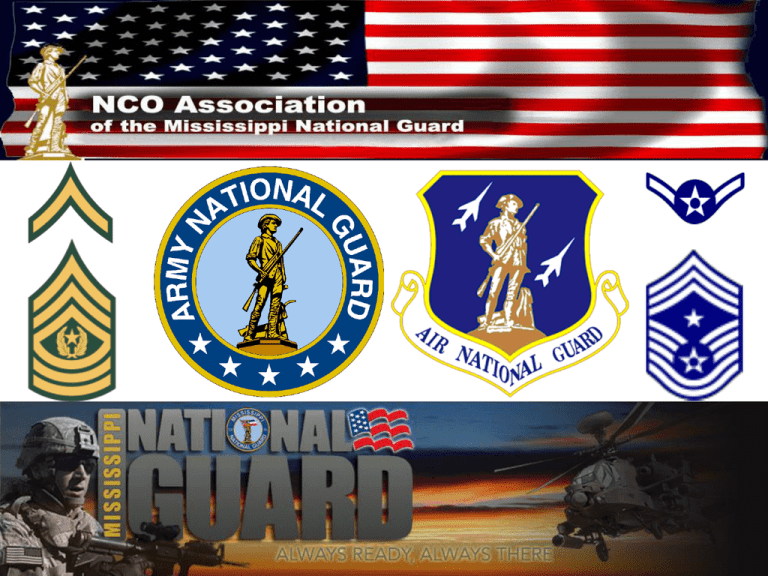 THE
MISSISSIPPI
NONCOMMISSIONED
OFFICERS
ASSOCIATION
What is the NCO Association?
 This Association was born at a meeting held at
Thompson Field, Jackson, MS in April 1969.
The first Annual Conference was held 18
October 1969 in Jackson at the Heidelberg
Hotel.
 The Association was incorporated as a nonprofit corporation under the laws of the State
of Mississippi on 18 October 1971 by
Governor John Bell Williams.
 It is a Professional Organization made up of
enlisted personnel: past and present with an
auxiliary comprised of wives, husbands, and
associate members.
 It is the largest member of the Enlisted
Association of the National Guard of the
United States (EANGUS) comprised of
enlisted members of all fifty states.
The Hotel Heidelberg was
a fixture on Capitol Street
for fifty
five years. The hotel was
opened by Roy and Cecil
Heidelberg in 1922 , a
modest building of five
stories and only 124
rooms.
Governor John Bell
Williams, served from
1968 to 1972
Why do we need our Association?
 Professional Association (Because You are Professional Military Personnel)
 Lobby for benefits. (Quality of Life)
 Inform the majority of law-makers of the military requirements (Only 20% of
Senators & Representatives have military service)
 Voice in our future relevance in the war fight
 TO MAKE SURE YOUR VOICE WILL BE HEARD
Biloxi, MS – Congressman Steven Palazzo (RMS) today responded to the announcement of
furloughs for Mississippi Guard technicians by
renewing his commitment to fight for H.R. 1014,
a bipartisan bill Palazzo introduced in the House
of Representatives in March of this year. The bill
would include military technicians in a
Department of Defense furlough exemption that
was announced in July 2012. It currently has 34
House cosponsors.
OBJECTIVES
BY-LAWS Article II: Object
The object of the Association shall be to:
 Promote and maintain state and national security;
 Promote and advance the professionalism, status, welfare, and unity of the Mississippi
National Guard noncommissioned officers and enlisted members and to promote he social
welfare of the community;
 Assist disabled and needy war Veterans and member of the U.S. Armed Forces and their
dependents and the widows and orphans of deceased Veterans;
 Sponsor or participate in activities of a patriotic nature;
 Provide benefit programs for its members or dependents of its members or both;
 Provide social and recreational activities for its members;
 Promote and support the objectives of the Enlisted association of the National Guard of the
United States (EANGUS);
 Be a non-profit organization;
 Not participate in partisan politics.
Who can Join? Both Young and Old
 E1-E9 Both Army and AIR serving or have served with a unit of the MS
National Guard (To include Mobilized and Activated Soldiers during period of
War).
 Life membership (Must be qualified to be an annual member)
 Retired Membership
 Associate Membership
 Honorary Membership
 Corporate Membership
Where does my support / dues go?






State and National Dues
Support daily operational cost of Our Association
Supports Patriotism
Provides a voice for all Enlisted Personnel
Support Various State Professional/ Support Programs
Eventually it returns to the Membership
A Sponsor of the Youth Challenge Academy
Support of Veterans Organizations
Kids AT $1500
 The Mississippi National Guard sponsors the Summer Youth Camp for
dependents/grandchildren of active/retired Guard Members with a donation of
funds and members time.
 The week long camp cost $75 and will accommodate 120 Army and Air
National Guard children. Applicants are chosen on a first come first serve
basis. The total cost of the camp is estimated between $12,000 and $15,000.
This is much higher than the $75 camp fees so the overall cost is defrayed by
contributions from units, Family Readiness Groups, retirees, etc.
 This camp is supported entirely by volunteers in an non-pay status. This is
another way your association is working for you and your Families.
STATE SCHOLARSHIPS
State Scholarship:
 Since its inception in 1972 the Association's Scholarship Program has
awarded over $200,000. Any member, members spouse or dependent child
meeting applicant requirements may apply.
 The NCO Auxiliary also award a scholarship each year. In order to qualify
the Soldier/Airman must be a member of the Assn and the spouse must be a
members of the Auxiliary for the present year and the prior year.
(Note: 50 cents of your State dues go to the Scholarship fund: $6000 in 2014)
NATIONAL SCHOLARSHIPS
EANGUS Scholarship:
 The Enlisted Association of the National Guard United States also has a
annual scholarship that members may apply for. Two is the minimum number
given each year worth $2000 each; however, depending on the number of
sponsors more will be awarded. Last year 9 scholarships for $2000 were
awarded.
 Grantham University and University of Phoenix have partnered with
EANGUS in presenting full four year scholarships to an EANGUS member or
dependent. These scholarships can be applied for to either an undergraduate
or graduate degree. The potential value is $36,000. Last year the University of
Phoenix awarded three of these scholarships!
MSNCO Association Helps Mississippi




Support the best Warrior Competition ($1000)
Supports Wounded Warrior Golf Tournament ($500)
Holds State Annual Conference (Strength Building)
Support EANGUS by attending National Conference (Our voice is heard in
the National Agenda)
 Support our Auxiliary (Legislative Arm of Our Organization) $2500.00
Average Share of Fair Fund Raiser
 Camp Shelby Museum $1000
How we support/finance your Association?







Dues (50% of operating revenue)
Insurance Revenues
Publication Revenues
State Fair Project
Sonny Montgomery Foundation
Donations
Cooperate Sponsorship
Mississippi State Fair
 The NCO Association works the State Fair in Jackson, MS each year by
selling tickets and parking cars. The Association is paid a percentage of the
money collected for this event. This money is utilized for supported
activities.
 This is a volunteer ran event and workers are needed every year. All help is
welcomed and appreciated. A Volunteer usually works a 4 hour shift.
Volunteers and their families receive free admission to the fair.
 Major fund raiser for your association.
Annual Dues
E1 – E-4
$12
E-5 – E-9
$25
RETIREES
$25
ASSOCIATE
$15Annual/$75 Life
(Note: $11.00 of your dues go to pay EANGUS national dues)
Associate Dues
 Officers can pay to be Associate Members of the NCO Association. Their
dues cost $15 annually or $75 for life. The money that is collected for
Associate dues goes directly to the Scholarship Fund.
 We need to encourage the officers in your unit to become annual or life
members of our Association in an effort to increase our Scholarship Fund.
The Districts
 District 1A- Coahoma, DeSoto, Grenada, Lafayette, Marshall, Panola,
Quitman, Tallahatchie, Tate, Tunica and Yalobusha
 District 1B- Alcorn, Benton, Itawamba, Lee, Pontotoc, Prentiss, Tipah,
Tishomingo and Union
 District 2A- Bolivar, Carroll, Leflore, Montgomery, Sunflower and
Washington
 District 2B- Attala, Calhoun, Chicasaw, Choctaw, Clay, Lowndes, Monroe,
Oktibbeha, Webster and Winston
 District 3A- Holmes, Humphrey, Issaquena, Madison, Rankin, Sharkey,
Simpson and Yazoo
 District 3B- Clarke, Jasper, Kemper, Lauderdale, Leake, Neshoba, Newton,
Noxubee, Scott and Smith
 District 4A- Claiborne, Copiah, Hinds and Warren
 District 4B- Adams, Amite, Franklin, Jefferson, Lawrence, Lincoln, Pike,
Walthall and Wilkinson
Districts (cont.)
 District 5A- Covington, Forrest, Greene, Jefferson Davis, Jones, Lamar,
Marion, Perry and Wayne
 District 5B- George, Hancock, Harrison, Jackson, Pearl River and Stone
The three Association Air National Guard Districts:
 District 6- Gulfport ANG Base
 District 7- Jackson ANG Base
 District 8- Meridian ANG Base
What your Association has done for you!
 Helped in getting the first $15,000 of Guard pay tax exempt from the
Mississippi Income Tax.
 Helped in obtaining TRICARE Reserve Select (TRS) health plan currently
$51.68 for individual and $204.29 for family coverage through December
2014. These rates are set 1 January each year.
 Along with EANGUS, helped in obtaining unlimited commissary privileges
for Guardsmen.
 Sponsors three insurance programs through AFLAC:
1. Cancer Insurance
2. Intensive Care Insurance
3. Hospital Indemnity Insurance
 Free access to all State Parks
 Incapacitation pay for members while traveling to and from training locations
 New GI Bill for National Guard and Reserve
What your Association has done for you!
 The Armed Forces Benefit Association (AFBA) provides a $1000 life
insurance policy at no cost to National Guard Soldiers and Airmen. They also
offer an enhanced life insurance program that extends State Sponsored Life
Insurance (SSLI) in increments of $50,000 up to $400,000
 Elimination of discrimination in hiring because of National Guard and
Reserve membership
 Improvements in the Soldiers and Sailors Relief Act
 Servicemen's Group Life Insurance (SGLI) expansion from $35,000 to
$50,000 to $100,000 to $200,000 to $250,000 to $400,000
 Increase in the Death Gratuity from $6,000 to $12,000 to $100,000 and
changed its name to Hero Compensation
 When you join the State association you are automatically enrolled in the
National Association (EANGUS). With this membership, you get a free
Accidental Death and Dismemberment Insurance Policy worth $1,000
EANGUS Member #1 Nationally
 Mississippi has the largest membership in the National Enlisted Association
(20% of total membership). This gives our association the ability to help
decide what legislation EANGUS will present to Congress.
WHAT IS EANGUS?
 The Enlisted Association of the National Guard of the United States
(EANGUS) was formally organized in 1972 with the goal of increasing the
voice of enlisted persons in the National Guard. As such, EANGUS is a nonprofit organization dedicated to the principles of providing an adequate
national defense and promoting the status, welfare, and professionalism of the
men and women of the Army and Air National Guard by supporting
legislation that provides adequate staffing, pay, benefits, entitlements,
equipment, and installations for the National Guard.
 Beginning with twenty-three states, EANGUS now represents all 50 states,
Guam, Puerto Rico, the US Virgin Islands, and the District of Columbia, and
has an association comprised of those who serve the National Guard on
national tour. With a constituency base of over 414,000 Soldiers and Airmen,
their Families, as well as thousands of retired members, and headquartered in
Alexandria, Virginia, a stone's throw from Washington DC, EANGUS
maintains a full-time staff to represent your interests to the Pentagon and on
Capitol Hill.
The Military Coalition
 EANGUS has been a long time member of The
Military Coalition (TMC). TMC is an
collaboration of 32 military service and Veterans
service organizations, united in one effort—to
influence Capitol Hill on behalf of military
members, their Families, Veterans, and Retirees.
Influence on Capitol Hill is all about the number
of members that are represented, and TMC
represents over 5.5 million members (voters).
EANGUS is represented on almost all of the
subcommittees in TMC.
1.
2.
3.
4.
5.
6.
7.
8.
9.
10.
11.
12.
13.
14.
15.
16.
17.
18.
19.
20.
21.
22.
23.
24.
25.
26.
27.
28.
29.
30.
31.
32.
Air Force Association (AFA)
Air Force Sergeants Association (AFSA)
Air Force Women Officers Associated (AFWOA)
AMVETS (American Veterans)
Army Aviation Association of America (AAAA)
AMSUS, the Society of Federal Health Professionals
Association of the United States Army (AUSA)
Association of the United States Navy (AUSN)
Commissioned Officers Association (COA) of the United
States Public Health Service, Inc.
CWOA, US Coast Guard
Enlisted Association of the National Guard of the United
States (EANGUS)
Fleet Reserve Association (FRA)
Gold Star Wives of America (GSW)
Jewish War Veterans of the United States of America (JWV)
Marine Corps League (MCL)
Iraq and Afghanistan Veterans of America
Marine Corps Reserve Association (MCRA)
Military Chaplains Association of the United States of
America (MCA)
Military Officers Association of America (MOAA)
Military Order of the Purple Heart
National Association for Uniformed Services (NAUS)
National Guard Association of the United States (NGAUS)
National Military Family Association (NMFA)
Naval Enlisted Reserve Association (NERA)
Non Commissioned Officers Association (NCOA)
Reserve Officers Association (ROA)
The Retired Enlisted Association (TREA)
United States Army Warrant Officers Association (USAWOA)
USCG Chief Petty Officers Association (CPOA)
Veterans of Foreign Wars (VFW)
Vietnam Veterans of America (VVA)
Wounded Warrior Project (WWP)
Who can effect change?
 Any member of the association that has an idea that he or she feels will
supply a need or better the members of the Mississippi National Guard or
their families need only to write the idea down on a piece of paper in regular
language and submit it to your District Director or directly to the President.
The District Director or President will then carry the idea to the Board of
Directors. The idea will then be brought before the assembly during the
annual State conference to get full support.
 ANYONE CAN EFFECT CHANGE. YOUR IDEAS COUNT!
MSNCO Association State Conference
 The 2015 State Conference will be held in the Jackson, Mississippi at the
Hilton Hotel on County Line Road 24-26 April.
 The 2015 National Conference will be held in Phoenix, Arizona 10-13 August
2014. Details can be found online at http://www.eangus.org/
 If you have never attended you should make this your first. Find out what
your Association is doing for you.
Some Important Web Sites
 State Association web site: http://msncoa.org/
 National Association web site: http://www.eangus.org/ (membership # located
on New Patriot mailing label)
The MS NG NCO Association of Mississippi
 Exists for you; the enlisted men and women serving and have served with the
Mississippi National Guard.
 Our goal as an Association is to strengthen the Mississippi National Guard
through improved personnel benefits, better equipment, modern facilities and
increased relevance.
 We absolutely need your continued membership so our state and federal
legislators will hear our voice. Working together our achievements will grow
by the day.
Questions?