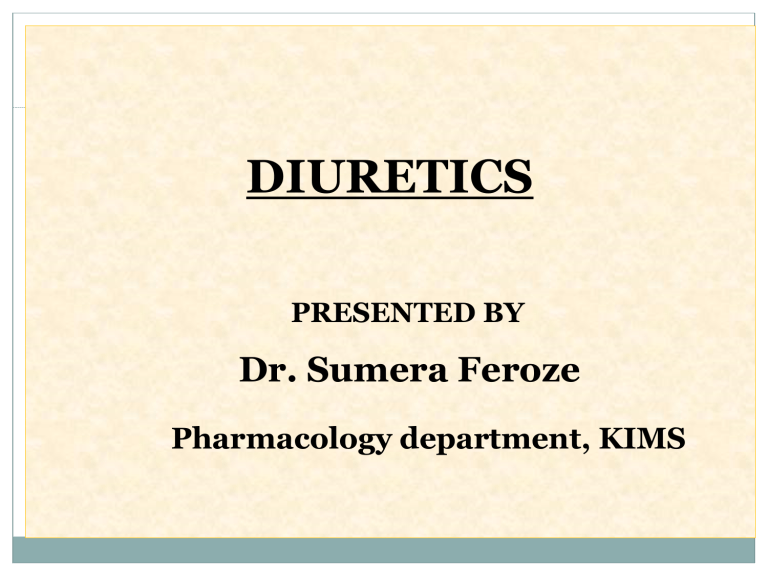 DIURETICS
PRESENTED BY
Dr. Sumera Feroze
Pharmacology department, KIMS
DIURETICS
DEFINITION :
 These are drugs which cause a net loss of Na+ and
water in urine
 There are several categories of diuretics. All diuretics
increases the excretion of water from body.
CLASSIFICATION
Diuretics are Classified as:
1. High ceiling /Loop diuretics…
2. Thiazides.
3.Carbonic anhydrase inhibitors.
4.Potassium –sparing diuretics.
5.Osmatic diuretics.
6.Low ceiling diuretics.
DIURETICS CLASSIFICATION
1.HIGH EFFICACY DIURETICS:
(Inhibitors of Na+,K+,2Cl- cotransport)
(a) Sulphamoyl deravatives:
Furosemide.
Bumetanide.
Torasemide.
(b) Phenoxyacetic acid derivative:
Ethacrynic acid.
MEDIUM EFFICACY DIURETICS
2.Medium efficacy diuretics :
( Inhibitors of Na+,Cl- symport)
(a) Benzothiadiazines(THIAZIDES):
Hydrochloro thiazide.
Benzthiazide.
Hydroflumethe thiazide.
Ciopamide.
(b) Thiazide: Chlorthalidone.
Metolazone.
Xipamide.
Indapamide.
WEAK OR ADJUNCTIVE DIURETICS
3.Weak or adjunctive diuretics:
(a) Carbonic anhydrase inhibitors:
Acetazolamide.
(b) Potassium –sparing diuretics:
(i)Aldosterone antagonist:
Spironolacton
Eplerenone.
(ii)Inhibitors of renal epithial Na+ channel:
Trimterene.
Amiloride.
(c) Osmotic diuretics:
Mannitol.
Isosorbide.
Glycerol.
(d) Xanthines:
Theophlline.
ANTI- DIURETICS
1.Anti diuretic homone(ADH) and its analogues:
Vasopressin.
Desmopressin.
Lypressin.
Terlipressin.
2.Diuretics:
Thiazides.
Amiloride.
3. Miscellineous:
Chlorpropamide.
Carbamazepine.
MECHANISM OF DIURETICS
MECHANISM OF ACTION
MECHANISM OF ACTION OF LOOP
DIURETICS
INDICATIONS AND SIDE EFFECTS
MECHANISM OF THIAZIDE DIURETICS
POTASSIUM- SPARING DIURETICS
OSMOTIC DIURETICS
PHARMACOLOGICAL
ACTIONS
OF
DIURETICS
HIGH CEILING/LOOP DIURETICS
 High ceiling diuretics may cause a substantial
decrease upto 20%of the filtered load of Nacl and
water.
 Loop diuretics such as FUROSEMIDE inhibits the
body's ability to reabsorb sodium at the ascending
loop in NEPHRON.
THIAZIDES
 Thiazide diuretics such as Hydrochlorothiazide act on
the distal convoluted tubule and inhibits the sodiumchloride symporter leading to retention of water in the
urine.
 Frequent urination is due to the increased loss of
water.
 The long term anti –hypertensive action is based on
the thiazides which decrease preload and blood
pressure.
CARBONIC ANHYDRASE INHIBITORS
 Carbonic anhydrase inhibitors inhibits the enzyme
carbonic anhydrase which is found in proximal
convoluted tubule.
 This results in several effects including biocarbonate
retention in the urine.
 Potassium retention in urine.
 Decreased sodium absorption.
Eg: Acetazolamide.
Methazolamine.
POTASSIUM-SPARING DIURETICS
 These are diuretics which do not promote the
secretion of potassium into the urine.
 Potassium is retained and not lost as much as with
other diuretics.
 The term potassium sparing refers to an effects
rather than a mechanism or location.
Eg: Aldosterone antagonists
Spironolactone
 Which is a competitive antagonist of aldosterone.
 Aldosterone adds sodium channels in the cells of
collecting duct and late distal tubule of the Nephron.
 Spirnolactone prevents aldosterone from entering
the cells, and preventing sodium reabsorption.
Eg: Eplerenone.
Potassium canrenonate.
 Epithelial sodium channel blockers
Eg: Amiloride.
Triamterence.
OSMOTIC DIURETICS
The compounds as Mannitol are filtered in the
glomerulus, but cannot be reabsorbed.
 Their presence lead to an increases in the osmolarity of
the filtrate.
 To maintain osmotic balance ,water is retained in the
urine.
 Glucose like mannitol behave as an osmotic diuretic.
 Glucosuria causes a loss of hypotonic water & Na+,
leading to a hypertonic state with signs of volume
depletion.
 Such as Hypotention,Tachycardia.
LOW CEILING DIURETICS
 The low celing diuretics
are used to indicate an
diuretic has a rapid flatting dose effect curve.
 It refers to a pharmacological profile ,not a chemical
structure.
MEDICINAL USES
 Diuretics are used to treat
1. Heart failures.
2.Liver cirrhosis.
3.Hypertension.
4.Certain kidney diseases
USES AND SIDE EFFECTS OF DIURETICS
REFERENCES
 Essential of medical pharmacology by KD
Tripathi,7th edition.
 Pharmacology by H.P Rang and M.A Dale.
 Pharmacology and Pharmacotherapeutics
R.S.Satoskar and S.D.Bhandarkar.