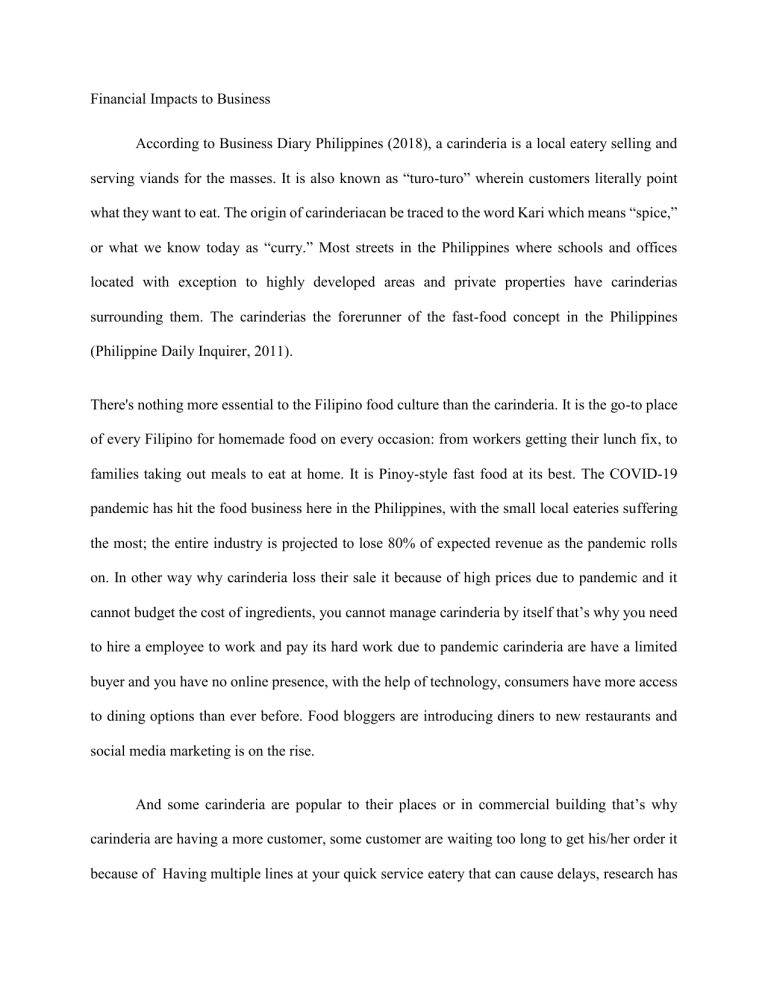 Financial Impacts to Business
According to Business Diary Philippines (2018), a carinderia is a local eatery selling and
serving viands for the masses. It is also known as "turo-turo" wherein customers literally point
what they want to eat. The origin of carinderiacan be traced to the word Kari which means "spice,"
or what we know today as "curry." Most streets in the Philippines where schools and offices
located with exception to highly developed areas and private properties have carinderias
surrounding them. The carinderias the forerunner of the fast-food concept in the Philippines
(Philippine Daily Inquirer, 2011).
There's nothing more essential to the Filipino food culture than the carinderia. It is the go-to place
of every Filipino for homemade food on every occasion: from workers getting their lunch fix, to
families taking out meals to eat at home. It is Pinoy-style fast food at its best. The COVID-19
pandemic has hit the food business here in the Philippines, with the small local eateries suffering
the most; the entire industry is projected to lose 80% of expected revenue as the pandemic rolls
on. In other way why carinderia loss their sale it because of high prices due to pandemic and it
cannot budget the cost of ingredients, you cannot manage carinderia by itself that's why you need
to hire a employee to work and pay its hard work due to pandemic carinderia are have a limited
buyer and you have no online presence, with the help of technology, consumers have more access
to dining options than ever before. Food bloggers are introducing diners to new restaurants and
social media marketing is on the rise.
And some carinderia are popular to their places or in commercial building that's why
carinderia are having a more customer, some customer are waiting too long to get his/her order it
because of Having multiple lines at your quick service eatery that can cause delays, research has
shown that customers prefer a "one line for all registers" solution to waiting in line. Diners can
become agitated if they feel like another patron who arrived later is being helped before them. This
perception of unfairness can cause customers to take their business elsewhere. To solve this, have
a single line that feeds into multiple registers where customers can order.
The other is not having enough front of house staff can lead to long restaurant lines, in an
effort to remain profitable it can be tempting to reduce the number of staff that you have on hand.
However, reducing front of house staff can have a negative impact on your overall sales.
Make it easy for patrons to look at a menu while waiting and you might notice that your lines move
faster. You can also use menu boards with prominent photos of the food. It's an upselling technique
that drive-thrus have used with great success, because our eyes are drawn to visuals. Using photos
can also help speed up decision-making.
Many highly regulated small businesses have a bear of a time staying on top of legal and
regulatory issues. However, food services and restaurants seem to have among the greatest number
of things to know, permits to get, and general compliance demands weighing heavy on day-to-day
business operations.
Food is a primary necessity of life and worldwide governments have a substantial influence
on the foods offered for human consumption. Principal movement is concerned with supply of
foods through assistance to farmers in general aiming to maintain a fair standard of return for those
involved in agriculture. Further involvement relates to quality of foods (microbiological safety)
and with consumer protection against unfair trading practice. Government economic policies
influence demand for foods whilst educational strategies can stimulate particular food choices.
Present nutritional ideas recommend changes to diet as part of programs designated to reduce
incidence of conditions such as coronary heart disease. It is a government responsibility to provide
clear information on foods and nutrition. Rational government involvement can lead to better
nutrition for the population whilst stimulating an efficient agricultural industry.