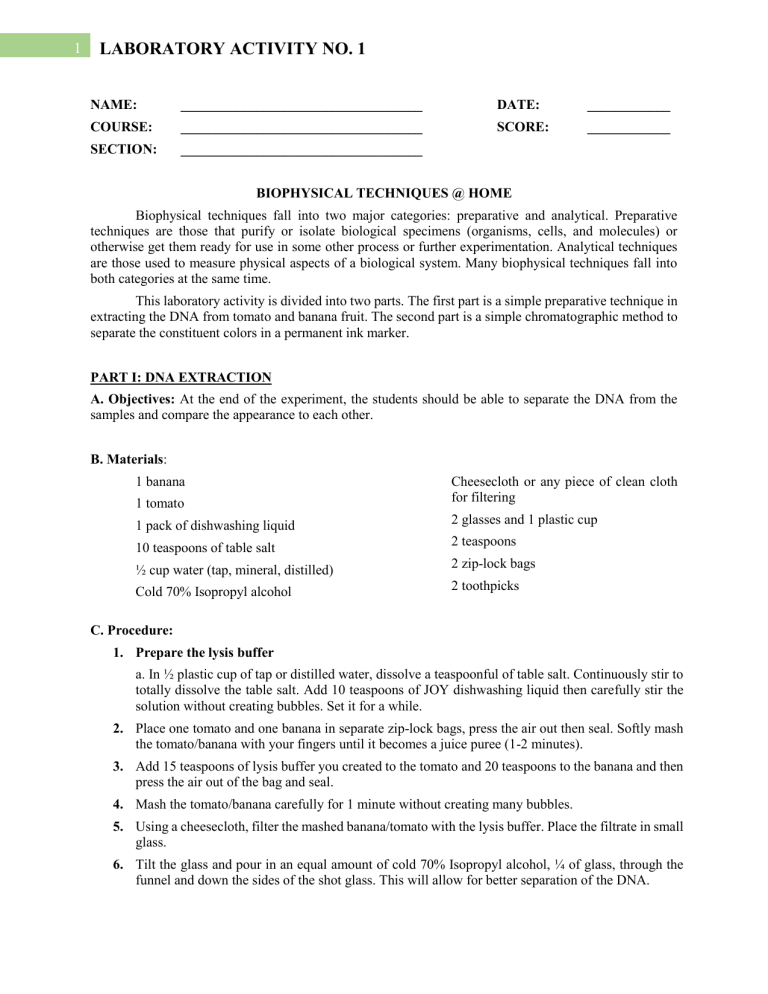 1
LABORATORY ACTIVITY NO. 1
NAME:
___________________________________
DATE:
____________
COURSE:
___________________________________
SCORE:
____________
SECTION:
___________________________________
BIOPHYSICAL TECHNIQUES @ HOME
Biophysical techniques fall into two major categories: preparative and analytical. Preparative
techniques are those that purify or isolate biological specimens (organisms, cells, and molecules) or
otherwise get them ready for use in some other process or further experimentation. Analytical techniques
are those used to measure physical aspects of a biological system. Many biophysical techniques fall into
both categories at the same time.
This laboratory activity is divided into two parts. The first part is a simple preparative technique in
extracting the DNA from tomato and banana fruit. The second part is a simple chromatographic method to
separate the constituent colors in a permanent ink marker.
PART I: DNA EXTRACTION
A. Objectives: At the end of the experiment, the students should be able to separate the DNA from the
samples and compare the appearance to each other.
B. Materials:
1 banana
1 tomato
Cheesecloth or any piece of clean cloth
for filtering
1 pack of dishwashing liquid
2 glasses and 1 plastic cup
10 teaspoons of table salt
2 teaspoons
½ cup water (tap, mineral, distilled)
2 zip-lock bags
Cold 70% Isopropyl alcohol
2 toothpicks
C. Procedure:
1. Prepare the lysis buffer
a. In ½ plastic cup of tap or distilled water, dissolve a teaspoonful of table salt. Continuously stir to
totally dissolve the table salt. Add 10 teaspoons of JOY dishwashing liquid then carefully stir the
solution without creating bubbles. Set it for a while.
2. Place one tomato and one banana in separate zip-lock bags, press the air out then seal. Softly mash
the tomato/banana with your fingers until it becomes a juice puree (1-2 minutes).
3. Add 15 teaspoons of lysis buffer you created to the tomato and 20 teaspoons to the banana and then
press the air out of the bag and seal.
4. Mash the tomato/banana carefully for 1 minute without creating many bubbles.
5. Using a cheesecloth, filter the mashed banana/tomato with the lysis buffer. Place the filtrate in small
glass.
6. Tilt the glass and pour in an equal amount of cold 70% Isopropyl alcohol, ¼ of glass, through the
funnel and down the sides of the shot glass. This will allow for better separation of the DNA.
2
LABORATORY ACTIVITY NO. 1
7. Place the glass so that it is eye level. Using the toothpicks, collect DNA at the boundary of alcohol
and strawberry juice. Do not stir the strawberry/banana juice; only stir in the above alcohol layer.
D. Data
1. Draw the DNA you see in each of your glass below.
2. Why do we need to crush the tomato and banana?
3. What role did the dishwashing liquid, table salt and 70% isopropyl alcohol play in the
DNA extraction?
4. What parts of cells were most affected by the soap?
5. What is DNA used for when it is extracted?
E. Conclusion: (Write down your conclusion below)
3
LABORATORY ACTIVITY NO. 1
PART II: Chromatography Experiment with Permanent Markers
Chromatography serves mainly as a tool for the examination and separation of mixtures
of chemical substances. It has two components namely the stationary phase which is always composed of a
"solid" phase or "a layer of a liquid adsorbed on the surface a solid support" and mobile phase which is
always composed of "liquid" or a "gaseous component."
A. Objective: At the end of this experiment, the student should be able to observe how chromatography can
be used to separate mixtures of chemical substances.
B. Materials:
Paper towel / Tissue strips
Glass cups
Permanent markers (the colors black and green were most interesting)
Rubbing alcohol, nail polish remover, and vinegar
C. Procedure:
1.
2.
3.
4.
Cut paper towel / tissue in strips.
Draw a heavy line across the strip with a marker (or a couple of thin lines).
Fill cups with a bit of the solvent you are testing out: vinegar, nail polish remover, or alcohol.
Hang the paper strip over the edge of the glass so that the paper towel touches the liquid, but the
line is above the liquid.
D. Data:
1. Take photos of your experiment and paste the photos below.
4
LABORATORY ACTIVITY NO. 1
2. How many colors separated from the black ink?
3. Among the three solvent that you used, which is more effective in separating colors in
blank ink?
4. Why did the inks separate?
5. In the experiment you did, which is the mobile phase and which is the stationary phase?
6. From your results, what can you conclude is true about black ink?
E. Conclusion (Write down your conclusion below)
REFERENCES:
Activities: Classroom Activities in Plant Biotechnology. (nd). Retrieved on 2nd of June, 2020 from
https://www.apsnet.org/edcenter/disimpactmngmnt/labexercises/PlantBiotechnology/Pages/Activity1.aspx
Coskun O. (2016). Separation techniques: Chromatography. Northern clinics of Istanbul, 3(2), 156–160.
https://doi.org/10.14744/nci.2016.32757
Friedman, J. (2017) Paper chromatography. Retrieved on 2nd of June, 2020 from
https://www.biologyjunction.com/paper_chromatography_report.htm#:~:text=The%20purpose%20of%20t
his%20experiment,of%20mixtures%20of%20chemical%20substances.