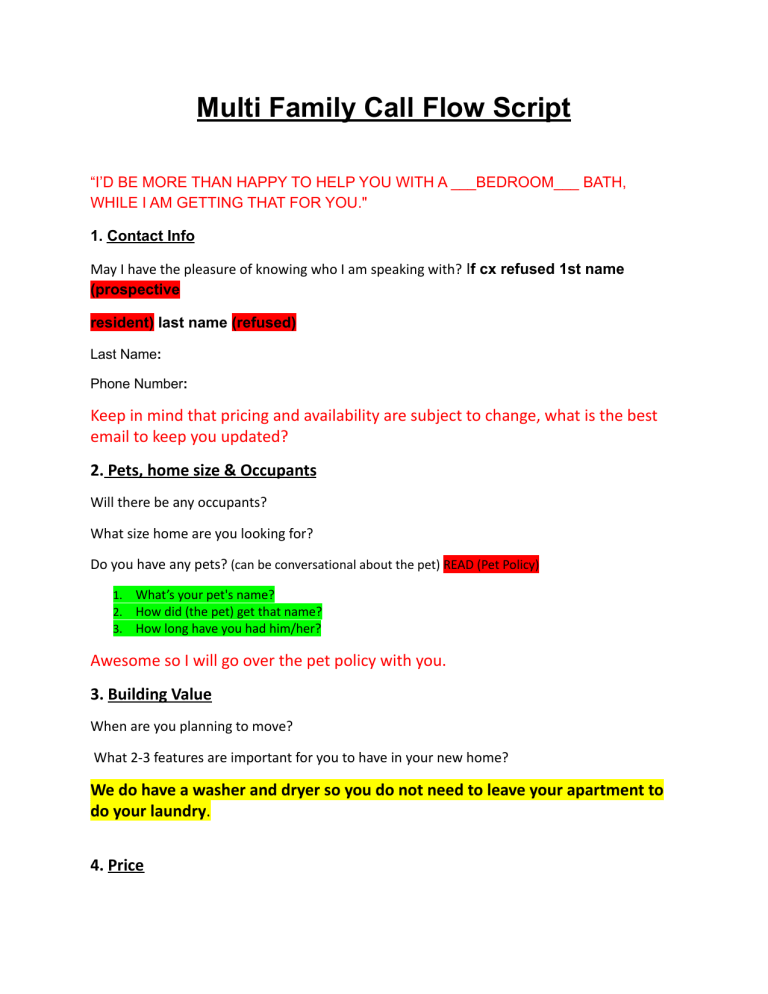 Multi Family Call Flow Script
"I'D BE MORE THAN HAPPY TO HELP YOU WITH A ___BEDROOM___ BATH,
WHILE I AM GETTING THAT FOR YOU."
1. Contact Info
May I have the pleasure of knowing who I am speaking with? If cx refused 1st name
(prospective
resident) last name (refused)
Last Name:
Phone Number:
Keep in mind that pricing and availability are subject to change, what is the best
email to keep you updated?
2. Pets, home size & Occupants
Will there be any occupants?
What size home are you looking for?
Do you have any pets? (can be conversational about the pet) READ (Pet Policy)
1.
2.
3.
What's your pet's name?
How did (the pet) get that name?
How long have you had him/her?
Awesome so I will go over the pet policy with you.
3. Building Value
When are you planning to move?
What 2-3 features are important for you to have in your new home?
We do have a washer and dryer so you do not need to leave your apartment to
do your laundry.
4. Price
I have a __ bedroom and __ bath available on ____ floorplan. It is _____ square feet and
on a __-month lease, it is $___ a month. Does that work for you?
5. Urgency
Since this works for you would you like me to have you scheduled for a tour since
our apartments do lease very quickly?
Great, so when are you available?
6. Offer the appointment (Goal)
Alright, so I have scheduled an appointment for on ___.
7. Qualifications
Would you like me to go over the qualification with you now or would you like to wait to
go over it with the onsite team?
IF yes ( List Qualification)Qualifications stop at income requirements.
If they don't qualify then it does not make sense to set an appointment. If the appointment is already
set, direct the customer to our sister property to see if they meet the qualifications there.
We could say:
i.
"This community may not be a good fit for you, but I can take a look into one of our sister
properties"
8. Call Closing
I'm part of our onsite leasing office so you won't be meeting me but our onsite office
will be taking care of you. Please follow the signs to the office. It is located towards the
back of the community if needed and a valid photo ID is needed as well.
Is there anything else I can assist with?
Ok great! I just want to say thank you for calling _______Please enjoy the rest of your
day.
Others
when you received a Non Leasing call:
You have reached me in the centralized leasing office. What I can do is provide you with the local office
number and they will be able to help you with that.
Affordable Housing
While I am gathering that information, who do I have the pleasure of speaking with?
➔ Yes, we participate in the program.
➔ No, we do not participate in any housing program, but I can go ahead and check my sister's
property.
➔ Unfortunately I am unable to locate any sister properties at this time, but I do have your
information here so I will send it over to my onsite team and they will follow up with you.
Website Showing
______ is our third-party website. I can tell you with confidence that I have the most up-to-date and
accurate information.
Price Demander
I would be happy to provide you with the best price. However, there are just a couple of things that can
change the price. What size home are you interested in? Are there any pets coming? and when are you
moving?
Not reaching the local office
1.) I am happy to help you with that however I am at the centralized leasing office but what I can do is
provide you with the local office number.
●
●
-Since you dial the one for leasing what you can do is redial and select the correct prompt
customer service.
-I am happy to provide the local office number. You can leave a message and they can follow up.
2.) I have been calling the local office for days now. Why are they not answering?
●
.
-I apologize for the inconvenience. They may have stepped away or are on a tour.