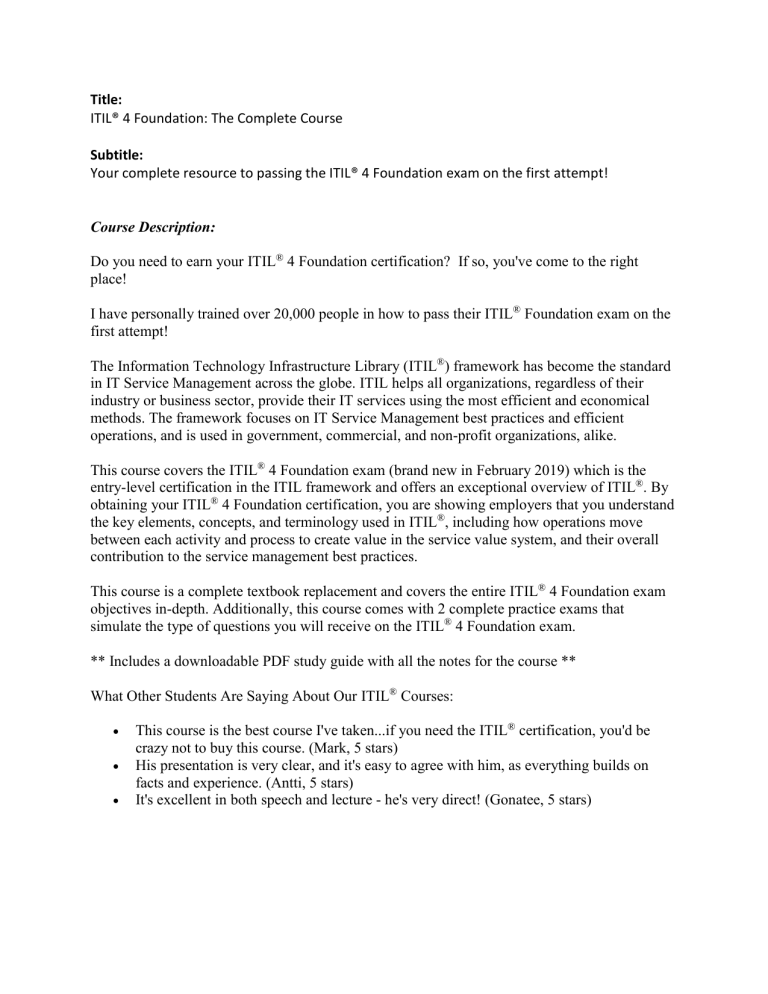 Title:
ITIL® 4 Foundation: The Complete Course
Subtitle:
Your complete resource to passing the ITIL® 4 Foundation exam on the first attempt!
Course Description:
Do you need to earn your ITIL® 4 Foundation certification? If so, you've come to the right
place!
I have personally trained over 20,000 people in how to pass their ITIL® Foundation exam on the
first attempt!
The Information Technology Infrastructure Library (ITIL®) framework has become the standard
in IT Service Management across the globe. ITIL helps all organizations, regardless of their
industry or business sector, provide their IT services using the most efficient and economical
methods. The framework focuses on IT Service Management best practices and efficient
operations, and is used in government, commercial, and non-profit organizations, alike.
This course covers the ITIL® 4 Foundation exam (brand new in February 2019) which is the
entry-level certification in the ITIL framework and offers an exceptional overview of ITIL®. By
obtaining your ITIL® 4 Foundation certification, you are showing employers that you understand
the key elements, concepts, and terminology used in ITIL®, including how operations move
between each activity and process to create value in the service value system, and their overall
contribution to the service management best practices.
This course is a complete textbook replacement and covers the entire ITIL® 4 Foundation exam
objectives in-depth. Additionally, this course comes with 2 complete practice exams that
simulate the type of questions you will receive on the ITIL® 4 Foundation exam.
** Includes a downloadable PDF study guide with all the notes for the course **
What Other Students Are Saying About Our ITIL® Courses:



This course is the best course I've taken...if you need the ITIL® certification, you'd be
crazy not to buy this course. (Mark, 5 stars)
His presentation is very clear, and it's easy to agree with him, as everything builds on
facts and experience. (Antti, 5 stars)
It's excellent in both speech and lecture - he's very direct! (Gonatee, 5 stars)
The ITIL® course on this page is offered by Dion Training Solutions, LLC, an ATO of
AXELOS Limited. ITIL, ITIL Foundation, and the Swirl logo are registered trademarks of
AXELOS Limited. All rights reserved.