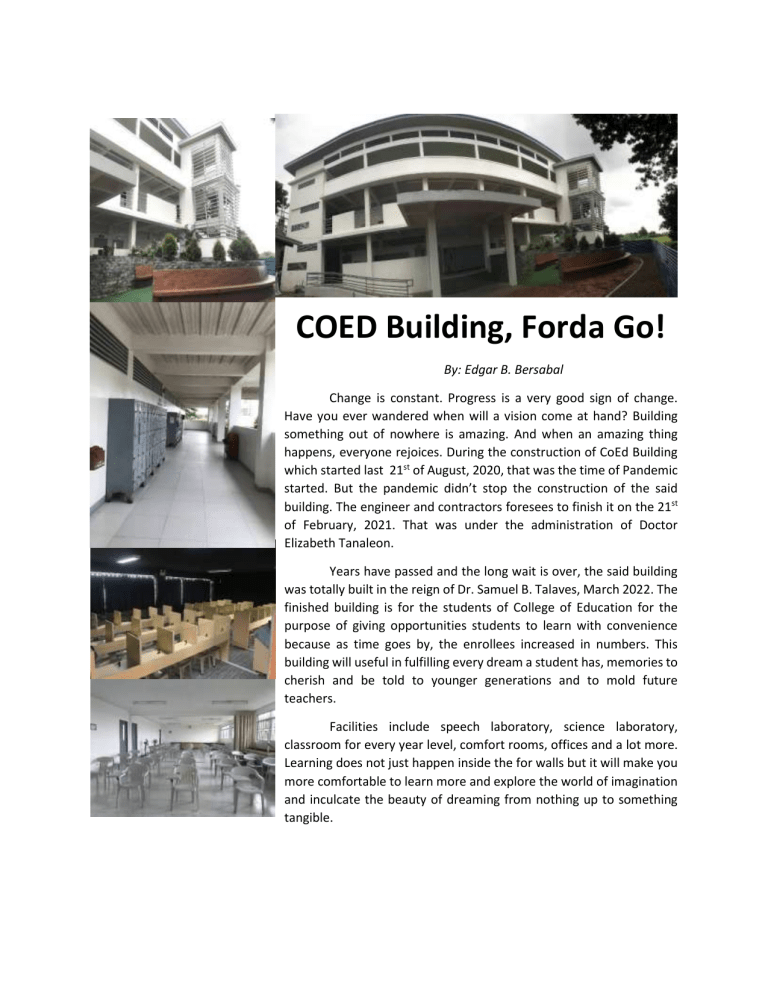 COED Building, Forda Go!
By: Edgar B. Bersabal
Change is constant. Progress is a very good sign of change.
Have you ever wandered when will a vision come at hand? Building
something out of nowhere is amazing. And when an amazing thing
happens, everyone rejoices. During the construction of CoEd Building
which started last 21st of August, 2020, that was the time of Pandemic
started. But the pandemic didn't stop the construction of the said
building. The engineer and contractors foresees to finish it on the 21st
of February, 2021. That was under the administration of Doctor
Elizabeth Tanaleon.
Years have passed and the long wait is over, the said building
was totally built in the reign of Dr. Samuel B. Talaves, March 2022. The
finished building is for the students of College of Education for the
purpose of giving opportunities students to learn with convenience
because as time goes by, the enrollees increased in numbers. This
building will useful in fulfilling every dream a student has, memories to
cherish and be told to younger generations and to mold future
teachers.
Facilities include speech laboratory, science laboratory,
classroom for every year level, comfort rooms, offices and a lot more.
Learning does not just happen inside the for walls but it will make you
more comfortable to learn more and explore the world of imagination
and inculcate the beauty of dreaming from nothing up to something
tangible.