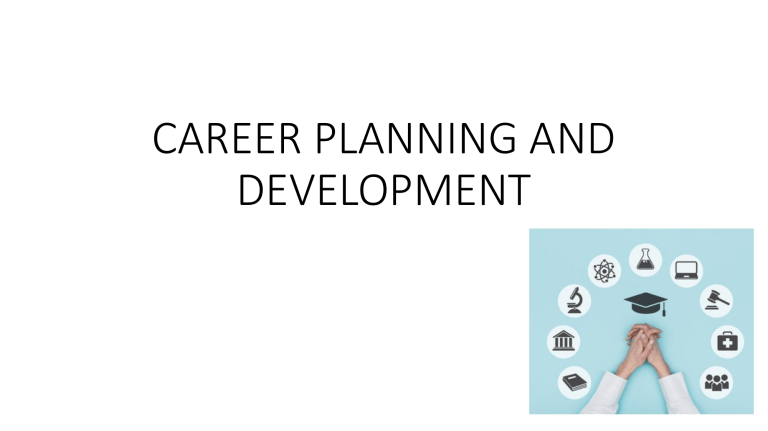 CAREER PLANNING AND
DEVELOPMENT
OBJECTIVES
After completing this chapter, you will be able to:
• Define career planning, career path and career development
• Identify roles of career planning and career development in career
success
• Determine steps of creating a career plan
• Make a personal career plan
CONTENTS
• Career planning and development
• How important career planning and development is
• Career planning process
• Guidelines for career planning and development
The basics of career management
career
The occupational positions a person has had over
many years
Career
Management
The process for enabling employees to better
understand and develop their career skills and
interests, and to use these skills and interests more
effectively
Career
Development
The lifelong series of activities that contribute to a
person's career exploration, establishment, success,
and fulfillment
Career Planning
The deliberate process through which someone
becomes aware of personal skills, interests, knowledge,
motivations, and other characteristics and establishes
action plans to attain specific goals.
WHAT IS A CAREER?
• All types of employment ranging from betterment of life through
skills, professional capacity and competency.
• The profession which is being regarded as the means of livelihood for
the entire working life of a person
• It refers to changes or modifications in employment or profession
during the foreseeable future
YOUTH UNEMPOYMENT
FACT
Number of Vietnamese youth between
the ages of 18-24 that are currently
not working or enrolled in school?
3 in 10
What Is Career Planning?
is a process for:
• Identifying what you are good at
• Knowing how your skills, talents, values, and interests translate into
possible jobs or careers
• Matching your skills, etc. to existing jobs or careers
• Matching your career goals to your financial needs
• Matching your career goals to your educational needs
• Making good decisions for yourself
• Finding ways to meet your educational and financial needs on your
schedule
Importance of career planning
• Listen to a TV program about the importance of career planning
• Listen and note down the roles of career planning to future success of
the graduate
Chapter 1\JA Inspire Video #1 Why is Career Planning Important-.mp4
Career Planning – Guide To Successful Future!
IMPORTANCE OF CAREER PLANNING
• Clear direction and road map for future,
• Opportunity to analyze individual capacity,
• Support for designing career goal,
• To develop the life as true, meaningful and purposive life,
• Motivation and Morale,
• Grooming the potentialities,
• Advancement in position and condition of the employee, etc.
Career Planning Process
Self
Assessment
Evaluation
Career
Planning
Action
Planning
Career
Exploration
Goal
Setting
What is a Career Path?
• routes that individuals take from their first foray into the job market
through to their final position before retirement. I
• is a sequence or series of job positions held leading to your shortterm and long-term professional goals.
• is the route you take to achieve your career goal or goals
Steps for career pathing
1.Outline your career goals
2.Create a five- and 10-year plan
3.Discover your personality type
4.Review your previous experience
5.Compare job requirements to your education
6.Assess your current skill set
7.Take note of your interests
8.Identify your core values
9.Consider your salary needs
EXAMPLE #1: EDUCATION
Dream Job: Principal
• Starting Point: Bachelor's Degree in Teaching
• Milestone 1. Become certified as a teacher
• Milestone 2. Work for 3+ years while attending conferences
and training seminars
• Milestone 3. Earn a master's degree in teaching
• Milestone 4. Get promoted to assistant principal
• Milestone 5. Work for a few years before getting promoted to
principal
EXAMPLE #2: TECHNOLOGY
Dream Job: Software Development Manager
• Starting Point: Finance Manager
• Milestone 1. Enroll in a coding bootcamp while working as a
finance manager
• Milestone 2. Leave current job to pursue a career in software
development
• Milestone 3. Get a job as a junior software developer
• Milestone 4. Work for a few years before getting promoted to
senior software developer
• Milestone 5. Get promoted to software development manager
EXAMPLE #3: ENTREPRENEUR
Dream Job: Business Owner
• Starting Point: Salesperson
• Milestone 1. Start entry-level sales job
• Milestone 2. Get promoted to sales manager
• Milestone 3. Move sideways to take a position in the marketing
department
• Milestone 4. Get promoted to senior marketing manager
• Milestone 5. Earn MA degree in marketing
• Milestone 6. Get promoted to vice president of marketing
• Milestone 7. Leave company to start your own marketing business
What's Career Development?
• is the process of choosing a career, improving your skills, and
advancing along a career path.
• is a lifelong process of learning and decision-making that brings
you closer to your ideal job, skillset, and lifestyle.
• is the process of self-knowledge, exploration, and decision-making
that shapes your career
• is the process of wanting a position and developing the skills,
knowledge and motivation to eventually pursue it.
Why is career development important?
• Higher productivity
• More growth opportunities
• Increase employee skills
• Improves the organization overall
• Healthy work environment
• Reduces attritions of employees
Factors Influence Career Development
• Personality
• Financial resources
• Financial Obligations
• Social and family responsibilities
• Age
• Family Obligations
Career Planning is NOT…
• Leaving the decision to chance
• Getting information and never deciding
• Going along with someone else's plans
It's OUR future. WE need to make our career
decision!!