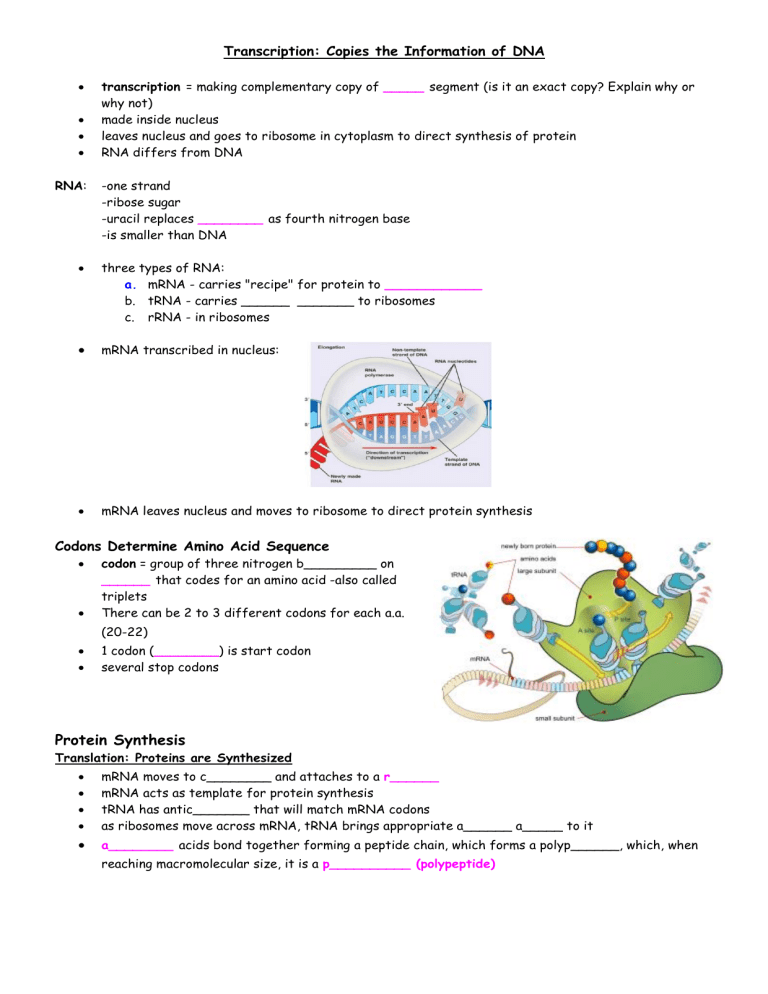 Transcription: Copies the Information of DNA




RNA:
transcription = making complementary copy of _____ segment (is it an exact copy? Explain why or
why not)
made inside nucleus
leaves nucleus and goes to ribosome in cytoplasm to direct synthesis of protein
RNA differs from DNA
-one strand
-ribose sugar
-uracil replaces ________ as fourth nitrogen base
-is smaller than DNA

three types of RNA:
a. mRNA - carries "recipe" for protein to ____________
b. tRNA - carries ______ _______ to ribosomes
c. rRNA - in ribosomes

mRNA transcribed in nucleus:

mRNA leaves nucleus and moves to ribosome to direct protein synthesis
Codons Determine Amino Acid Sequence


codon = group of three nitrogen b_________ on
______ that codes for an amino acid -also called
triplets
There can be 2 to 3 different codons for each a.a.
(20-22)


1 codon (________) is start codon
several stop codons
Protein Synthesis
Translation: Proteins are Synthesized




mRNA moves to c________ and attaches to a r______
mRNA acts as template for protein synthesis
tRNA has antic_______ that will match mRNA codons
as ribosomes move across mRNA, tRNA brings appropriate a______ a_____ to it

a________ acids bond together forming a peptide chain, which forms a polyp______, which, when
reaching macromolecular size, it is a p__________ (polypeptide)
Practice Questions:
1. Which is a five carbon sugar found in an RNA molecule?
a. uracil
b. ribose
c. adenine
2. Which base is found in DNA but not in RNA?
a. adenine
b. cytosine
d. glucose
c. thymine
d. uracil
3. The sequence of nucleotides in a messenger RNA molecule is determined by the sequence of
nucleotides in
a. transfer RNA molecule
c. polysaccharide molecule
b. protein molecule
d. DNA molecule
4. In protein synthesis, the code for a particular amino acid is determined by
a. the one gene-many enzyme hypothesis
c. multiple alleles
b. a sequence of three nucleotides
d. the number of messenger RNA molecules
5. If the code for glutamic acid is ATG on the DNA molecule, this code on the transfer RNA molecule
may be written as
a. ATG
b. CTG
c. AUG
d. GTA
6. To which organelles is messenger RNA attached?
a. chloroplast
b. ribosomes
3. mitochondria
4. vacuoles
7. During protein synthesis, amino acids are picked up in the cytoplasm and positioned at the ribosomes
by
a. unattached nucleotide molecules
c. molecules of DNA
b. polypeptide molecules
d. molecules of RNA
8. In protein synthesis, which sequence of bases in transfer RNA will pair up with the sequence GGU
found in the messenger RNA?
a. CCT
b. CCA
c. AAC
d. UUA
9. Which is the correct sequence of code transfer involved in the formation of a polypeptide?
a. DNA, tRNA, mRNA
c. mRNA, tRNA, DNA
b. tRNA, DNA, mRNA
d. DNA, mRNA, tRNA
10. The position of an amino acid in protein molecule is determined by the
a. concentration of amino acids in the cytoplasm
b. amount of ATP in the cell synthesizing the protein
c. sequence of nitrogenous bases in DNA
d. sequence of amino groups in the amino acid
11. A sequence of three nitrogenous bases in an mRNA molecule is known as
a. codon
b. gene
c. polypeptide
d. nucleotide
12. In the synthesis of proteins, what is the function of mRNA molecules?
a. They act as a template for the synthesis of DNA.
b. They carry information that determines the sequence of amino acids
c. They remove amino acids from the nucleus.
d. They carry specific enzymes for dehydration synthesis.
13. A change in the base sequence of DNA is known as
a. a gene mutation
b. a karyotype
c. Nondisjunction
d. polyploidy
14. Which nuclear process is represented below?
a. recombination
b. fertilization
c. replication
d. mutation
Protein Synthesis
Protein synthesis is a complex process. You will trace the steps that are involved in the protein synthesis of
a part of a molecule of oxytocin. Oxytocin is the pituitary hormone that helps regulate blood pressure,
stimulates the uterus to contract during childbirth, and stimulates the production of milk after childbirth.
A. Protein synthesis begins with DNA in the nucleus. Below is a DNA sequence that could code for part of a
molecule of oxytocin.
● Write the sequence of messenger RNA (mRNA) codons that would result from the transcription of this
portion of DNA . The arrow marks the starting point
(Nucleus) DNA
TRANSCRIPTION:
mRNA: (Codon)
ACA - ATA - TAG - CTT - TTG - ACG - GGG - AAC - CCC - ATT
1
2
3
4
5
6
7
8
9
10
1
UGU
2
– UAU -
3
4
-
5
–
6
-
7
–
8
-
9
-
10
-
B. After transcription (in nucleus), mRNA attaches to a ribosome where translation (in cytoplasm) takes
place. Each codon of mRNA bonds with an anticodon of a transfer RNA (tRNA) and each tRNA molecule bonds
with a specific amino acid. The table below shows the mRNA codons and the amino acids for which they code.
For example, if you were given the codon AGA, you can see from the table that these bases code for the
amino acid arginine.
DNA triplet
AAA
GTC
mRNA codon
UUU
UGA
tRNA codon
AAA
Amino Acid
Phenylalanine
STOP
Methionine (START)
Use the information on the codon chart to fill in the following table. The first row has been completed to get
you started.
mRNA
1. UGU
2. UAU
3.
4.
5.
6.
7.
8
9.
10.
Use the mRNA sequence from A to write the sequence (1 –10) of amino acids in this part of the oxytocin
molecule.
Cysteine - Tyrosine –
–
–
–
–
–
- STOP
1. How many amino acids make up this portion of the oxytocin molecule? _____ + 1 stop codon
2. What is the purpose of the UAA codon?
C. In order to get another view of the entire process of protein synthesis, label the structures on the
diagram below. (ribosome (rRNA), mRNA [codon=3 bases], tRNA [anticodon=3 bases], protein, DNA
To complete the chart below, give the name and a brief description of each step in protein synthesis that
occurs in the part of the cell shown in the diagram above.
PART OF CELL
Name of Protein Synthesis Process
DNA  __________
Nucleus
ribosome
cytoplasm
Description
RNA code  _____ ______
protein modified
polypeptide chains folded to into p_______
Base your answers to questions 1 through 3 on the diagram below showing a joining of two amino acids that
occurs within cells.
1.
The process represented in the diagram occurs on the cell organelle known as a
a. vacuole
b. ribosome
c. chloroplast
d. mitochondrion
2. Which amino acid would be transferred to the position of codon CAC?
a. leucine
b. glycine
c. valine
d. histidine
3. The process represented in the diagram is
a. lipid digestion
b. cell respiration
d. protein hydrolysis
c. protein synthesis
Use the following choices for questions 4 through 7.
Types of Nucleic Acid Molecules
(1) DNA molecule, only
(2) RNA molecules, only
(3) Both DNA and RNA molecules
(4) Neither DNA nor RNA molecules
4. May contain adenine, cytosine, guanine, and thymine.
5. Carry genetic information from nucleus to ribosomes.
6. Are present in the nucleus of the cell.
7. Consist of chains of nucleotides.
8. What is the process called which uses the information coded in DNA to chemically link amino acids
into a chain?
9. The amino acid sequences of three species shown below were determined in an investigation of
evolutionary relationships.
Species A: Val His Leu Ser Pro Val Glu
Species B: Val His Leu Cys Pro Val Glu
Species C: Val His Thr Ser Pro Glu Glu
Based on these data, which two species are most closely related? Support your answer.