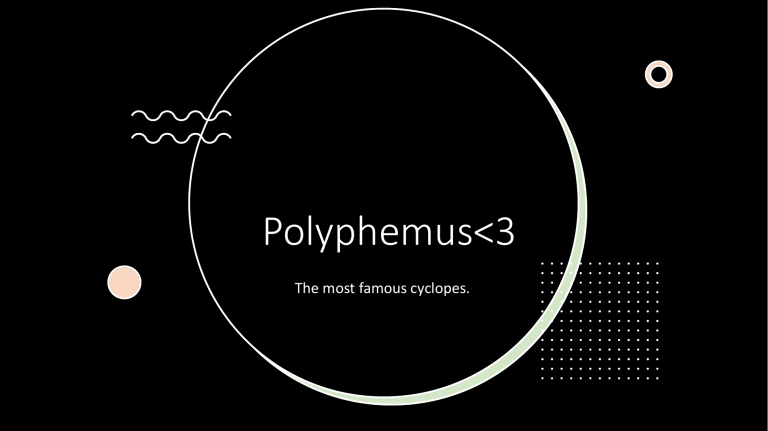 Polyphemus<3
The most famous cyclopes.
Polyphemus
• Polyphemus is the most famous of
the cyclopes.
• Polyphemus does not have any
powers.
• Polyphemus dad is Poseidon,
Poseidon is the god of the sea.
• Polyphemus mom is Nymph
thoosa.
Why is
polyphemus
important?
• Polyphemus is important to odyssey simply
because polyphemus held them to capture
in a cave.
• He symbolizes the one eye on his forehead
Why is polyphemus so unique?
• Polyphemus was a man eating cyklops, with
a orb shaped eye in the middle of his
forehead.
• Polyphemus is unique because he is a wild
race of lawless creatures who possess
neither social manners nor fear of the gods.
This is a
picture of the
famous
polyphemus!
Myth
• Polyphemus is the son of the Poseidon and thoosa, polyphemus was
the greatest among the cyclopes. When Odysseus arrived
polyphemus locked him and his companions in a cave and devoured 6
of them. Odysseus blinded the single eye and made good with his
escape. Poseidon called upon storms and hampered Odysseus
voyage.