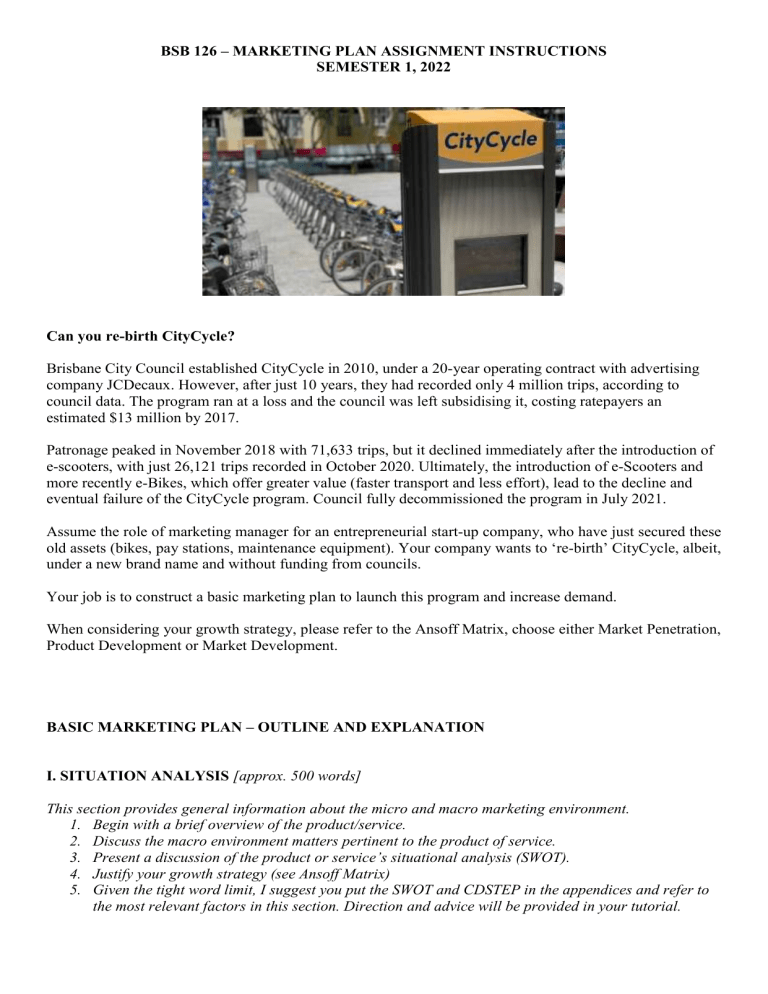 BSB 126 – MARKETING PLAN ASSIGNMENT INSTRUCTIONS
SEMESTER 1, 2022
Can you re-birth CityCycle?
Brisbane City Council established CityCycle in 2010, under a 20-year operating contract with advertising
company JCDecaux. However, after just 10 years, they had recorded only 4 million trips, according to
council data. The program ran at a loss and the council was left subsidising it, costing ratepayers an
estimated $13 million by 2017.
Patronage peaked in November 2018 with 71,633 trips, but it declined immediately after the introduction of
e-scooters, with just 26,121 trips recorded in October 2020. Ultimately, the introduction of e-Scooters and
more recently e-Bikes, which offer greater value (faster transport and less effort), lead to the decline and
eventual failure of the CityCycle program. Council fully decommissioned the program in July 2021.
Assume the role of marketing manager for an entrepreneurial start-up company, who have just secured these
old assets (bikes, pay stations, maintenance equipment). Your company wants to 're-birth' CityCycle, albeit,
under a new brand name and without funding from councils.
Your job is to construct a basic marketing plan to launch this program and increase demand.
When considering your growth strategy, please refer to the Ansoff Matrix, choose either Market Penetration,
Product Development or Market Development.
BASIC MARKETING PLAN – OUTLINE AND EXPLANATION
I. SITUATION ANALYSIS [approx. 500 words]
This section provides general information about the micro and macro marketing environment.
1. Begin with a brief overview of the product/service.
2. Discuss the macro environment matters pertinent to the product of service.
3. Present a discussion of the product or service's situational analysis (SWOT).
4. Justify your growth strategy (see Ansoff Matrix)
5. Given the tight word limit, I suggest you put the SWOT and CDSTEP in the appendices and refer to
the most relevant factors in this section. Direction and advice will be provided in your tutorial.
II. MARKETING GOAL [approx. 15 words]
From the Ansoff Matrix, state your chosen method of growing your product/service [penetration, market
development or product development]. Then describe your realistic marketing goal. Marketing goals should
have two things – a focus (either monetary or non‐monetary) and benchmarks (by how much and by when).
Monetary goals can be net income, margins, return on investment, retail sales (and others) while non‐
monetary goals can be sales volume, market share (and others).
III. MARKETING STRATEGY [approx. 600 words]
At a basic level, marketing strategy is identifying the target market, and defining the value proposition.
Segment your market
Describe (and justify) how will you segment your market – demographic, psychographic, geographic,
behavioural?
Target Customers
Describe two or three market segments, and then identify the one segment you will target. Develop a profile
of your target segment. Who is your target? How big I the segment? Is it viable? Is this target accessible?
Value Proposition
The value proposition is addressing the question "why will your target customers want to buy (or use) this
product, in relation to other offerings?"
You should also construct a positioning statement that brings together the target customers and value
proposition into one statement. You may want to include a positioning map in your analysis.
IV. MARKETING TACTICS [approx. 900 words]
These are the marketing mix elements that you should tailor to suit your target customers, your company
resources and your competition.
Product/Service – You can suggest product development or branding changes. Describe the current brand
identity. You should consult your text, tutorial activities and lecture content.
Price ‐ Briefly discuss the 5Cs; decide on whether you will use cost, competitor or value-based pricing and
justify your decision. Are there any other pricing models that might be suitable? Will you offer any
incentives? You should consult your text, tutorial activities and lecture content
Distribution ‐ Distribution captures the channel through which the product is delivered to customers.
Briefly describe the current marketing channels (supply chain) for your chosen product, describe its
distribution intensity and offer an alternate/complementary method of distribution. Justify your
recommendation. You should consult your text, tutorial activities and lecture content
Promotion – Using the "Objective‐and‐Task" method, describe how you would spend AUD $100,000 for
promotions to help reach your previously stated marketing goal. Describe the IMC tool(s) you will use, how
the money will be spent, and what you expect to achieve. You should consult your text, tutorial activities and
lecture content
V. REFERENCES [not included in word count]
As a rough guideline, you should reference between 20-25 reputable sources in your assignment. You should
include academic peer-reviewed manuscripts, industry data, industry reports and government data.
Websites, newspaper articles, Wikipedia are insufficient.
You must cite and reference all your sources of information in APA format. Help can be found at
http://www.citewrite.qut.edu.au/
VI. APPENDICES [2 pages maximum, and not included in word count]
In your two pages of appendices you can include any supporting documentation you think is necessary to
help the reader understand your marketing plan. It could be a section of an industry report; some graphs or
charts; a mock‐up for a print/online ad you have generated for your chosen product (or a storyboard for a
TV/video ad); a media alert for the product's introduction or anything else.
MARKETING PLAN – HOW TO BEGIN?
One major function of a marketing manager is to grow the product, brand or both. The Ansoff Matrix (See
Chapter 9) is useful as a starting point for your assignment.
Penetration is re‐invigorating the brand and selling more of the existing product to existing customers.
Product development is modifying the product (or perhaps a brand extension) to sell to existing
customers.
Market development is selling the existing product to new customers.
Choose one of the three quadrants (do not choose diversification, as it is not well suited to this type of
assignment) as your method for growing the product or brand.
MARKETING PLAN CHECKLIST
 Before starting and subsequently submitting your assignment, you should check‐off each item in the
checklist below:
 Use the assignment template provided on Blackboard, and keep to 1.5 line spacing, 2.5cm margins
and a readable font such as Times or Calibri.
 The 2000 word limit is for sections I, II, III and IV only. You can go over the word count by 10%
(200 words) without penalty, but any more than that will incur a penalty.
 Sections V and VI are not included in the word count.
 Include your total word count (for sections I‐IV) on the front page of your submission.
 Use the APA referencing system throughout your document.
 No table of contents, introduction or conclusion is required.
 Wikipedia and other similar sources are not to be used or referenced for this assignment.
 Do not reference the lecture notes.
 Use original sources such as books, journal articles or industry reports.
 Submit your assignment (electronically) to the TURNITIN link on Blackboard by the due date.
Assignments received after the deadline (without an approved extension) will not be marked.
 If you submit your assignment well before the due date, you will get the chance to check the
TURNITIN text matching report, make any changes you think are necessary and resubmit by the due
date. We will mark your last submission (up to the due date).
 If you have not completed your assignment by the due date, and do not have an approved extension,
then you should submit the work you have completed by the due date and it will be marked against
the assessment criteria.
 Backup and keep electronic copies of your assignment.