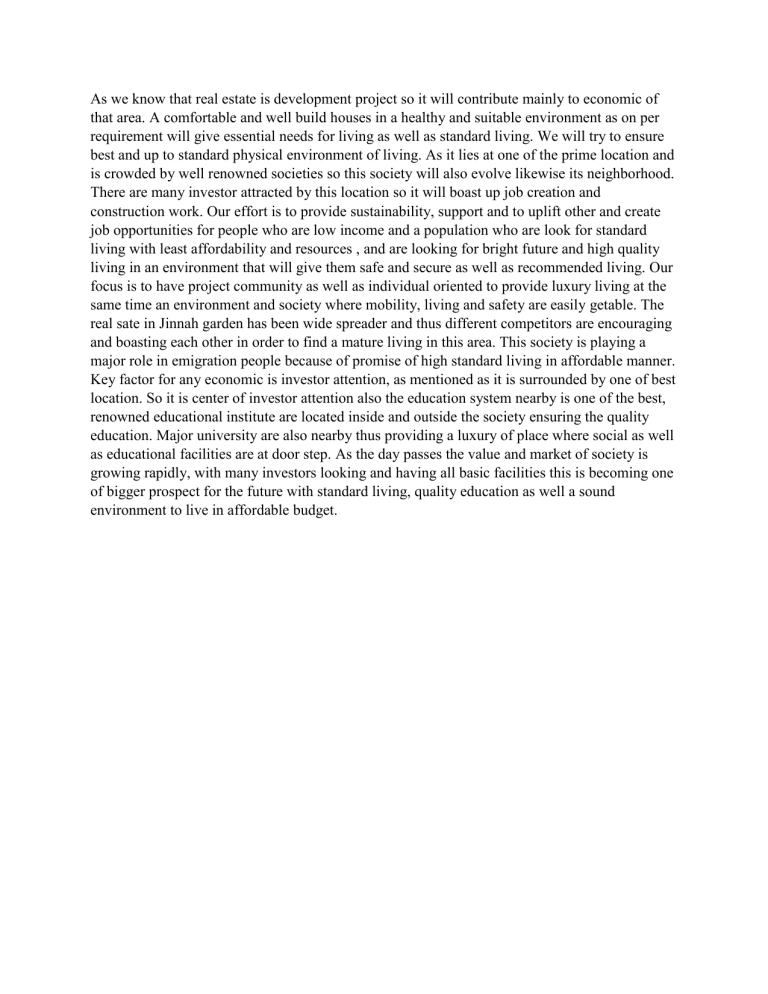 As we know that real estate is development project so it will contribute mainly to economic of
that area. A comfortable and well build houses in a healthy and suitable environment as on per
requirement will give essential needs for living as well as standard living. We will try to ensure
best and up to standard physical environment of living. As it lies at one of the prime location and
is crowded by well renowned societies so this society will also evolve likewise its neighborhood.
There are many investor attracted by this location so it will boast up job creation and
construction work. Our effort is to provide sustainability, support and to uplift other and create
job opportunities for people who are low income and a population who are look for standard
living with least affordability and resources , and are looking for bright future and high quality
living in an environment that will give them safe and secure as well as recommended living. Our
focus is to have project community as well as individual oriented to provide luxury living at the
same time an environment and society where mobility, living and safety are easily getable. The
real sate in Jinnah garden has been wide spreader and thus different competitors are encouraging
and boasting each other in order to find a mature living in this area. This society is playing a
major role in emigration people because of promise of high standard living in affordable manner.
Key factor for any economic is investor attention, as mentioned as it is surrounded by one of best
location. So it is center of investor attention also the education system nearby is one of the best,
renowned educational institute are located inside and outside the society ensuring the quality
education. Major university are also nearby thus providing a luxury of place where social as well
as educational facilities are at door step. As the day passes the value and market of society is
growing rapidly, with many investors looking and having all basic facilities this is becoming one
of bigger prospect for the future with standard living, quality education as well a sound
environment to live in affordable budget.