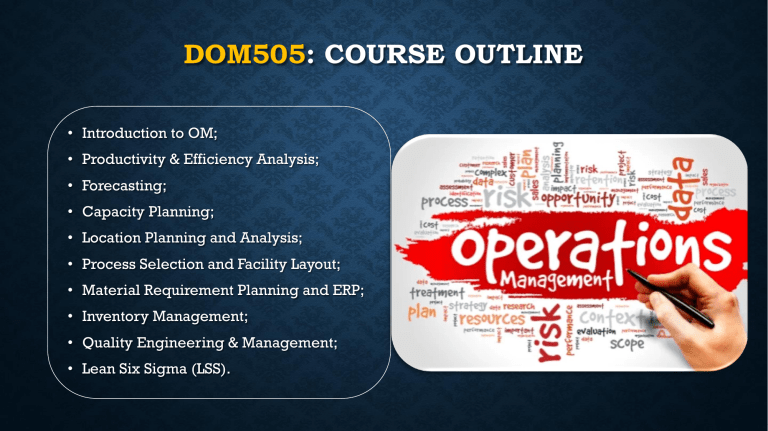 DOM505: COURSE OUTLINE
• Introduction to OM;
• Productivity & Efficiency Analysis;
• Forecasting;
• Capacity Planning;
• Location Planning and Analysis;
• Process Selection and Facility Layout;
• Material Requirement Planning and ERP;
• Inventory Management;
• Quality Engineering & Management;
• Lean Six Sigma (LSS).
ASSESSMENT SCHEME
Component
Number
Marks allocated
Quiz
2 (Time-45 min.
each)
20 (2*10)
Project
1 (PPT & Report)
35 (10 I +10 G +15 G)
Class
Participation
Class activity +
discussion +
Assignment
15
End-term
1
30
PROJECT:
FEW THEMES…
1.
Flexible Manufacturing System;
2.
Manufacturing Analytics;
3.
Modularity in services;
4.
Smart Factory;
5.
Design for Environment;
6.
Agile Manufacturing;
7.
Modularity in manufacturing;
8.
Lean Manufacturing
PROJECT REPORT STRUCTURE
• First page
• Title of the project and group detail
• Content Table (Heading and sub-heading with page no.)
• Introduction
• Review of literature
• Theoretical or conceptual development
• Application (2-3 business cases from Industry)
• References (min. 10)
Formatting: Calibri; Font Size -12; Line spacing – 12
Word Count: Min 3000 (including first page, content and references)
Note: Only submit soft copy with plagiarism report
LECTURE 1
Introduction to
Operations Management
Dr Sandeep K. Gupta (PhD, MBA, M.Tech)
Assistant Professor, SME, SNU
RUN ANY BUSINESS
???
WHAT WE NEED TO
WATCH OPERATIONS !!!
WHAT CUSTOMERS
LOOK FOR ???
Quality
Price
Ecofriendly
Time
Variety
WHAT IS OPERATIONS & WHY IS IT IMPORTANT?
• A dictionary definition of operation is 'power to act', hence in general
view, operations is the area that drives action in the firm.
• The operations function organizes the system of resources that create
and deliver the firm's products and service offering.
• A firm's operations are centered in its resource engaged in product
development, manufacturing, service management, supply chain
management, channel management, and other execution-oriented
functions that act to create and deliver value to customers.
OM'S TRANSFORMATION PROCESS
11
SUPPLY NETWORK
OPERATIONS MANAGEMENT & Decision Making
• What: What resources will be needed, and in what amounts?
• When: When will each resource be needed? When should the work
be scheduled? When should materials and other supplies be
ordered? When is corrective action needed?
• Where: Where will the work be done?
• How: How will the product or service be designed? How will the
work be done (organization, methods, equipment)? How will
resources be allocated?
• Who: Who will do the work?
ACHIEVING COMPETITIVE ADVANTAGE
THROUGH OPERATIONS
SCOPE OF OM
Source: Nigel Slack, Stuart Chambers, Robert Johnston, Alan Betts-Instructor's Manual - Operations and
Process Management_ Principles and Practice for Strategic Impact-Prentice Hall, 2nd Edition, 2011.
WHAT IS OPERATIONS
MANAGEMENT ???
ASSIGNMENT - 1
Part- I: Write an short note on 'Roles and
responsibilities of an Operations Manager'
• Number of words: 700-1000
• Min. references: 3 (research articles, reports, webpages
etc.)
• File type: MS Word or pdf
• Platform for submission: Blackboard
• Last date for submission: by Aug. 14 EOD
CONTINUES… ASSIGNMENT - 1
Part- II: Write down three services that you have 'consumed' in the last year. Try to make these as
varied as possible.
Examples could include public transport, a bank, any shop or supermarket,
attendance at an education course, a cinema, a restaurant, etc. For each of these services, ask yourself
the following questions.
● Did the service meet your expectations? If so, what did the management of the service have to do well in
order to satisfy your expectations? If not, where did they fail? Why might they have failed?
● If you were in charge of managing the delivery of these services, what would you do to improve the service?
● If they wanted to, how could the service be delivered at a lower cost so that the service could reduce its
prices?
● How do you think that the service copes when something goes wrong (such as a piece of technology
breaking down)?
● How do you think the service copes with fluctuation of demand over the day, week, month or year?
These questions are just some of the issues which the operations managers in these services have to
deal with. Think about the other issues they will have to manage in order to deliver the service
effectively.
WHAT IS OPERATIONS MANAGEMENT?
The business function responsible for planning, coordinating,
and controlling the resources needed to produce products and
services for a company.
Operations management/excellence is the administration of
business practices to create the highest level of efficiency
possible within an organization. It is concerned with converting
materials and labor into goods and services as efficiently as
possible to maximize the profit of an organization.
(Source:https://www.investopedia.com/terms/o/operations-management.asp)
SIGNIFICANT EVENTS IN OPERATIONS
MANAGEMENT
Source: Heizer, Jay H._ Munson, Chuck_ Render, Barry-Principles of operations management sustainability and supply chain management-Pearson
Education Limited (2017) Page No. 48.
ANY QUERY ???