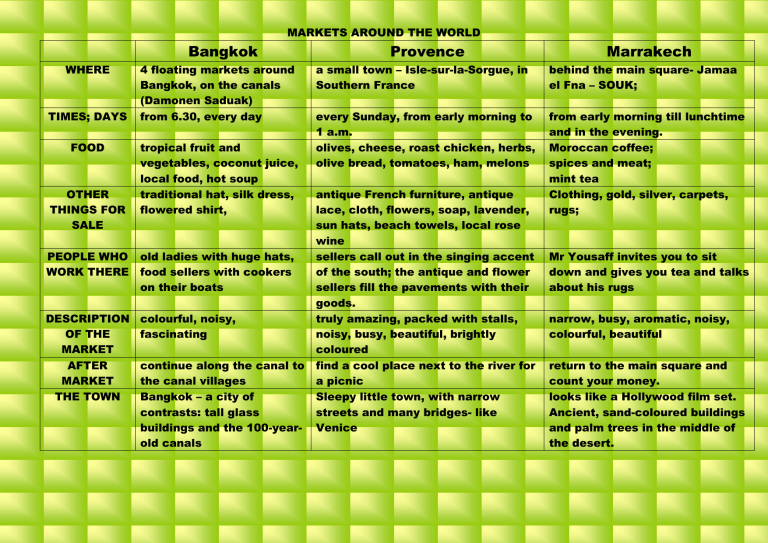 MARKETS AROUND THE WORLD
Bangkok
WHERE
TIMES; DAYS
FOOD
OTHER
THINGS FOR
SALE
4 floating markets around
Bangkok, on the canals
(Damonen Saduak)
from 6.30, every day
tropical fruit and
vegetables, coconut juice,
local food, hot soup
traditional hat, silk dress,
flowered shirt,
PEOPLE WHO
WORK THERE
old ladies with huge hats,
food sellers with cookers
on their boats
DESCRIPTION
OF THE
MARKET
AFTER
MARKET
THE TOWN
colourful, noisy,
fascinating
continue along the canal to
the canal villages
Bangkok – a city of
contrasts: tall glass
buildings and the 100-yearold canals
Provence
Marrakech
a small town – Isle-sur-la-Sorgue, in
Southern France
behind the main square- Jamaa
el Fna – SOUK;
every Sunday, from early morning to
1 a.m.
olives, cheese, roast chicken, herbs,
olive bread, tomatoes, ham, melons
from early morning till lunchtime
and in the evening.
Moroccan coffee;
spices and meat;
mint tea
Clothing, gold, silver, carpets,
rugs;
antique French furniture, antique
lace, cloth, flowers, soap, lavender,
sun hats, beach towels, local rose
wine
sellers call out in the singing accent
of the south; the antique and flower
sellers fill the pavements with their
goods.
truly amazing, packed with stalls,
noisy, busy, beautiful, brightly
coloured
find a cool place next to the river for
a picnic
Sleepy little town, with narrow
streets and many bridges- like
Venice
Mr Yousaff invites you to sit
down and gives you tea and talks
about his rugs
narrow, busy, aromatic, noisy,
colourful, beautiful
return to the main square and
count your money.
looks like a Hollywood film set.
Ancient, sand-coloured buildings
and palm trees in the middle of
the desert.