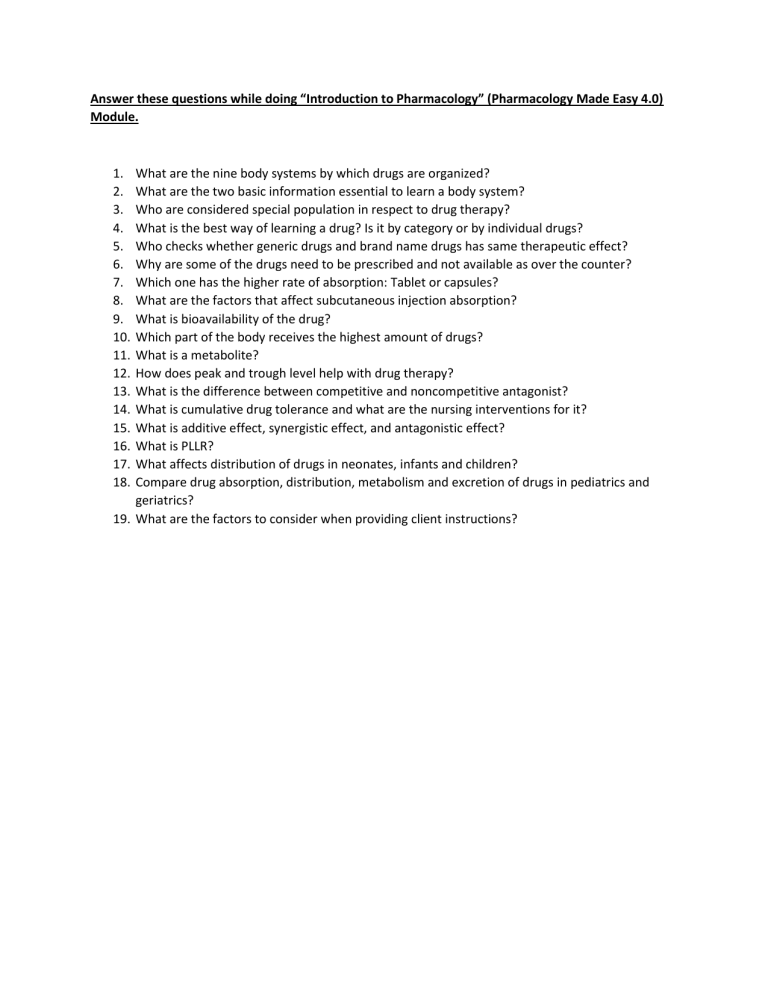 Answer these questions while doing "Introduction to Pharmacology" (Pharmacology Made Easy 4.0)
Module.
1.
2.
3.
4.
5.
6.
7.
8.
9.
10.
11.
12.
13.
14.
15.
16.
17.
18.
What are the nine body systems by which drugs are organized?
What are the two basic information essential to learn a body system?
Who are considered special population in respect to drug therapy?
What is the best way of learning a drug? Is it by category or by individual drugs?
Who checks whether generic drugs and brand name drugs has same therapeutic effect?
Why are some of the drugs need to be prescribed and not available as over the counter?
Which one has the higher rate of absorption: Tablet or capsules?
What are the factors that affect subcutaneous injection absorption?
What is bioavailability of the drug?
Which part of the body receives the highest amount of drugs?
What is a metabolite?
How does peak and trough level help with drug therapy?
What is the difference between competitive and noncompetitive antagonist?
What is cumulative drug tolerance and what are the nursing interventions for it?
What is additive effect, synergistic effect, and antagonistic effect?
What is PLLR?
What affects distribution of drugs in neonates, infants and children?
Compare drug absorption, distribution, metabolism and excretion of drugs in pediatrics and
geriatrics?
19. What are the factors to consider when providing client instructions?