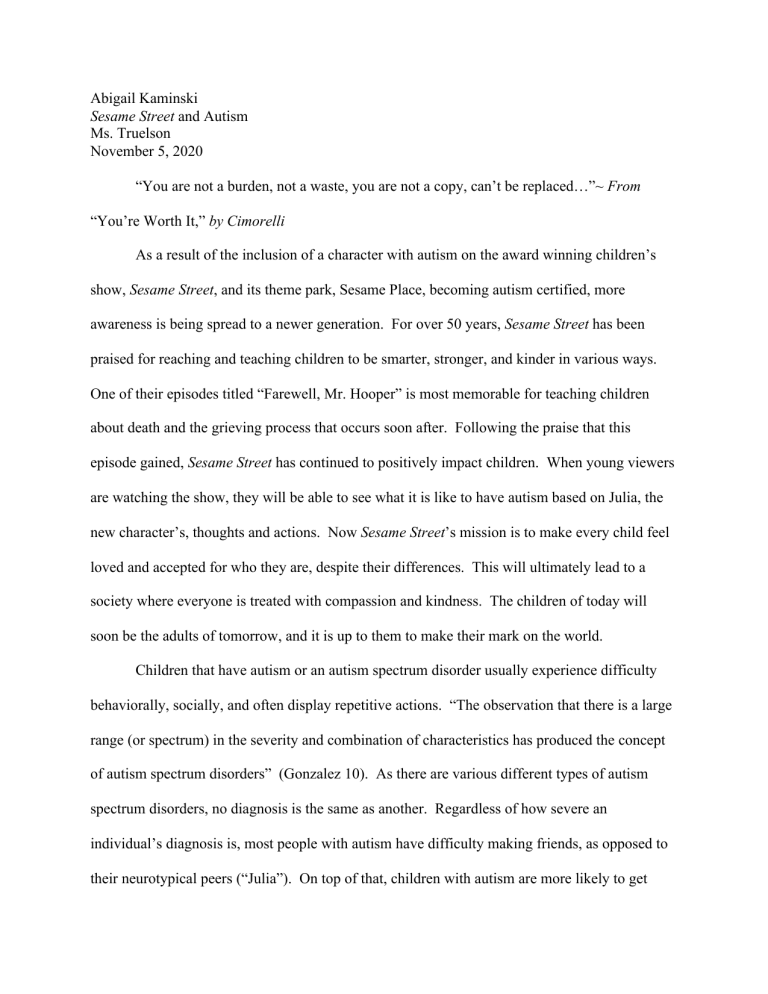 Abigail Kaminski
Sesame Street​ and Autism
Ms. Truelson
November 5, 2020
"You are not a burden, not a waste, you are not a copy, can't be replaced…"~ ​From
"You're Worth It,"​ by Cimorelli
As a result of the inclusion of a character with autism on the award winning children's
show, ​Sesame Street​, and its theme park, Sesame Place, becoming autism certified, more
awareness is being spread to a newer generation. For over 50 years, ​Sesame Street​ has been
praised for reaching and teaching children to be smarter, stronger, and kinder in various ways.
One of their episodes titled "Farewell, Mr. Hooper" is most memorable for teaching children
about death and the grieving process that occurs soon after. Following the praise that this
episode gained, ​Sesame Street ​has continued to positively impact children. When young viewers
are watching the show, they will be able to see what it is like to have autism based on Julia, the
new character's, thoughts and actions. Now ​Sesame Street​'s mission is to make every child feel
loved and accepted for who they are, despite their differences. This will ultimately lead to a
society where everyone is treated with compassion and kindness. The children of today will
soon be the adults of tomorrow, and it is up to them to make their mark on the world.
Children that have autism or an autism spectrum disorder usually experience difficulty
behaviorally, socially, and often display repetitive actions. "The observation that there is a large
range (or spectrum) in the severity and combination of characteristics has produced the concept
of autism spectrum disorders" (Gonzalez 10). As there are various different types of autism
spectrum disorders, no diagnosis is the same as another. Regardless of how severe an
individual's diagnosis is, most people with autism have difficulty making friends, as opposed to
their neurotypical peers ("Julia"). On top of that, children with autism are more likely to get
bullied by other children because of their differences. ​Sesame Street ​aims to make children with
autism realize that they can make friends and stand up to those that are bringing them down. The
addition of Julia, a four year old with autism, will help children that have autism feel like they
belong and that there is nothing wrong with who they are.
Sesame Street ​made the decision to include the character, Julia, with the intent of
advocating for a greater understanding of autism to a more modern generation of children.
"...the ​Sesame Street and Autism: See Amazing in All Children ​initiative aims to increase public
awareness of autism, foster greater empathy and understanding…" ("Julia"). When children gain
more knowledge about what autism is and how people are affected by it, they will be able to
interact with and possibly become friends with someone that has autism. "It is through this spirit
of acceptance and friendship that ​Sesame Street​, the much-heralded children's show, hopes to
promote understanding about autism to a new generation" (Wang 1). ​Sesame Street​'s overall
embracement of every child shows that they genuinely care about spreading positivity to their
viewers.
When Julia made her arrival on ​Sesame Street​, the other characters were quick to display
kindness and empathy towards her. When Abby Cadabby, a character from ​Sesame Street,​ meets
Julia for the first time, Julia does not make eye contact with her or respond. Elmo, another
character on ​Sesame Street​, steps in and tells Abby that since Julia has autism, it takes her a little
while to do certain things. Elmo then adds that he talks to Julia using fewer words and repeats
what he is saying several times (Wang 2). Elmo displays kindness and empathy towards Julia by
doing his best to try and understand how her mind processes some things. Instead of giving up
on attempting to explain Julia's actions to Abby, Elmo genuinely wants her to understand, so he
takes his time and tells her what he knows. ​Sesame Street'​ s goal is to encourage all children to
display these characteristics to one another.
The inclusion of Julia on ​Sesame Street ​would not have been possible without the hard
work and dedication of the Sesame Workshop team. "...the puppeteer behind Julia has felt like
she has been preparing for the role for years. Stacey Gorden, a Phoenix-based puppeteer, has a
son who has autism, and used to work as a therapist to children on the autism spectrum" (Wang
2). The amount of hard work and effort that was put into transferring Julia from paper to screen
demonstrates how much Sesame Workshop is committed to including her on ​Sesame Street​.
Some of the team members have even had firsthand experience with children that have autism,
so this made it possible for them to incorporate some of their prior knowledge into creating Julia.
As well as creating Julia, Sesame Place has recently become the first theme park in the
world to become autism certified. "As a Certified Autism Center, Sesame Place is required to
provide ongoing training to ensure that team members have the requisite knowledge, skills,
temperament, and expertise to interact with all families and children with special needs,
specifically on the autism spectrum" ("Sesame"). To increase autism awareness, as well as
including Julia on ​Sesame Street,​ Sesame Workshop made their theme park, Sesame Place,
accessible to all children. To do this, every team member became proficient in associating with
guests that had special needs, including autism. This allowed for the families of children with
special needs to feel reassured that they would be safe and cared for. The president of Sesame
Place, Cathy Valeriano, expressed that the park "is better equipped to offer families inclusive
activities for children with autism and other special needs" ("Sesame"). Children with autism
and other special needs have the ability to partake in specific attractions that are designed
exclusively for them. This will allow them to feel included, since they were not able to
participate in all of the attractions previously.
Today, ​Sesame Street​ is continuing to bring about positive change for all children so that
they can become smarter, stronger, and kinder individuals. With the inclusion of Julia in 2017,
viewers of ​Sesame Street ​were able to learn more about autism and how people are affected by it.
At Sesame Place, a theme park based on the show ​Sesame Street​, employees were professionally
trained to be autism certified. This included acquiring knowledge as to how to properly associate
with families of children that have autism or another condition that requires special attention.
This allowed for a more inclusive theme park that everyone could enjoy, despite their
differences. ​Sesame Street ​is continuing to develop new ways to spread awareness for autism so
that every child will feel loved and appreciated, no matter how distinct they are. Even though it
may seem like a minute advancement in society as opposed to the many other issues that need to
be resolved, spreading awareness for autism is one of the first steps in creating a better world for
human beings to live in.
Works Cited
Gonzalez, Ana Maria. ​Autism Spectrum Disorders​. Minnesota: Twenty-First Century Books,
2011.
"Julia's New Sesame Street Muppet Family Debuts as Part of Autism Initiative." ​PR Newswire​, 1
Apr. 2019. ​Gale In Context: High School​, https://link.gale.com. Accessed 25 Oct. 2020.
"Sesame Place[R] becomes the First Theme Park in the World to be Designated as a Certified
Autism Center." ​Palaestra,​ vol. 32, no. 3, Summer 2018, p. 60. ​Gale In Context: High
School,​ https://link.gale.com. Accessed 25 Oct. 2020.
Wang, Amy B. "Meet Julia, a Muppet with autism -- and the newest character on 'Sesame
Street'." ​Washingtonpost.com,​ 20 Mar. 2017. ​Gale In Context: High School,​
https://link.gale.com. Accessed 25 Oct. 2020.