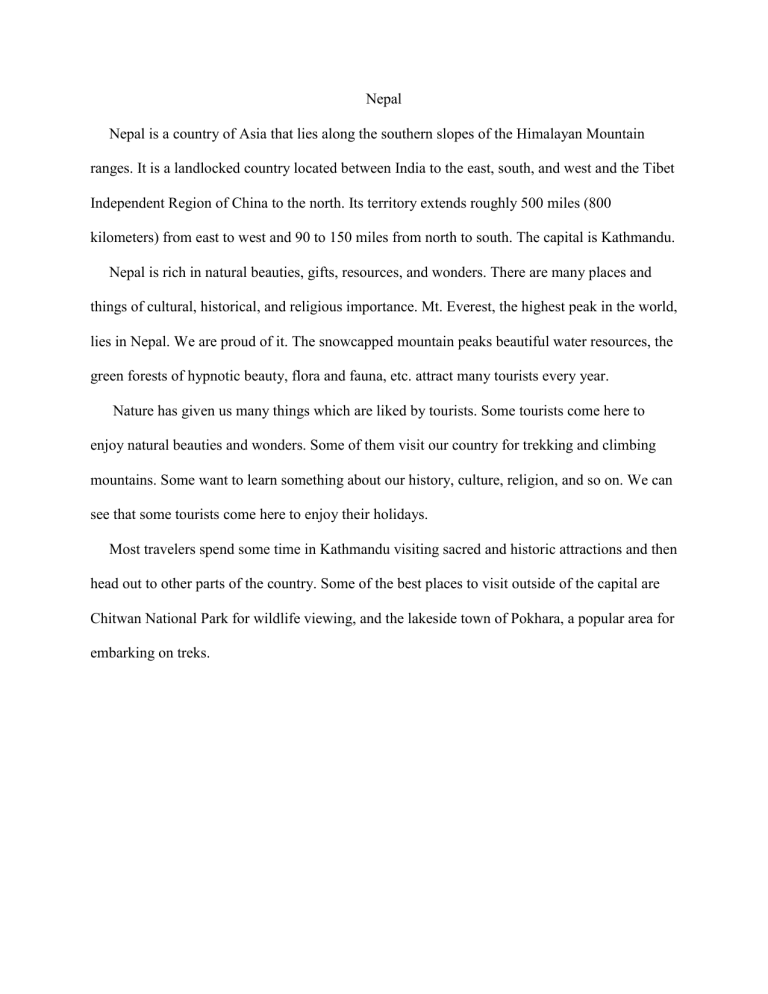 Nepal
Nepal is a country of Asia that lies along the southern slopes of the Himalayan Mountain
ranges. It is a landlocked country located between India to the east, south, and west and the Tibet
Independent Region of China to the north. Its territory extends roughly 500 miles (800
kilometers) from east to west and 90 to 150 miles from north to south. The capital is Kathmandu.
Nepal is rich in natural beauties, gifts, resources, and wonders. There are many places and
things of cultural, historical, and religious importance. Mt. Everest, the highest peak in the world,
lies in Nepal. We are proud of it. The snowcapped mountain peaks beautiful water resources, the
green forests of hypnotic beauty, flora and fauna, etc. attract many tourists every year.
Nature has given us many things which are liked by tourists. Some tourists come here to
enjoy natural beauties and wonders. Some of them visit our country for trekking and climbing
mountains. Some want to learn something about our history, culture, religion, and so on. We can
see that some tourists come here to enjoy their holidays.
Most travelers spend some time in Kathmandu visiting sacred and historic attractions and then
head out to other parts of the country. Some of the best places to visit outside of the capital are
Chitwan National Park for wildlife viewing, and the lakeside town of Pokhara, a popular area for
embarking on treks.