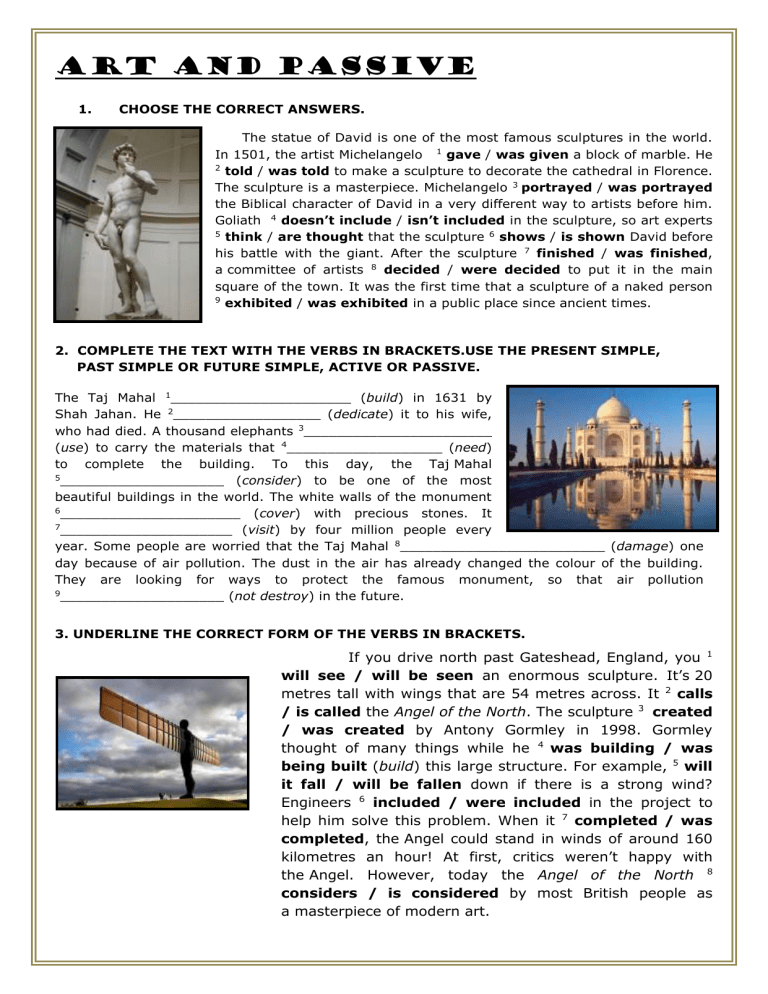 ART AND PASSIVE
1.
CHOOSE THE CORRECT ANSWERS.
The statue of David is one of the most famous sculptures in the world.
In 1501, the artist Michelangelo 1 gave / was given a block of marble. He
2
told / was told to make a sculpture to decorate the cathedral in Florence.
The sculpture is a masterpiece. Michelangelo 3 portrayed / was portrayed
the Biblical character of David in a very different way to artists before him.
Goliath 4 doesn't include / isn't included in the sculpture, so art experts
5
think / are thought that the sculpture 6 shows / is shown David before
his battle with the giant. After the sculpture 7 finished / was finished,
a committee of artists 8 decided / were decided to put it in the main
square of the town. It was the first time that a sculpture of a naked person
9
exhibited / was exhibited in a public place since ancient times.
2. COMPLETE THE TEXT WITH THE VERBS IN BRACKETS.USE THE PRESENT SIMPLE,
PAST SIMPLE OR FUTURE SIMPLE, ACTIVE OR PASSIVE.
The Taj Mahal 1______________________ (build) in 1631 by
Shah Jahan. He 2__________________ (dedicate) it to his wife,
who had died. A thousand elephants 3_______________________
(use) to carry the materials that 4___________________ (need)
to complete the building. To this day, the Taj Mahal
5
____________________ (consider) to be one of the most
beautiful buildings in the world. The white walls of the monument
6
______________________ (cover) with precious stones. It
7
_____________________ (visit) by four million people every
year. Some people are worried that the Taj Mahal 8_________________________ (damage) one
day because of air pollution. The dust in the air has already changed the colour of the building.
They are looking for ways to protect the famous monument, so that air pollution
9
____________________ (not destroy) in the future.
3. UNDERLINE THE CORRECT FORM OF THE VERBS IN BRACKETS.
If you drive north past Gateshead, England, you 1
will see / will be seen an enormous sculpture. It's 20
metres tall with wings that are 54 metres across. It 2 calls
/ is called the Angel of the North. The sculpture 3 created
/ was created by Antony Gormley in 1998. Gormley
thought of many things while he 4 was building / was
being built (build) this large structure. For example, 5 will
it fall / will be fallen down if there is a strong wind?
Engineers 6 included / were included in the project to
help him solve this problem. When it 7 completed / was
completed, the Angel could stand in winds of around 160
kilometres an hour! At first, critics weren't happy with
the Angel. However, today the Angel of the North 8
considers / is considered by most British people as
a masterpiece of modern art.