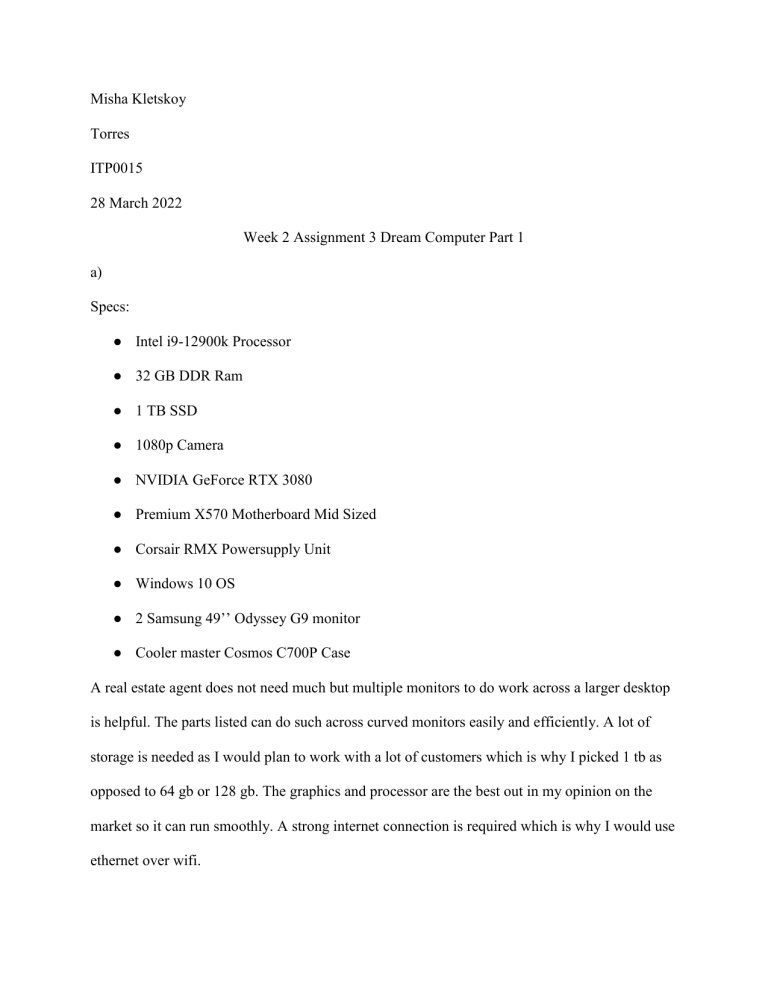 Misha Kletskoy
Torres
ITP0015
28 March 2022
Week 2 Assignment 3 Dream Computer Part 1
a)
Specs:
● Intel i9-12900k Processor
● 32 GB DDR Ram
● 1 TB SSD
● 1080p Camera
● NVIDIA GeForce RTX 3080
● Premium X570 Motherboard Mid Sized
● Corsair RMX Powersupply Unit
● Windows 10 OS
● 2 Samsung 49'' Odyssey G9 monitor
● Cooler master Cosmos C700P Case
A real estate agent does not need much but multiple monitors to do work across a larger desktop
is helpful. The parts listed can do such across curved monitors easily and efficiently. A lot of
storage is needed as I would plan to work with a lot of customers which is why I picked 1 tb as
opposed to 64 gb or 128 gb. The graphics and processor are the best out in my opinion on the
market so it can run smoothly. A strong internet connection is required which is why I would use
ethernet over wifi.
b) I would ask them what tasks they would want to get done on said computers, the budget, and
how important connection is to them. The reason being because I would then choose specs that
cater to the duties needing to be performed with the money I am given and also to see if I would
need to invest in ethernet cables or wifi adapters.
c) A typical business computer should be replaced every 3-5 years while a personal computer
should be replaced every 8-10 years. Personal computers most of the time do not endure the
same type of work that work computers do, in other words most people are on work computers 8
hours a day while a personal computer not so much.
c)
Windows XP - 4/8/2014
Windows 7 - 1/14/2020
Windows 10 - 10/14/2025
Mac OS 10 - 6/22/2001
Mac OS X 10.2 - 3/4/2007
Mac OS X 11 - 11/12/2020
Ubuntu 14.04 - 4/30/2019
Ubuntu 16.04.7 - 4/2026
Red Hat Enterprise Linux 4 - 3/1/2012
Red Hat Enterprise Linux 8 - 5/31/2029
CentOS Linux 7 - 6/30/2024
CentOS Linux 4 - 2/29/2012
It's good to know when to replace your operating system or to know when it is being replaced
with another better OS.
Misha Kletskoy
Torres
ITP0015
28 March 2022
Week 2 Assignment 3 Dream Computer Part 2
a) Matterport, Periscope, Docusign and Doorsteps are all forms of software I've found that
are useful for real estate agents, Matterport allows you to give virtual 3D tours of houses,
Periscope is sort of like a live streaming application that allows you to broadcast open
houses live to potential buyers, docusign allows you to export PDFS and have clients
digitally sign confirmation and Doorsteps allows you to follow up on the buyer on
whether they want to buy the house or not. Providing a real estate license is required for
Matterport and Doorsteps, a business license is required for docusign, and no credentials
are required for Periscope. The best education I could get at Sierra College is to learn
through business and IT the ways of running a business like Real-Estate.
b)
Application
Purpose
Business?
Cost
Current?
(Important to
know if up to
date on
softwares
technology)
Google
Chrome
Search the
Internet
Yes
$0.00
Yes
Discord
Communicate
with others
Yes
$0.00
Yes
Minecraft
Play Minecraft
No
$26.99
Yes
Zoom
Communicate
with others
Yes
$0.00
Yes
Mail
Email others
Yes
$0.00
Yes
c) Businesses will have less need for desktops if phones are replacing desktops. Hence, the
demand for computers will decline and businesses will continue to thrive off of phones.
Businesses can adjust to this by making things remotely more but there should always be
a need for desktops purely because they are larger making it easier to manage work.
d) All of our work is put in the cloud so it is important for storing our data. It in a way can
be used as a record holder for all of our work done in the past until now so it is beneficial
in efficiently pulling up past data and saving current data. A drawback however, is that it
gives computers that can be hacked access to personal data we do not want out there.