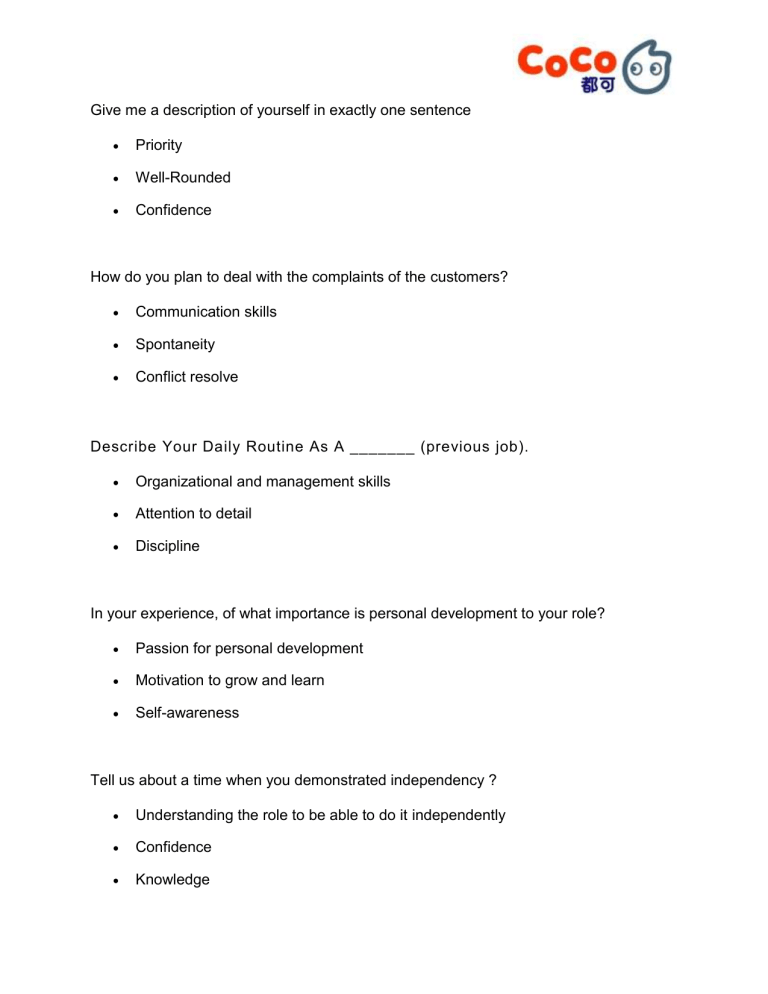 Give me a description of yourself in exactly one sentence

Priority

Well-Rounded

Confidence
How do you plan to deal with the complaints of the customers?

Communication skills

Spontaneity

Conflict resolve
Describe Your Daily Routine As A _______ (previous job).

Organizational and management skills

Attention to detail

Discipline
In your experience, of what importance is personal development to your role?

Passion for personal development

Motivation to grow and learn

Self-awareness
Tell us about a time when you demonstrated independency ?

Understanding the role to be able to do it independently

Confidence

Knowledge
Have you had to make a decision that is unpopular with your teammates? What was the
outcome? What lesson did you learn?

Ability to lead

Interpersonal skills

Conflict management skills
What is your experience as a ______ in resolving conflicts among personnel?

Leadership skills

Problem-solving ability and experience

Ability to maintain calm under pressure
What do you think is the hardest part of ________ (job they are applying to)

Understanding

Spontaneity

Job Ready
Describe one big obstacle that you have over come in the past 2 years

Understanding

Motivation to grow and learn

Self-awareness
What difference will you make if we choose to hire you, and why should we hire you?

Communication skills

Interpersonal skills

Self-awareness
Introduction: I should mention that this job requires you to be quick on feet to serve customers,
remember orders, remember timings and be spontaneous.
observation / memory / spontaneity
Observation
(Have to say) Explanation: Coco will be visited by homeless or reckless people. Will you have
the mental awareness to identify and be prepared with this during your shift ? Will you be able to
observe your surrounding as the you are part of the day-to-day operations?
1) Without looking around, tell me what shoes are you wearing right now (color, model)
2) Without looking around, tell, how many people are working right now ? How many
Female / male ? (working, making drinks, cashier)
(ask about something right behind them, or something you can't miss as you enter the store, wall
/ poster / door / color of leon's jacket )
Please take this paper and absorb as much information as you can within 1 minute and 30
seconds. Prioritize the important things as you would prioritize what's important in this job that
you are applying for.
Test: 1 min 30
Take paper back
As you are applying for a floor worker position you will be challenged with different people.
You have to be able to eagerly challenge yourself everyday.
Look for :
 Behavioural awareness
 Eagerness to be challenged
 Retention
 Attention to detail
Memory:
Explanation: Coco has over 50 customizable drinks and you have to able to memorize at least
80-90% of the order. You will to represent yourself well with satisfactory customer service while
taking and fulfilling the order. You will have to memorize recipes in a stressful environment with
a limited time. This test will not only measure how you prioritize information collection but also
how you will react under pressure.
1)
2)
3)
4)
5)
When did Coco Calgary Open ?
Which quadrant has the Blue Coco Logo ?
Which color is the smallest logo ?
How many times was Coco bolded in Red Font ?
What was my VERY FIRST QUESTION in this entire interview?
CoCo Fresh Tea & Juice is a global bubble tea, or boba, drink franchise based in Taiwan.[1] It was
established in 1997 by Tommy Hung, the current chairman.[2] CoCo has a lot locations[3] in China,
the U.S., Canada, France, Australia, the United Kingdom, and Japan.[4] Its taro milk tea was
recommended by Eater.com.[5] Some Hong Kong franchise owners stirred controversy by expressing
their support for the Hong Kong protesters with slogans like "Add oil, Hongkongers" on customers'
receipts in 2019.[6]
Today, walking the streets of Taiwan, it's hardly a surprise to see people holding
a to-go cup, but this trend only got started in 1997 when CoCo Tea & Juice
began investing in new forms of take out beverage products. Now, 16 years after
the company was first established, CoCo provides delicious beverages to
customers from around the world. CoCo has expanded globally from its base in
Taiwan during its 16 years of continuous innovation and development. Today, the
company sources its ingredients from a network of global suppliers to provide its
customers with an absolute guarantee of quality for its tea and juice products.
Taiwan remains the source of the company's highest value-added activities, and
the center for research and development, innovation and training.
Premium bubble tea brand with 20 locations in New York,
New Jersey & Massachusetts and 4500 stores around the
world.
CoCo Fresh Tea & Juice introduced its all-time favorite bubble tea to New York
in the Winter of 2011, opening its first store across the street from Baruch
College. Over 8 years, we opened 21 stores in New York and New Jersey.
Headquartered in Taiwan, CoCo started from a humble place in Tamsui in 1997
to its current extensive footprints throughout Asia, South Pacific and North
America.
In addition to a wide variety of bubble tea selections and healthy fruit tea
options, CoCo Fresh Tea & Juice is dedicated to recreating tea drinking
experience, introducing new drinks to the market.
CoCo Fresh Tea & Juice open their first store in Calgary, Alberta, Canada, in 2018.
West side.