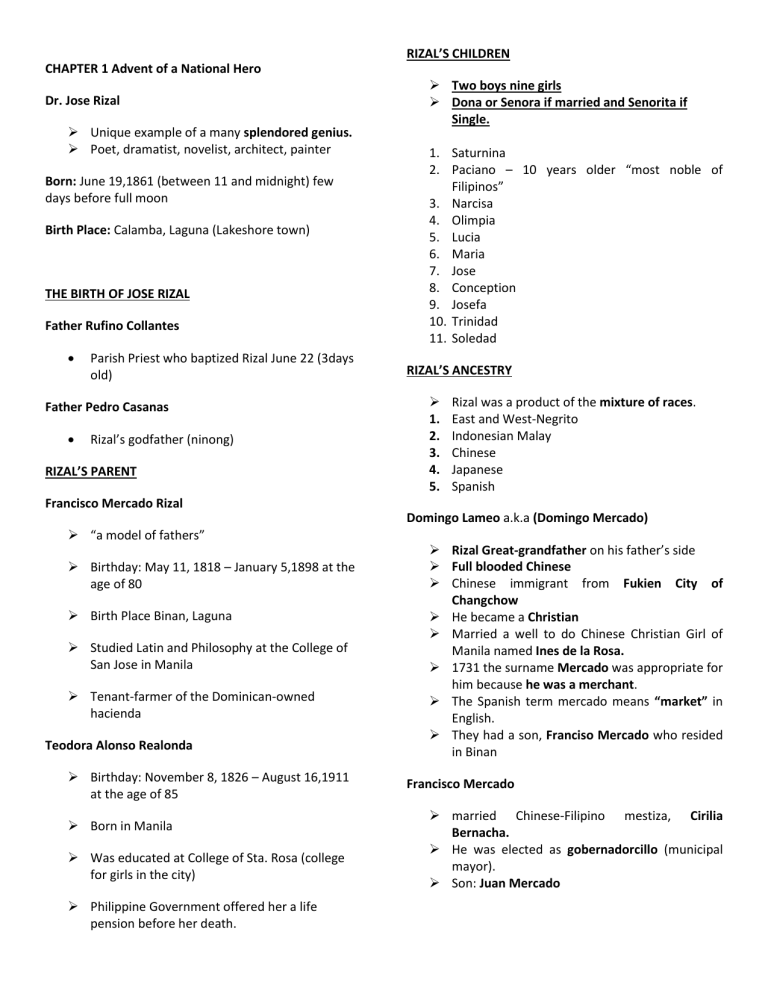 RIZAL'S CHILDREN
CHAPTER 1 Advent of a National Hero
Dr. Jose Rizal
 Unique example of a many splendored genius.
 Poet, dramatist, novelist, architect, painter
Born: June 19,1861 (between 11 and midnight) few
days before full moon
Birth Place: Calamba, Laguna (Lakeshore town)
THE BIRTH OF JOSE RIZAL
Father Rufino Collantes

Parish Priest who baptized Rizal June 22 (3days
old)
Father Pedro Casanas

Rizal's godfather (ninong)
RIZAL'S PARENT
 Two boys nine girls
 Dona or Senora if married and Senorita if
Single.
1. Saturnina
2. Paciano – 10 years older "most noble of
Filipinos"
3. Narcisa
4. Olimpia
5. Lucia
6. Maria
7. Jose
8. Conception
9. Josefa
10. Trinidad
11. Soledad
RIZAL'S ANCESTRY

1.
2.
3.
4.
5.
Rizal was a product of the mixture of races.
East and West-Negrito
Indonesian Malay
Chinese
Japanese
Spanish
Francisco Mercado Rizal
Domingo Lameo a.k.a (Domingo Mercado)
 "a model of fathers"
 Birthday: May 11, 1818 – January 5,1898 at the
age of 80
 Birth Place Binan, Laguna
 Studied Latin and Philosophy at the College of
San Jose in Manila
 Tenant-farmer of the Dominican-owned
hacienda
Teodora Alonso Realonda
 Birthday: November 8, 1826 – August 16,1911
at the age of 85
 Born in Manila
 Was educated at College of Sta. Rosa (college
for girls in the city)
 Philippine Government offered her a life
pension before her death.
 Rizal Great-grandfather on his father's side
 Full blooded Chinese
 Chinese immigrant from Fukien City of
Changchow
 He became a Christian
 Married a well to do Chinese Christian Girl of
Manila named Ines de la Rosa.
 1731 the surname Mercado was appropriate for
him because he was a merchant.
 The Spanish term mercado means "market" in
English.
 They had a son, Franciso Mercado who resided
in Binan
Francisco Mercado
 married Chinese-Filipino mestiza, Cirilia
Bernacha.
 He was elected as gobernadorcillo (municipal
mayor).
 Son: Juan Mercado
Juan Mercado
 Rizal's grandfather.
 Married CirillaAlejandro a Chinese-Filipino
mestiza.
 Like his father he was elected as gobernadorcillo
of Binan
 Capitan Juan and Capitana Cirila had 13
choildren, the youngest being Francisco
Mercado, Rizal's Father.
Francisco Mercado
 At the age of 8 he lost his father, under the care
of his mother.
 Studied Latin and Philosophy in the College of
San Jose in Manila.
 Fell in love to Teodora Alonzo Realonda, a
student of College of Santa Rosa.
 Married on June 28, 1848 and settle down in
Calamba
 Engaged in farming and business/ reared a big
family.
Dona Teodora Family
 Descended from the LakanDula, the last native
king of Tondo
Eugenio Ursua
 Rizal's maternal great-grandfather
 Japanese Ancestry
 Married a Filipina named Benigna (surname
unknown)
 Daughter name is Regina.
 Regina married Manuel de Quintos, a FilipinoChinese Lawyer
 Daughter name is Brigida.
 Brigida married Lorenzo Alberto Alonso, a
prominent Spanish Filipino mestizo.
 Their children were Narcisa, Teodora (Rizal's
Mother)
THE SURNAME RIZAL
 THE REAL SURNAME OF THE Rizal Family was
Mercado.
 Rizal name is given by the Spanish alcalde mayor
(provincial governor) of Laguna, who was a
family friend.
THE RIZAL HOME
 Was of the distinguished stone houses in
Calamba during Spanish Times.
 two-storey building, rectangular in shape, built
of adobe stone and hardwoods, and roofed with
red tiles.
 High and even sumptuous, a solid and massive
earthquake-proof structure with sliding shell
windows.
 Thick walls of lime and stone bounded on first
floor
 The second floor was made entirely of wood
except for the roof.
 At the back was an azotea and a wide, deep
cistern to hold rainwater for home use.
 Behind the house was the poultry yard full of
turkeys and chickens and big garden of tropical
fruit trees.
A GOOD AND MIDDLE-CLASS FAMILY
 Rizal family was belonged to the Principalia, a
town aristocracy in Spanish Philippines.
 Honest work and frugal living.
 From the farms they were able to harvest rice
and sugarcane
 Raised pigs, chickens and turkeys in the
backyard.
 Farming and stock raising.
 Teodora managed a general goods store and
operated a small flour-mill and a homemade
ham press.
Evidence Of Their Affluence
1. Large stone house and to buy another one
2. Owned a carriage – a status symbol of the
Ilustrados in Spanish Philippine.
3. Owned a private library (largest in Calamba)
which consisted of 1000 volumes.
4. They sent their children to Colleges in
Manila.
5. They participated prominently in all social
and religious affairs in the community.
HOME LIFE OF THE RIZALS
 Rizal family had a simple, contented, and happy
life.
 If Rizal got into a mischief he also received sound
spanking.
 They pray together daily at home.
 The Angelus at the sunset and the Rosary before
retiring to bed at night.
Chapter 2 Childhood Years in Calamba
Father Leoncio Lopez
 He used to visit this learned Filipino priest
and listen to his stimulating opinions on
current events and sound philosophy of
life.
CALAMBA THE HERO'S TOWN
 Calamba was a hacienda town which belong
to the Dominican order.
 Covered w/ irrigated fields and sugar lands
 Mount Makiling: South
 Laguna de Bay: East
 Antipolo: North


He was 15 years old and was a student in the
Ateneo de Manila.
He wrote a poem Un Recuerdo A Mi Pueblo (In
Memory of My Town
EARLIEST CHILDHOOD MEMORIES
1. Happy days in the family garden when he was
3 yrs old.
2. Daily Angelus prayer and night.
3. Aya's story telling about legends and folklores.
4. Nocturnal Walk
THE HERO'S FIRST SORROW
Little Concha (Concepcion)
 Died of sickness at the age of three and Rizal
was only four years old.
 He played with her and from her he learned
the sweetness of sisterly love.
DEVOTED SON OF THE CHURCH
 born and bred in a wholesome atmosphere
of Catholicism
 3 yrs old – he began to take part in the family
prayers.
 5 yrs old – he was able to read haltingly the
Spanish family Bible.
 He was laughingly called "Manong Jose" by
the Hermanos and Hermanas Terceras
 He loved to go to church
1. to pray
2. to take parts in the novenas
3. to join the religious processions.
PILGRIMAGE TO ANTIPOLO
 Jose and his father left Calamba to go on a
pilgrimage to Antipolo, in order to fulfill his
mother's vow which was made when Jose
was born.
 Dona Teodora could not accompany them
because she had given birth to Trinidad.
 He and his father rode in a casco (barge)
and sailed towards Pasig River
 After praying to the shrine of the Virgin of
Antipolo (Our Lady of Good Voyage) they
went to Manila.
 They visited Saturnina at a boarding
student in La Concordia College in Sta.Ana.
THE STORY OF THE MOTH
Children's Friend (El Amigo de los Ninos)
 The tragic fate of the young moth, which
"died a martyr to its illusions"
ARTISTIC TALENTS
 At age of 5 he began to make sketches with
his pencil and mould in clay and wax
objects.
 6yrs old -All right laugh at me now!
Someday when I die people will make
monuments and images of me!
FIRST POEM BY RIZAL
Sa Aking Mga Kabata (To My Fellow Children)
 First poem of Rizal written when he was 8 years
old.
FIRST DRAMA BY RIZAL
 Rizal wrote his first dramatic work which was a
Tagalog Comedy.
 First staged in Calamba Festival.
 Gobernadorcillo from Paete purchased the
manuscript for 2 pesos and brought it to his
hometown.
RIZAL AS BOY MAGICIAN
 Making a coin appear or disappear in his
fingers
 Making a handkerchief vanish into thin air.
 Magic-lantern exhibitions.
 Twisting his supple fingers into shapes to
make shadows resembles an animal and
persons.
 Manipulating marionettes (puppet shows).
LAKESHORE REVERIES
INFLUENCES ON THE HERO'S BOYHOOD
1. Hereditary Influence
a) Malayan Ancestors
 love for freedom
 and innate desire to travel
 indomitable courage.
b) Chinese Ancestors
 Serious nature
 Frugality
 Patience
 love for children
c) Spanish Ancestors
 Elegance
 bearing sensitivity to insult
 gallantry to ladies (polite)
d) Father
 Self-respect
 love for work
 habit of independent thinking
e) Mother
 Religious nature
 the spirit of self-sacrifice
 passion for arts and literature.
2. Environmental Influence
a. Scenic beauties of Calamba and the
beautiful garden of Rizal Family
b. The religious atmosphere
c. Paciano- instilled love and freedom
d. Sisters- learned to be courteous and kind to
women
e. Aya- awakened his interest in folklore and
legends.
f. Three Uncles
Tio Jose Alberto- develop his artistic ability
Tio Manuel- develop his frail body
Tio Gregorio- intensified his voracious
reading
Father Leoncio Lopez- fostered Rizal's love for
scholarship and intellectual honesty
GOMBURZA- awakened his spirit of
patriotism, inspire him to consecrate his life
and talents to redeem his oppressed people.
3. Aid of Divine Providence
 Versatile gifts of a genius.
 Vibrant spirit of a nationalist.
 Valiant heart to sacrifice for a noble
cause.